Frito-Lay North America Facing Class Action Over Flavoring Claims for Ruffles Cheddar & Sour Cream Potato Chips
Ithier v. Frito-Lay North America, Inc.
Filed: March 1, 2020 ◆§ 7:20-cv-01810
A class action claims Frito-Lay has deceptively mischaracterized that Ruffles Cheddar & Sour Cream chips are artificially flavored.
Frito-Lay North America has been hit with a proposed class action centered on how the company characterizes the flavoring for its cheddar and sour cream Ruffles potato chips. Essentially, the 13-page case out of New York claims that Frito-Lay's packaging for the snack "is designed to—and does—" mislead consumers in that the label makes no mention that the chips are artificially flavored.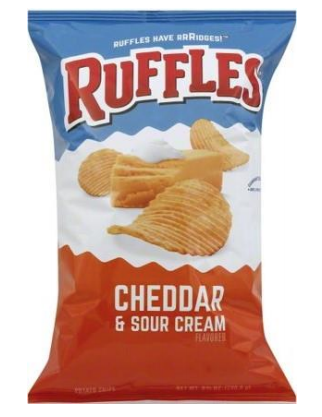 Among the arguments presented in the lawsuit is that cheddar cheese flavor is characterized by its "sharp, pungent flavor" while espousing a "buttery and milk taste." As the orange-colored chips' label makes what the suit calls "direct representations" to the product's "distinguishable characterizing flavor[]," the cheddar and sour cream Ruffles are required by law to come packaged with a "declaration of flavor to truthfully indicate whether the product's flavor is from the characterizing food ingredient or from natural or artificial source materials," the complaint says.
Though the ingredients list for the chips makes reference to "cheddar & sour cream seasoning," the back label also includes "artificial flavors" among the ingredients, the suit says. According to the case, if a product contains any artificial flavors that "simulate[], resemble[] or reinforce[]" a characterizing flavor, such must be identified on the product's front label. All told, the characterizing artificial "buttery" flavor of the chips' cheddar cheese essence must be disclosed by Frito-Lay on the Ruffles packaging, the lawsuit says, arguing that it is misleading not to do so.
The suit adds that while similar products offered by Frito-Lay competitors have the same flavor composition as Ruffles cheddar and sour cream chips, other companies "do not hide their artificial flavor on the ingredient list under the guise of it 'rounding out' the characterizing cheddar flavor."
Frito-Lay knows consumers will pay more for a product that does not include "artificially flavored" on its label, the plaintiff alleges. According to the lawsuit, the company has "sold more of the Product and at higher prices per unit than it would have in the absence of this misconduct," reeling in profit at the expense of consumer confusion. The plaintiff claims proposed class members would not have bought Ruffles cheddar and sour cream chips had they "known the truth."
Camp Lejeune
Camp Lejeune residents now have the opportunity to claim compensation for harm suffered from contaminated water.
Read more here: Camp Lejeune Lawsuit Claims
Stay Current
Sign Up For
Our Newsletter
New cases and investigations, settlement deadlines, and news straight to your inbox.
Last Updated on March 2, 2020 — 4:31 PM