FCA US Sued Again Over Alleged 'Death Wobble' Defect in Certain Jeep Vehicles [UPDATE]
Last Updated on February 13, 2023
A driver claims certain Jeep Wrangler and Gladiator models made by Fiat Chrysler are afflicted by the dangerous "death wobble" defect.
February 13, 2023 – Repair Reimbursements, Extended Warranty Provided by Jeep Wrangler, Gladiator 'Death Wobble' Settlement
The proposed class action detailed on this page and one other filed over the apparent "death wobble" plaguing certain Jeep Wrangler and Gladiator vehicles have been settled, with the deal aiming to provide covered repairs for problematic front-suspension parts and reimburse drivers who already paid to repair their vehicles.
Don't miss out on settlement news like this. Sign up for ClassAction.org's free weekly newsletter here.
The deal, which received preliminary approval from U.S. District Judge Mark A. Goldsmith on October 26, 2022, covers all individuals who bought or leased in the United States a model year 2018-2020 Jeep Wrangler or model year 2020 Jeep Gladiator.
Claims for reimbursement of expenses related to a front suspension steering damper replacement can be filed at FCARecallReimbursement.com. To begin the reimbursement process, enter your vehicle's 17-digit VIN, which can be found on the dashboard, driver-side door jamb sticker or registration documents for your vehicle, and hit "Go."
Through the settlement, eligible Jeep drivers will automatically receive an extension on their vehicle's existing new vehicle warranty for eight years or 90,000 miles, whichever occurs first, to cover the cost of replacing a failed front suspension steering damper. Drivers who have their Wrangler or Gladiator repaired under the extended warranty will receive the most recent version of the steering damper—the allegedly defective front suspension component responsible for the "death wobble."
Court documents describe the deal as "an exceptional result" for eligible Jeep drivers as the problems with their vehicles will be addressed at no additional cost, and drivers will receive cash back for out-of-pocket expenses.
A final approval hearing for the settlement is scheduled for April 19, 2023.
Get class action lawsuit news sent to your inbox – sign up for ClassAction.org's free weekly newsletter here.
Fiat Chrysler has been hit with another proposed class action centered on an alleged front axle and damping system defect found in certain Jeep models that can cause the vehicles' steering components to shake uncontrollably.
Want to stay in the loop on class actions that matter to you? Sign up for ClassAction.org's free weekly newsletter here.
According to the 42-page suit, certain 2018-2020 Jeep Wrangler and 2020 Jeep Gladiator models are affected by what's come to be known as the "death wobble," which manifests when a vehicle's steering wheel begins to violently shake side to side after encountering "common and expected road variations" while driving at highway speeds. The plaintiff asserts that the "death wobble" issue found in certain Jeep Wranglers and Gladiators makes the cars unsafe to operate in that a driver's ability to steer and control the vehicle is impaired.
The complaint says the "death wobble" defect stems from the inability of the solid front axle in affected Jeep models to absorb natural vibrations and bumps caused by driving. Per the lawsuit, increased vibrations of a solid front axle can cause steering components to prematurely loosen or become damaged. The issue typically manifests at speeds over 45 mph, the case says.
According to the suit, defendant FCA US has known of the "death wobble" problem since at least 2010 yet continues to assert that it is not a safety issue and can manifest in any vehicle model equipped with a solid front axle. Fiat Chrysler's persistent denial of the issue "strategically allows" the automaker to string out its failed repair efforts until a vehicle's warranty expires "and the problem rests exclusively with the owner," the lawsuit alleges. Per the suit, FCA has over the last decade put forth ineffective "temporary remedies" in order to conceal the issue from drivers.
"FCA does so knowing these temporary remedies have never rectified the 'Death Wobble' in prior Jeep Wrangler models," the case says, noting that FCA redesigned portions of the Wrangler's steering column in 2018 but was still unable to address the "death wobble" issue.
Though FCA circulated a notification to its captive dealer network around June 2019 in which the automaker acknowledged the existence of the "death wobble" and identified that roughly 192,000 vehicles suffered from the defect, the new repair outlined in the communication failed to fix the problem, the complaint claims. The plaintiff says that although her Jeep was repaired in line with FCA's June 2019 guidance—Customer Satisfaction Notification (CSN) V41, which instructed dealers to replace a vehicle's front suspension steering damper—the car has still repeatedly displayed the "death wobble."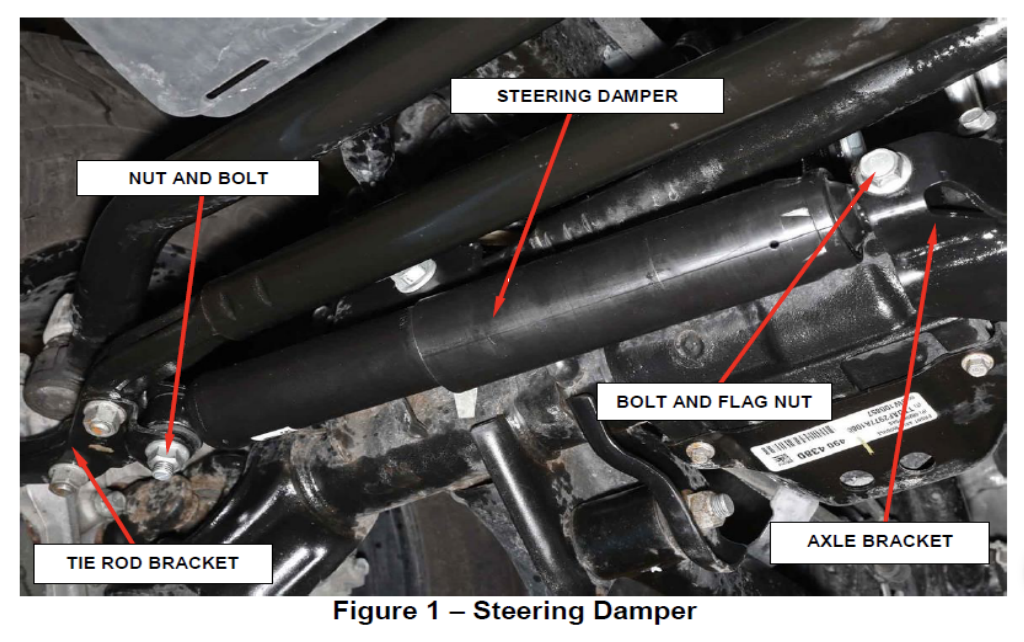 "Had Plaintiff known or otherwise been made aware of the 'Death Wobble' defect and FCA's inability to repair or cure it, she would not have purchased her Jeep or otherwise would have paid significantly less for it," the suit reads.
The case goes on to allege the "death wobble" problem has become pervasive to the extent that FCA has routinely bought back Jeep vehicles that have displayed the issue when presented with claims under various states' Lemon Laws. According to the lawsuit, FCA has, in truth, embarked on a "secret recall and warranty program" of Jeeps subject to CSN V41 that the automaker has kept hidden from government authorities and drivers.
Consumers who bought or leased affected Jeep vehicles have been deprived of the benefit of their bargain, the case says. The plaintiff looks to order FCA US to initiate a buyback of affected Jeep vehicles and remit to proposed class members compensation for the loss of value and depreciation of their cars, reimbursement for parts and labor costs and replacement of any components materially damaged by the "death wobble" problem, among other damages.
Initially filed March 6 in California's Central District, the suit has since been transferred to Michigan's Eastern District.
Get class action lawsuit news sent to your inbox – sign up for ClassAction.org's newsletter here.
Hair Relaxer Lawsuits
Women who developed cancer, endometriosis or reproductive problems after using hair relaxers such as Dark & Lovely and Motions may now have an opportunity to take legal action.
Read more here: Hair Relaxer Cancer Lawsuits
Stay Current
Sign Up For
Our Newsletter
New cases and investigations, settlement deadlines, and news straight to your inbox.
Last Updated on February 13, 2023 — 10:04 AM