in
Newswire
Published on February 1, 2023
'Extraordinarily Dangerous': Mighty Bliss Heating Pads Can Overheat Due to Defect, Class Action Says
Last Updated on February 6, 2023
A class action says Mighty Bliss electric heating pads suffer from a defect that can cause the product to overheat, posing a burn, spark or fire hazard.
A proposed class action says Mighty Bliss electric heating pads suffer from an "extraordinarily dangerous" defect that can cause the product to overheat during charging or use, posing a burn, spark or fire hazard.
Want to stay in the loop on class actions that matter to you? Sign up for ClassAction.org's free weekly newsletter here.
The 18-page lawsuit claims the defect renders the Mighty Bliss heating pads "unsuitable" for their intended use. Although defendant Perch recalled more than 500,000 Mighty Bliss heating pads nationwide in October 2022, the recall was "grossly inadequate" as it did not provide consumers with "immediate monetary relief" or sufficient notice that the product was faulty, the case says.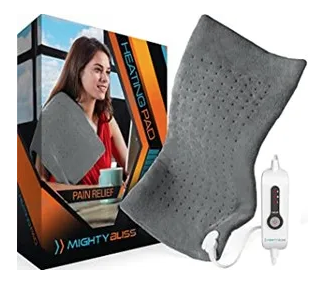 The Mighty Bliss heating pads at issue were manufactured between July 2021 and July 2022, and include the model numbers MB-001 (NA-H1121B/NA-H21B), MB-002 (NA-H21C), and PE-MtyBlsHeatPad-12x24-Gry-V2 E-MtyBls-HeatPad-12x24-Gry (NA-H1121B/NA-H21B), the lawsuit reads. Each of the items was made with a design defect affecting its "functional electric components," according to the case.
The suit says that Perch has received "at least 31 complaints of shocks, burns, and rashes or irritation injuries" linked to the defect, and nearly 300 complaints about the product alone between July 2021 and last September. Perch was thus aware of the problem for at least 15 months prior to when it actually recalled the heating pads on October 24, 2022, the case states.
"With over 500,000 units sold at approximately $30 each, Defendant profited enormously from its failure to disclose the Products' Defect sooner," the filing alleges.
The lawsuit goes on to scathe that Perch's recall last fall allowed the company to "say it was doing right by its customers" while continuing to protect its bottom line. For instance, although most purchases of Mighty Bliss heating pads were made through Amazon, the suit states, the product's Amazon page offers no information about the recall or defect. Further, while the company posted information about the recall and defect on its website, these details reached only a very limited segment of buyers, the case claims.
"Defendant has not offered immediate refunds to consumers, but instead has had consumers engage in an at-length claims process to confirm that the units at issue are no longer in use and does not provide adequate relief to consumers," the lawsuit reads. "It also requires consumers to still be in possession of the Products."
The Mighty Bliss recall website urges consumers to immediately stop using their electric heating pads. The site says that a consumer should ensure that the pad is unplugged before then "[s]afely cut[ting] the cord off the device" and taking a picture of the product to demonstrate that it can no longer be used. Then, consumers are instructed to upload a picture of the device with the cord cut to the defendant's website.
The lawsuit looks to cover all persons in the United States who bought a Mighty Bliss electric heating pad.
Get class action lawsuit news sent to your inbox – sign up for ClassAction.org's free weekly newsletter here.
Hair Relaxer Lawsuits
Women who developed cancer, endometriosis or reproductive problems after using hair relaxers such as Dark & Lovely and Motions may now have an opportunity to take legal action.
Read more here: Hair Relaxer Cancer Lawsuits
Stay Current
Sign Up For
Our Newsletter
New cases and investigations, settlement deadlines, and news straight to your inbox.
Last Updated on February 6, 2023 — 12:07 PM