Dove Deep Moisture Bodywash Not as Gentle on Skin as Advertised, Class Action Claims
Anderson v. Unilever United States, Inc.
Filed: April 10, 2021 ◆§ 7:21-cv-03117
Unilever's claim that its Dove Deep Moisture Bodywash is "microbiome gentle" is misleading to buyers, a class action alleges.
Unilever's claim that its Dove Deep Moisture Bodywash is "microbiome gentle" is misleading to buyers in that the product contains "numerous ingredient[s] which trigger negative skin reactions," a proposed class action alleges.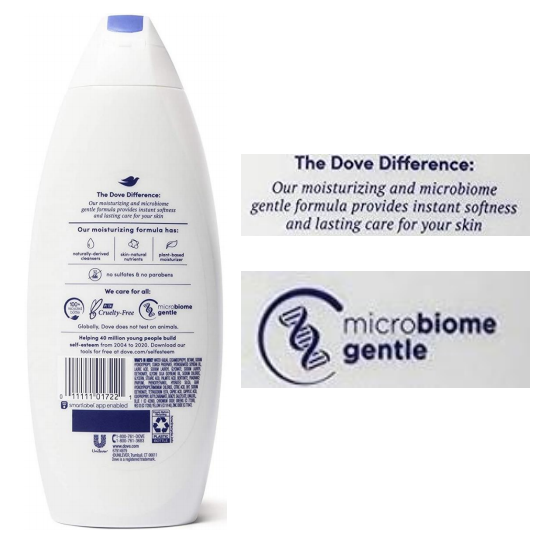 The 15-page lawsuit claims Dove Deep Moisture Bodywash cannot be "microbiome gentle" given its most predominant ingredient after water is cocamidopropyl betaine (CAPB), a reportedly common trigger for skin conditions such as eczema, psoriasis, rosacea and contact dermatitis.
Overall, Unilever's marketing of Dove Deep Moisture Bodywash as containing "skin-natural nourishers" has mistakenly led consumers to believe the product is natural even though it contains a laundry list of synthetic ingredients, according to the lawsuit. The plaintiff and other consumers paid more for the product than they would have absent the defendant's "microbiome gentle" and "skin-natural nourishers" representations, the case out of New York asserts.
"Reasonable consumers must and do rely on defendant to honestly describe the components of the Product," the complaint reads. "Defendant misrepresented the products through affirmative statements, half-truths, and omissions."
The lawsuit says Unilever touts the effect of the Dove bodywash on the microbiome, what the company relays to buyers to be a "community of billions of friendly living microorganisms, also known as skin flora." On the back of the bodywash's bottle, Unilever states, "[o]ur moisturizing and microbiome gentle formula provides instant softness and lasting care for your skin," the suit relays.
Per the lawsuit, consumers understand the sum of Unilever's claims with regard to Dove Deep Moisture Bodywash to mean the product "goes beyond cleansing and moisturizing skin," and has specific additional protective benefits that stem from its effect on the skin microbiome.
As the suit tells it, however, the product's ingredients include CAPB, the use of which is restricted in cosmetics. Among the product's other non-natural ingredients are sodium hydroxypropyl starch phosphate, sodium lauroyl glycinate, hydrogenated soybean oil, stearic acid, palmitic acid, glycerin and guar hydroxypropyltrimonium chloride, the lawsuit says.
Unilever's representations of its Dove bodywash amount to an attempt to position the product favorably within the largely millennial-driven market for natural cosmetics, the case relays.
Get class action lawsuit news sent to your inbox – sign up for ClassAction.org's free weekly newsletter here.
Last Updated on April 12, 2021 — 5:08 PM