DG Health Lidocaine Patches Don't Hold Up, Class Action Claims
Hodorovych v. Dollar General Corporation
Filed: June 29, 2022 ◆§ 1:22-cv-03415
A class action claims DG Health-brand lidocaine patches are falsely advertised in that they peel off well before providing "up to 12 hours" of pain relief.
A proposed class action claims that Dollar General's DG Health-brand lidocaine patches are falsely advertised in that they peel off well before providing "up to 12 hours" of pain relief.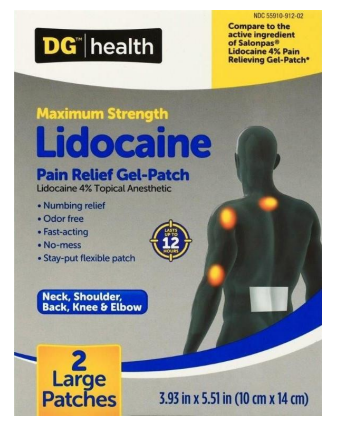 The 15-page lawsuit alleges that although Dollar General Corporation advertises its private label lidocaine patches as "maximum strength" and able to provide "fast-acting," "numbing relief" in the form of a "stay-put flexible patch," these representations are misleading given the patches fail to properly adhere to a wearer's skin.
"While certain companies innovated their technology based on clinical studies to ensure that their lidocaine patches reliably adhere to a consumer's body, even while exercising, upon information and belief, Defendant has not," the complaint contends. "The claims that the Product 'LASTS UP TO 12 HOURS' and is a 'Stay-put flexible patch' are misleading because it regularly peels off the bodies of users within a few hours, and often minutes, after being applied."
The case argues that Dollar General has sold more of the DG Health lidocaine patches, and at higher prices, than it would have absent the allegedly misleading representations regarding how much pain relief each patch would provide.
The suit relays that according to FDA reports, roughly 70 percent of consumer complaints about lidocaine patches, which are typically marketed as able to provide pain relief through a topical anesthetic applied to the skin via a patch, are related to poor adhesion. Per the case, Dollar General has used "the same outdated and defective adhesion technology" shown to be ineffective in generic prescription lidocaine patches.
The lawsuit argues that although consumers are led to expect that the DG Health lidocaine patches will provide at least 12 hours of pain relief, they routinely fail to deliver the "maximum strength" amount of lidocaine for the full 12 hours due to poor adhesion.
According to the case, proper adhesion is "crucial" for patches that deliver a topical product given the dosage is compromised when the patch lifts off the skin.
The suit argues that because the DG Health lidocaine patches often detach from a wearer's skin soon after application, Dollar General's claims that they can provide "maximum strength" lidocaine and "numbing relief" are false. Moreover, the case alleges that the numbing relief claim, which consumers associate with "medical treatments requiring a prescription," is inconsistent with the lidocaine patches' limited FDA approval to "[t]emporarily relieve[] minor pain."
The lawsuit looks to represent anyone in Illinois, Virginia, Montana, Wyoming, Idaho, Alaska, Virginia, West Virginia, Kansas, Nebraska, North Dakota, Iowa, Mississippi, Arkansas, South Carolina or Utah who purchased the DG Health lidocaine patches during the applicable statute of limitations.
Get class action lawsuit news sent to your inbox – sign up for ClassAction.org's newsletter here.
Camp Lejeune
Camp Lejeune residents now have the opportunity to claim compensation for harm suffered from contaminated water.
Read more here: Camp Lejeune Lawsuit Claims
Stay Current
Sign Up For
Our Newsletter
New cases and investigations, settlement deadlines, and news straight to your inbox.
Last Updated on June 30, 2022 — 4:33 PM