in
Newswire
Published on November 29, 2021
Consumers Not Told Fudge-Covered Mint Oreos Lack 'Essential Fudge Ingredients,' Class Action Claims
A class action claims the label on packages of fudge-covered mint creme Oreos gives consumers the misleading impression that the cookies are made with "essential fudge ingredients."
A proposed class action contends that the front label on packages of fudge-covered mint creme Oreo cookies gives consumers the misleading impression that the product is made with "essential fudge ingredients" such as dairy and milk fat.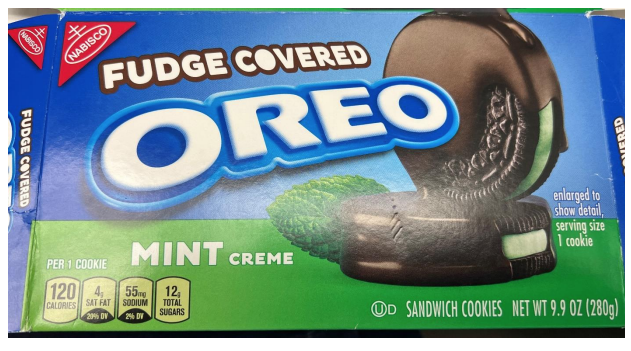 The 15-page case alleges defendant Mondelēz Global LLC has misled buyers by labeling packages of fudge-covered mint creme Oreos in a way that fails to honestly identify and describe the cookies' components. Instead of dairy ingredients essential to real fudge, the Oreos are made with palm and palm kernel oil for fat content, the lawsuit says, arguing that the absence of dairy and milk fat results in a cheaper, less satisfying fudge.
Overall, the quality of fudge depends on the amount and type of fat-contributing ingredients, the filing relays.
"In contrast to dairy ingredients with milk fat, vegetable oils do not melt at mouth temperature and leave a waxy mouthfeel," the case reads. "The result of substituting vegetable oils for dairy ingredients is that any resulting 'fudge' will provide less satiety, a waxy and oily mouthfeel, and leave an aftertaste."
As the lawsuit tells it, the presence or absence of fudge and/or the ingredients expected to be found in fudge is "basic front label information" consumers rely on when making purchasing decisions. The suit says that even the product's name, "Fudge Covered Oreo – Mint Creme," and the picture of an Oreo covered in what appears to be fudge are misleading given consumers are led to expect the cookies to have dairy ingredients containing milk fat.
According to the case, a comparison of the ingredients in the Oreos at issue with those of regular Oreos shows that the "fudge" components are palm and palm kernel oil, nonfat milk, cocoa and natural flavor.
The filing argues that the value of the product purchased by consumers is materially less than its value as represented by Mondelēz, who has sold more of the product than it otherwise would have "in the absence of this misconduct."
Get class action lawsuit news sent to your inbox – sign up for ClassAction.org's free weekly newsletter here.
Camp Lejeune
Camp Lejeune residents now have the opportunity to claim compensation for harm suffered from contaminated water.
Read more here: Camp Lejeune Lawsuit Claims
Stay Current
Sign Up For
Our Newsletter
New cases and investigations, settlement deadlines, and news straight to your inbox.
Last Updated on November 29, 2021 — 5:01 PM