Class Action Lawsuits Allege Hill's Pet Nutrition Canned Dog Foods Contain 'Toxic,' Possibly Fatal Levels of Vitamin D
Last Updated on February 12, 2019
Bone et al v. Hill's Pet Nutrition, Inc. et al
Filed: February 11, 2019 ◆§ 1:19cv831
HIll's Pet Nutrition faces a proposed class action lawsuit after the recall of a number of canned dog foods that reportedly contained toxic levels of vitamin D.
Hill's Pet Nutrition finds itself as the defendant in two proposed class action lawsuits that allege certain varieties of its canned dog food contain potentially toxic levels of vitamin D. Dogs who ingest excessive amounts of vitamin D, according to the lawsuits, may experience vomiting, weakness, depression, loss of appetite, increased thirst and urination, excessive drooling, weight loss, or renal dysfunction. In the most severe cases, elevated levels of vitamin D in a dog's diet can be fatal, the lawsuits state.
According to the case filed in New York, Hill's Pet Nutrition marketed its canned dog foods as formulated for the specific health needs of certain types of dogs, with the products commanding a premium price for so-called "differences you can see, feel and trust." Despite its representations, Hill's Pet Nutrition, the lawsuits state, initiated a voluntary recall of roughly 675,000 cases of canned dog food products, listed below, that were found to contain dangerously high levels of vitamin D. According to the lawsuits, Hill's Pet Nutrition knew before the January 31, 2019, recall date that at least some of the products were unfit for ordinary consumption by household dogs, yet went on to advertise the foods as safe, nutritious, and of high quality.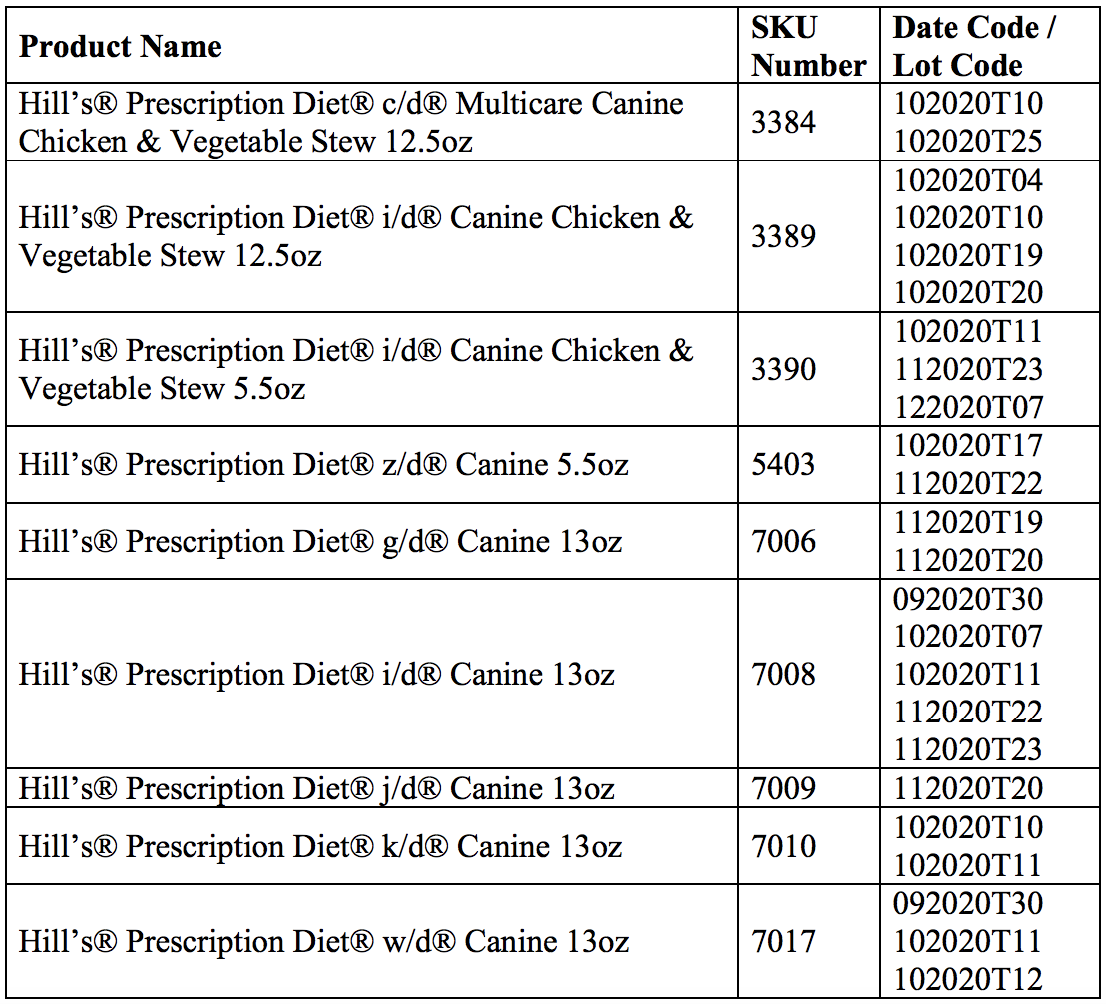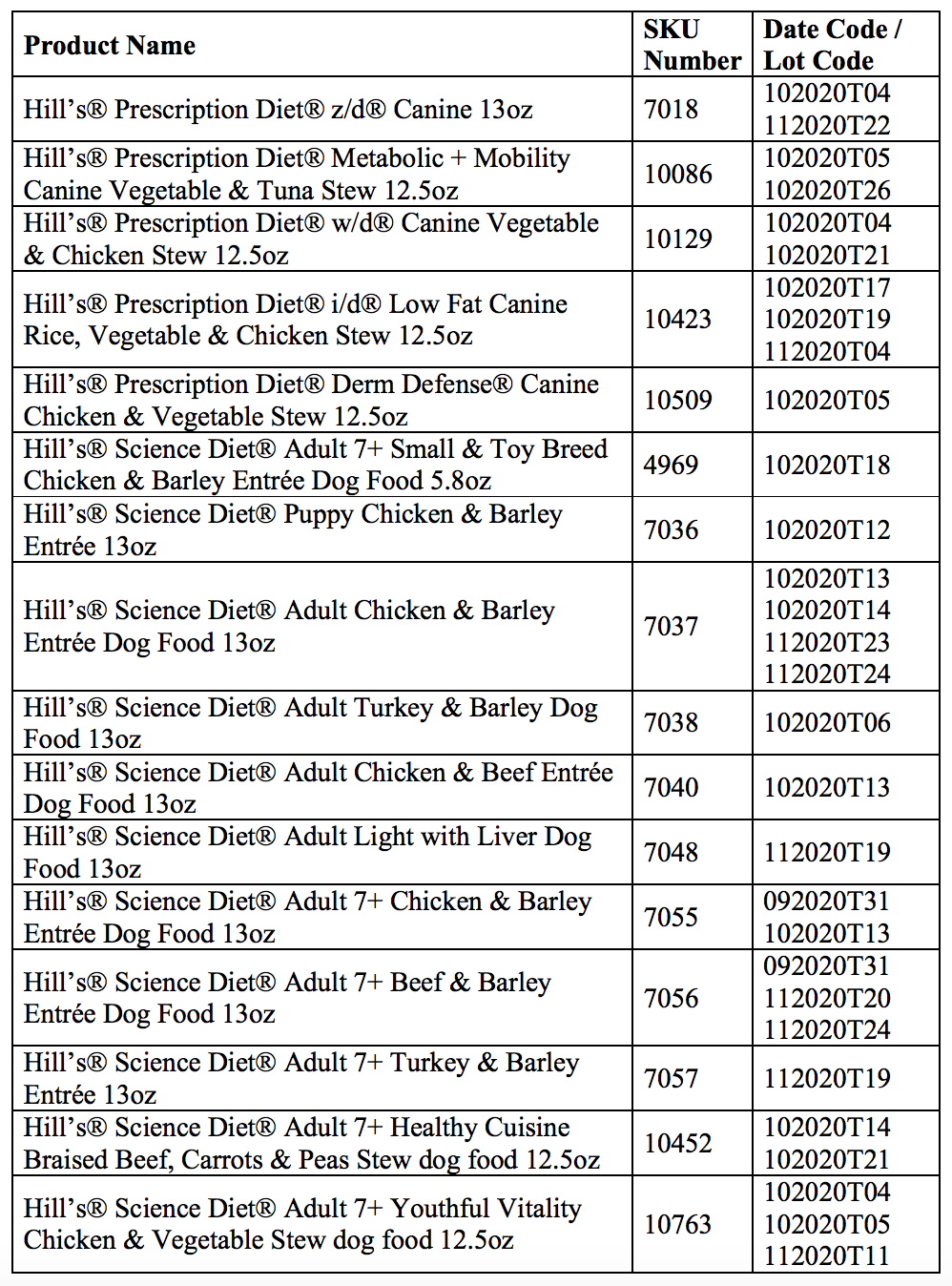 According to the Florida suit, by the time the recall was announced and word spread over social media, it was already too late for many pet owners:
"Notices of the recall posted to Defendant's Facebook and Twitter pages were overwhelmed with replies from distressed pet owners, many of whom claimed their dogs had gotten extremely sick or died after consuming the food. … Some of the distressed pet owners said their vets had prescribed Defendant's Products to them. (Id.) Others said they had paid thousands in medical bills as a result of the accompanying illness."
The New York suit goes on to charge that Hill's Pet Nutrition and co-defendant Hill's Pet Nutrition Sales, Inc. "dragged its feet" in not only issuing the recall itself, but in including "all contaminated food within the scope of the recall." From the New York complaint:
"Hill's failure to promptly recall every contaminated product sold under the Prescription Diet and Science Diet lines is particularly egregious because it knew or should have known that these products contained toxic levels of vitamin D. Not only does Hill's claim to subject its suppliers, raw materials and finished products to extensive and repeated quality testing, but vitamin D toxicity was a known risk much earlier than January 31, 2019 when Hill's first announced its recall: in December of 2018 several other brands of dog food were recalled due to toxic levels of vitamin D found in those products, and dogs eating Hill's Specialty Dog Foods began dying of vitamin D toxicity well before that."
The husband and wife plaintiffs behind the Florida case claim their dachshund, Stella, died as a result of ingesting the defendants' contaminated canned dog food. The plaintiffs note in the suit that they housed eight other rescue dogs aside from Stella, who was apparently in good health prior to her death and the only one of the plaintiffs' dogs to eat the defendants' dog food. The three plaintiffs behind the New York case similarly allege their dogs died after consuming the defendants' canned dog foods.
Both lawsuits can be read below.
Last Updated on February 12, 2019 — 11:02 AM