in
Newswire
Published on November 17, 2021
Class Action Filed Over Alleged SmileDirectClub Telemarketing Texts
A class action claims SmileDirectClub has sent unsolicited telemarketing texts to consumers' cell phones without consent to do so and ignored opt-out requests.
A proposed class action claims SmileDirectClub, LLC has sent unsolicited telemarketing texts to consumers' cell phones without consent to do so and ignored recipients' requests to opt out of its messaging campaign.
The 11-page lawsuit claims the orthodontic device provider has violated the Telephone Consumer Protection Act (TCPA)—a federal law that prohibits the use of automated dialing technology to send non-emergency telemarketing messages without consent—and "harm[ed] thousands of consumers in the process."
The plaintiff is a McCurtain County, Oklahoma resident who claims to have received the following text message from SmileDirectClub in mid-September 2021: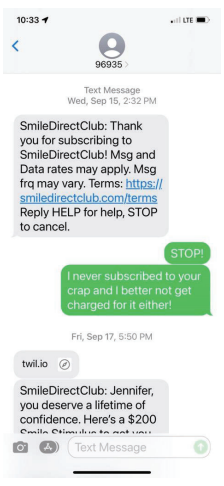 According to the case, the plaintiff attempted to opt out of receiving future text messages by replying with "STOP!", SmileDirectClub's preferred opt-out language. Nevertheless, the defendant allegedly continued to send the plaintiff telemarketing texts advertising its teeth alignment products.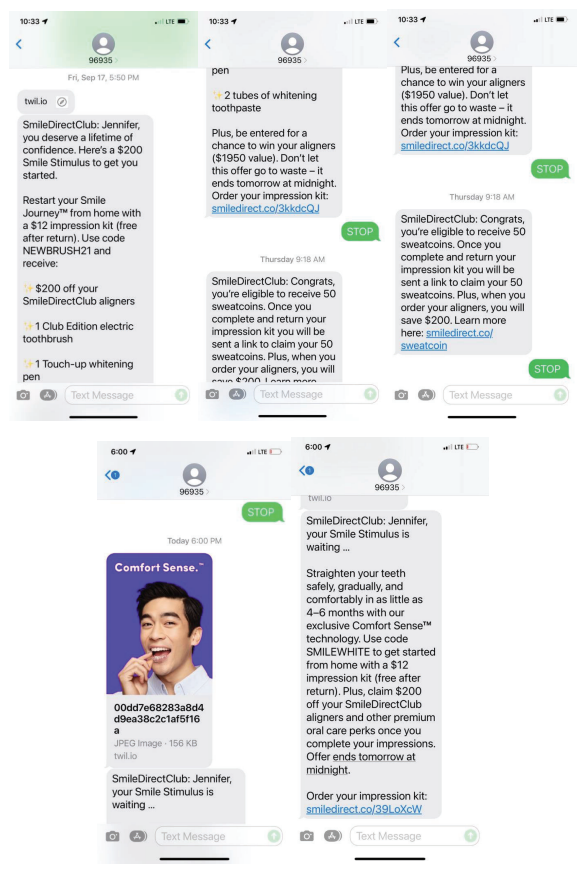 The lawsuit alleges that although the plaintiff responded to each of the texts with "STOP" in repeated attempts to opt out of the communications, SmileDirectClub "continuously ignored" the woman's demands.
While the plaintiff claims to have never provided the defendant with her express written consent to be contacted, any such consent that may have been implied was revoked when she replied with "STOP," the suit says. The case alleges SmileDirectClub lacks a written policy for maintaining an internal do-not-call list, and does not inform and train personnel engaged in telemarketing of the existence and use of such a list.
The case claims SmileDirectClub's allegedly unsolicited texts caused "the invasion of privacy, harassment, aggravation, and disruption of the daily life of thousands of individuals."
The plaintiff seeks to represent anyone in the U.S. who, within the past four years, was sent a text message from SmileDirectClub, or anyone on its behalf, to their cell phone after making a request to not receive further text messages.
Get class action lawsuit news sent to your inbox – sign up for ClassAction.org's newsletter here.
Camp Lejeune
Camp Lejeune residents now have the opportunity to claim compensation for harm suffered from contaminated water.
Read more here: Camp Lejeune Lawsuit Claims
Stay Current
Sign Up For
Our Newsletter
New cases and investigations, settlement deadlines, and news straight to your inbox.
Last Updated on November 17, 2021 — 4:40 PM