Class Action Filed Over Alleged Electronic Throttle Control Defect in 2016-2018 Chevy Malibu Vehicles
Last Updated on May 30, 2019
A class action lawsuit has been filed over an alleged electronic throttle control and/or accelerator pedal position sensor defect found in certain 2016-2018 Chevy Malibu vehicles.
A proposed class action lawsuit alleges that thousands of 2016-2018 Chevy Malibu vehicles are equipped with a defective electronic throttle control and/or accelerator pedal position sensor. The 49-page suit out of Maryland claims the apparent defect can cause a vehicle to suddenly lose power, even when traveling at highway speeds.
"This is a major safety concern because drivers have reported that the defect can cause a loss of control or a rear end accident from vehicles following behind them," the suit reads.
Filed against General Motors, the complaint states that the powertrain in affected Malibu models is controlled by an electronic throttle system that includes an accelerator pedal position sensor. Whereas traditional throttle control systems rely on mechanical linkages to connect to an accelerator pedal, the system found in 2016-2018 Chevy Malibus uses electronic sensors, electromechanical actuators, and human-machine interfaces, such as pedal feel emulators, to control the functions of a car, according to the suit.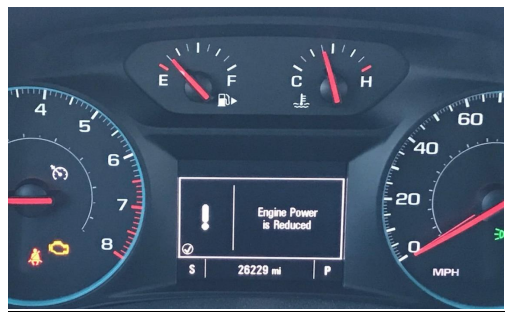 The most obvious manifestation of the defect, the lawsuit says, is a "significant and abrupt" power reduction accompanied by an "engine power is reduced" warning on a vehicle's dashboard. Per the plaintiff, the suit says the woman's vehicle abruptly slowed down from highway speed to roughly 20 mph on two separate occasions, after which she brought her 2016 Malibu in for service. According to the case, the plaintiff twice had to replace the accelerator pedal position sensor, receiving no meaningful assistance from GM in addressing the defect.
As the lawsuit tells it, GM "knew at the time of manufacture" and "actively concealed and/or failed to notify the public" that the defective electronic throttle controls and/or accelerator pedal positions sensors were not fit for their intended purpose, as well as the safety risk posed by the problem. General Motors, the case claims, continues to sell and lease vehicles equipped with defective electronic throttle controls, and has issued no recall nor compensated vehicle owners and lessees who've paid out of pocket for repairs.
Last Updated on May 30, 2019 — 8:05 AM