Class Action Filed Against Franklin Collection Service Over Handwritten Collection Letter
Gochet v. Franklin Collection Service Inc
Filed: April 10, 2018 ◆§ 2:18cv560
Franklin Collection Service, Inc. is facing a proposed class action alleging it sent a consumer a collection letter that failed to clearly state her amount of debt and falsely threatened her.
Franklin Collection Service, Inc. is on the receiving end of a proposed class action lawsuit filed over potential violations of the Fair Debt Collection Practices Act (FDCPA). The plaintiff in the case says she received a collection letter from the defendant regarding a debt purportedly owed to "AT&T." The "amount due" listed in the letter, according to the lawsuit, was handwritten and could be misinterpreted as several different numbers, including $261.19, $262.19, $263.19, $266.19, $267.19, or "some other amount." The image from the complaint can be seen below: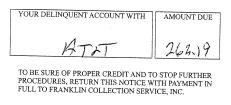 The lawsuit further argues that the letter unlawfully threatened the plaintiff with litigation despite having no intention to sue her. The notice supposedly reminded the plaintiff that the defendant had made "several attempts for you to resolve this matter voluntarily" and then assured her that "we seldom resort to litigation if the account is resolved in a timely manner."
The complaint alleges that the unsophisticated consumer could interpret the statements to mean that the defendant did intend to file a lawsuit since the debt had not been resolved "in a timely manner." The case attests, however, that the defendant does not have authority to sue the plaintiff over a debt owed to AT&T and has never filed suit against a consumer in Wisconsin courts.
The lawsuit then notes that the collection letter included checkboxes next to the phrases "Employment Verified" and "Assets Located," implying that the defendant "is regularly engaged in investigative work" regarding consumers' employment records and assets. From the complaint:
"[The collection letter] falsely represents or implies that nonpayment of the debt FCS is attempting to collect will result in the seizure, garnishment, attachment, or sale of the consumer's property or wages, even though FCS does intend to take such action and has no knowledge or belief as to whether AT&T intends to take such action."
Last Updated on April 12, 2018 — 4:04 PM