Class Action Claims Dove 'Invisible' Dryspray Antiperspirant Leaves White Marks on Clothes
A proposed class action challenges Unilever's claims that its Dove-brand "Invisible" "dryspray" women's antiperspirant leaves "no white marks" and is superior to similar products.
A proposed class action lawsuit alleges that despite Unilever's claims to the contrary, Dove-brand "Invisible" "dryspray" women's antiperspirant fails to protect clothing against "white marks" and "is nothing more than a repackaged version" of the company's regular variety of the product.
Although Unilever boasts that the product leaves "no white marks on 100 colors of clothing," Dove's "Invisible" dryspray antiperspirant is not materially different from the brand's regular dry spray variety, the case charges. The "Invisible" antiperspirant lists the same ingredients as the regular, non-"invisible" variety, the suit notes, and contains "nothing else to possibly support Defendant's claims" as to its alleged superiority as a product.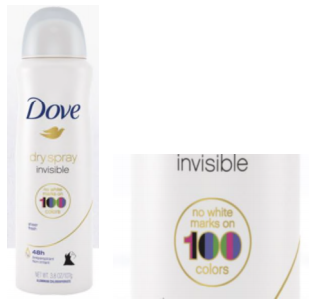 Moreover, the lawsuit states that both varieties of the product contain the same active ingredient, aluminum chlorohydrate.
"In other words," the complaint reads, "the so-called 'Invisible' version of the 'dryspray,' with all of its purported added benefits, is the exact same product as the non-'invisible' 'dryspray.'"
The case goes on to claim that the antiperspirant's active ingredient not only fails to protect clothing from white marks, but is actually the cause of such, noting that the aluminum in antiperspirants has "long been recognized" as the source of white marks.
According to the case, the product's "Invisible" claims have been refuted by "simple testing" conducted by both applying the antiperspirant directly to clothing and observing the transfer of the product to clothing from a wearer's skin. All told, not only is the Dove "Invisible" antiperspirant materially the same as its regular, non-invisible counterpart, but the product also fails to provide the advertised benefit of "white mark protection," the case alleges. From the complaint:
"In short, while 'Invisible' is expressly claimed (in addition to its mere name) as being 'invisible,' and 'proven to leave no white marks on 100 colors of clothing,' it is simply the exact same product as non-'Invisible' Dove 'dryspray' that actually causes the very problem it claims to solve, leaving white marks on clothing of nearly every color and is, in no way, shape, or form 'invisible.'"
The lawsuit, which now resides in Missouri federal court, seeks to cover anyone who purchased "Dove"-branded "Invisible," "dryspray" antiperspirant spray for women in the United States, with a proposed subclass of Missouri residents, within the past five years up until the date the complaint was filed.
Last Updated on October 7, 2019 — 2:10 PM