in
Newswire
Published on November 1, 2021
Class Action Alleges ReconAfrica Misled Investors About African Drilling Operations
Muller v. Reconnaissance Energy Africa Ltd. et al.
Filed: October 25, 2021 ◆§ 1:21-cv-05910
A class action claims Canadian oil and gas company Reconnaissance Energy Africa misled investors with regard to its drilling prospects in Namibia and Botswana.
A proposed class action claims Canadian oil and gas company Reconnaissance Energy Africa Ltd. misled investors with regard to its drilling prospects in Namibia and Botswana.
The 70-page case alleges ReconAfrica and its top executives knew about or "recklessly disregarded" materially adverse facts about the company's operations yet misrepresented or failed to disclose the information to investors. The case claims investors were injured financially as a result of drops in ReconAfrica share prices allegedly linked to numerous reports that revealed both "serious problems" with company's drilling plans in the environmentally fragile Kavango region and "disappointing drilling results."
"As a result of Defendants' wrongful acts and omissions, and the decline in the market value of the Company's securities, Plaintiff and other Class members have suffered significant losses and damages," the complaint alleges.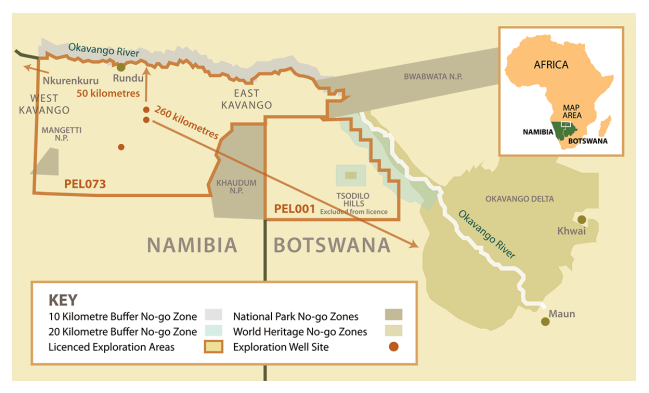 In February 2019, ReconAfrica, known then as Lund Enterprises Corp., announced its intention to explore an area in Africa's Kavango Region in search of oil and natural gas, with the goal of establishing "an active petroleum system," the lawsuit relays. The defendants, throughout the following year, touted their objective to comply with all local laws and regulations designed to protect the safety of the environment, animals and humans in the region while carrying out ReconAfrica's extraction activities, the suit says.
The case alleges, however, that the defendants failed to disclose, or misled investors about, the fact that ReconAfrica was planning to use banned unconventional energy extraction means (including fracking), conduct unlicensed drilling tests, use water illegally for well testing, hire an "inadequate and inappropriate" consultant and, as a result, endanger future well-, drilling- and water-related licenses in Namibia and Botswana. Moreover, the lawsuit claims ReconAfrica did not provide adequate and accessible information to those who would be impacted by its testing and potential drilling as it had previously represented, and failed to disclose that its interests were actually in the Owambo Basin, not the "so-called Kavango Basin." Finally, the defendants allegedly failed to disclose that ReconAfrica has "continuously engaged" in stock pumping.
In October 2020, National Geographic published an article that laid bare the potential environmental and social impact of ReconAfrica's planned oil and gas exploration activities, the lawsuit goes on. Per the case, the article stated that conservationists and community leaders were "raising alarms" that ReconAfrica's drilling could "threaten the water resources of thousands of people and endanger[] wildlife" in an area that overlaps a multi-country conservation park, six wildlife reserves and a UNESCO World Heritage site.
ReconAfrica's share price allegedly fell six percent following the publication of the National Geographic article.
According to the suit, the company's stock price fell another seven percent upon the publication of a January 2021 National Geographic article that shed even more light on the potential environmental impact of ReconAfrica's activities. The case relays that the NatGeo report claimed the company was planning to engage in unlicensed fracking, not to mention drill tests that were not brought to the attention of local Namibians who could be impacted.
Additional media reports over the following months, including a Yale Environment 360 report, two more National Geographic articles, a Namibian newspaper article and four Viceroy Research reports, raised even more concerns about ReconAfrica's exploration and drilling activities—specifically the company's apparent "glossing over" of environmental concerns, alleged breaches of Namibian water use regulations and failure to consult and inform locals—and ultimately revealed that ReconAfrica had engaged in unlawful, unconventional exploration that turned out "disappointing drill results."
Upon the release of each report, the company's share price continued to drop, financially injuring investors, the suit says.
The lawsuit looks to represent anyone who purchased or otherwise acquired ReconAfrica's publicly traded securities between February 28, 2019 and September 7, 2021 and was damaged upon the revelation of the alleged corrective disclosures.
Get class action lawsuit news sent to your inbox – sign up for ClassAction.org's newsletter here.
Hair Relaxer Lawsuits
Women who developed cancer, endometriosis or reproductive problems after using hair relaxers such as Dark & Lovely and Motions may now have an opportunity to take legal action.
Read more here: Hair Relaxer Cancer Lawsuits
Stay Current
Sign Up For
Our Newsletter
New cases and investigations, settlement deadlines, and news straight to your inbox.
Last Updated on November 1, 2021 — 4:23 PM