Chapstick '8-Hour Moisture' Falsely Advertised as Providing All-Day Protection, Class Action Says
Engram v. Wyeth Consumer Healthcare Llc
Filed: May 15, 2019 ◆§ 1:19cv2886
According to a lawsuit, "8-Hour Moisture" Chapstick with SPF 15 protection is misleadingly advertised in that consumers are still instructed to reapply the product every two hours.
According to a proposed class action lawsuit out of New York, "8-Hour Moisture," "SPF 15" Chapstick is misleadingly advertised by defendant Wyeth Consumer Healthcare in that the product does not truthfully provide all-day or extended protection against sun damage.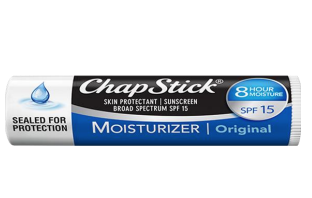 As the 16-page complaint tells it, the defendant's misrepresentations of the efficacy of "8-Hour Moisture" Chapstick and its apparent SPF 15 protection increases the risk of harm to consumers because the company's claims about the product encourage less-frequent application while exposed to the sun. Despite Wyeth's claims, the case points out that the Drug Facts section on the back of the product's packaging instructs users to reapply the Chapstick at least every two hours: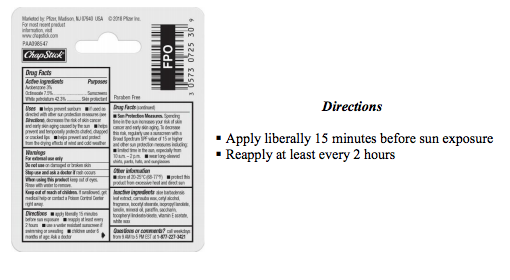 Reasonable consumers, the lawsuit says, are accustomed to sunscreen products being effective for a finite number of hours. It is plausible, according to the suit, that consumers will link Chapstick's 8-hour moisture and SPF 15 claims "to frequency of application to maintain the benefits of sun protection."
"There is no other plausible reason why a specific, finite duration for the moisture-producing abilities of the Products is used in this way," the case reads, "especially because consumers value and will pay more for sun protection products which provide longer protection from the sun."
The suit goes on to argue that while products comparable to 8-hour moisture Chapstick are also advertised as providing an intensive level of moisture with SPF 15 protection, none are represented in as "definitive and precise" a way as Wyeth touts Chapstick.
Camp Lejeune
Camp Lejeune residents now have the opportunity to claim compensation for harm suffered from contaminated water.
Read more here: Camp Lejeune Lawsuit Claims
Stay Current
Sign Up For
Our Newsletter
New cases and investigations, settlement deadlines, and news straight to your inbox.
Last Updated on May 16, 2019 — 10:19 AM