in
Newswire
Published on September 13, 2021
Cacti Agave Spiked Seltzer Buyers Misled As To Quality of Agave Ingredients, Class Action Claims
Read v. Anheuser-Busch InBev Worldwide Inc.
Filed: September 11, 2021 ◆§ 1:21-cv-01261
A class action claims buyers have been misled as to the quality of the agave ingredients in Cacti-brand Agave Spiked Seltzer.
A proposed class action claims buyers have been misled as to the quality of the agave ingredients in Cacti-brand Agave Spiked Seltzer, which are alleged to come not from real blue agave but from agave syrup, a commercial sweetener.

The 16-page complaint claims Cacti Agave Spiked Seltzer-maker Anheuser-Busch InBev Worldwide has misled consumers by purporting that the product is made with "100% Premium Blue Agave from Mexico and Natural Flavors," among other advertising representations. The suit charges that Anheuser-Busch InBev's representations are misleading in that consumers are given the impression that Cacti hard seltzer "contains a more valued type of agave ingredients than it does," and that the company has essentially capitalized on consumers' desire for authenticity by claiming the product's ingredients are of a more premium quality.
"Whether a product contains agave spirits is basic front label information consumers rely on when making quick decisions at the store," the case says. "The Product lacks any agave spirits, and instead, uses 'Agave Syrup,' a sweetener derived from the Agave plant, as shown in the fine print ingredient list on the back of the Product."
According to the suit, retail displays and digital and print media ads for Cacti Agave Spiked Seltzer depict the product amid a field of agave plants, along with the statement "Down to Earth Ingredients. Out of this World Flavor. Cacti." Also emphasized by Anheuser-Busch InBev is that the product is made with "100% Blue Agave from Mexico," per the case.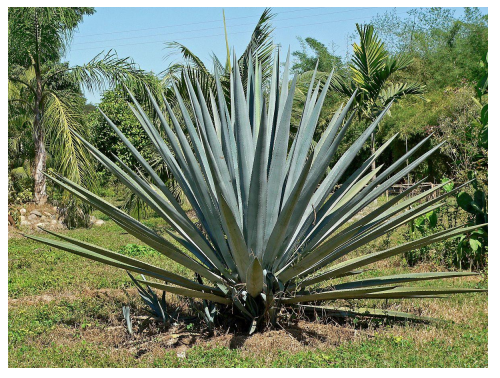 The agave plant is native to arid and semi-arid regions of the Americas, in particular Mexico, and has for centuries been a plant of tremendous economic and cultural importance. Per the lawsuit, the distillation of agave dates back to the 17th century, and most producers are small family operations who collect and ferment the plant's juices for the manufacture of tequila. Authentic blue agave tequila comes only from the Weber's Blue agave plant, which is found in only certain Mexican states, the complaint reads, and products containing real blue agave can command a premium price.
Under Illinois law, which mirrors federal Alcohol and Tobacco Tax and Trade Bureau regulations, agave spirits must be distilled at less than 95 percent alcohol by volume and bottled at or above 40 percent alcohol by volume, the lawsuit says. Overall, only agave spirits that "meet the standard identity for 'Tequila' or 'Mezcal' may be designated as 'agave spirits' or as 'Tequila' or 'Mezcal' as applicable," the case states.
The lawsuit contends that a reasonable consumer is misled by the description of the Cacti product as "agave spiked seltzer" made with "100% Premium Blue agave from Mexico." Per the case, agave syrup, also known as maguey syrup or agave nectar, is commercially produced from several species of agave and contains 56 percent fructose as sugar.
"In the context of an alcoholic beverage, consumers will expect that 'Agave Spiked Seltzer' means the seltzer is 'spiked' with agave spirits," the suit says. "Consumers buying alcoholic beverages are more aware of agave spirits than agave sweetener and are not looking for alternatives to sugar."
Anheuser-Busch InBev has been able to sell more Cacti Agave Spiked Seltzer, and at higher prices, than it would have absent the allegedly misleading representations, the lawsuit claims.
The case looks to represent Cacti Agave Spiked Seltzer buyers in Illinois and Arkansas who bought the product within the applicable statute of limitations period.
Get class action lawsuit news sent to your inbox – sign up for ClassAction.org's free weekly newsletter here.
Hair Relaxer Lawsuits
Women who developed cancer, endometriosis or reproductive problems after using hair relaxers such as Dark & Lovely and Motions may now have an opportunity to take legal action.
Read more here: Hair Relaxer Cancer Lawsuits
Stay Current
Sign Up For
Our Newsletter
New cases and investigations, settlement deadlines, and news straight to your inbox.
Last Updated on September 13, 2021 — 5:06 PM