in
Newswire
Published on September 1, 2020
'Botched': Class Action Alleges FCA Left Dodge Ram 1500 Drivers High and Dry with Recall Over Engine Fire Risk
A class action argues Fiat Chrysler "botched" the recall of 2014-2019 Dodge Ram 1500 diesel engine trucks, leaving drivers with "no meaningful recourse" and suspect repair information.
A proposed class action takes issue with Fiat Chrysler Automobiles' handling of a recall of 2014-2019 Dodge Ram 1500 and 1500 Classic trucks equipped with 3.0L Eco Diesel engines plagued by what drivers describe as "grossly defective" EGR coolers that can cause a catastrophic engine fire.
The 141-page lawsuit alleges that while a vehicle recall ordinarily offers drivers "a path towards relief," FCA has, "under the cloak of this voluntary recall," put forth "a number of misrepresentations" that have served to shift the safety and economic burden of affected Ram 1500 trucks onto consumers the plaintiffs argue have been left with "no meaningful recourse aside from parking their trucks permanently."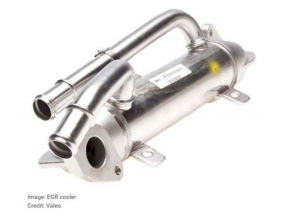 According to the plaintiffs, FCA has "completely failed its customers by continuing its pattern of putting profits over safety," with the "botched" EGR cooler recall coming just five years after the automaker was decked with a record $70 million civil penalty from the federal government over its failure to provide mandatory Early Warning Report data to the National Highway Traffic Safety Administration (NHTSA) under the TREAD Act.
"No Plaintiff or reasonable consumer would have purchased or leased these vehicles and/or paid the price they paid for these vehicles had they known about the EGR cooler defect," the complaint contends. "FCA hid the defect, then led customers to believe a fix was imminent, then told them a fix was available but is putting affected owners and lessees back on the road without a fix."
The suit adds that the 2015 penalty levied against FCA came as an amendment to an NHTSA consent order centered on the automaker's handling of two dozen safety recalls, with total monetary fines from the investigation totaling $175 million.
After the recall was announced in October 2019, FCA informed drivers that while a remedy for the EGR issue was not currently available, the company was "making every effort to finalize the remedy as quickly as possible," the complaint says. Moreover, drivers were told they would be notified once a fix was available, and need only contact their dealer to schedule a service appointment, the lawsuit states, averring that this created the expectation that a fix for the defect was imminent and would be available for all affected vehicles regardless of whether an EGR cooler had already developed a crack.
Still further, affected drivers were advised by FCA to "monitor their coolant levels" in the interim and reach out to a dealer should coolant levels be "consistently low," the lawsuit continues. The plaintiffs say this created the expectation that merely monitoring the situation would be enough to mitigate the danger, and that a dealership would be able to help should a driver's coolant level drop.
Third, the suit goes on, FCA then sent notices to certain owners and lessees to inform them a fix was available for their specific vehicle identification number (VIN). Per the case, the notice relayed that "it is extremely important to take steps now to repair your vehicle to ensure the safety of your passengers," suggesting, the plaintiffs argue, that the prior notice centered on monitoring coolant levels "was not correct" and misrepresented that a remedy was available.
Despite the specific notifications sent to affected owners and lessees with regard to an available fix for 2014-2015 and 2016 model year vehicles, it appears drivers are still routinely denied a remedy for the EGR cooler defect "due to part unavailability," the lawsuit says.
Lastly, though FCA has indicated the EGR cooler found in affected models, including the Dodge Ram 1500, is defective in 100 percent of vehicles equipped with the component, dealerships were advised by the defendant that "part supply is extremely limited," and that the EGR cooler should be replaced only if the part has failed, the suit reads.
From there, the lawsuit cites a communication from FCA to its dealers in which the automaker seemingly admits to making repair determinations based on part scarcity. According to the case, FCA advised dealers that an EGR cooler should be replaced only if the part has failed, and that "[i]f the vehicle does not need any repairs and the customer is still concerned for their safety, please provide the customer with a loaner vehicle until such time that the remedy is available for all."
Per the case, the EGR coolers—responsible for lowering the temperature of the exhaust gases recirculated back into an engine in order to cut cylinder temperatures and NOx emissions—found in affected Dodge Rams are susceptible to thermal fatigue, which can cause the coolers to crack over time and leak coolant that may produce combustion within an engine's intake manifold.
According to the complaint, the period in which it's suspected FCA commenced production of Dodge Ram 1500 3.0L Eco Diesel-equipped trucks began on June 12, 2013 and continued until October 23, 2019, when production of the allegedly affected vehicles ended. In June 2019, FCA announced the 2020 Ram 1500 would be released with an entirely new third-generation engine that included "significant changes" to the EGR system, the suit adds.
The plaintiffs stress that customers "are entitled to FCA's honesty," in particular in that they rely on the automaker to be forthcoming and offer meaningful options if a defect remedy is not readily available. According to the lawsuit, Dodge Ram 1500 drivers who to date have not been provided with a fix, including those whose engines have caught fire, are entitled to reimbursement as well.
The lawsuit looks to represent current and former owners and lessees of Dodge Ram 1500 and 1500 Classic vehicles equipped with a 3.0L Eco Diesel engine nationwide, as well as subclasses of those in California, Hawaii, Idaho and Kansas.
Get class action lawsuit news sent to your inbox – sign up for ClassAction.org's newsletter here.
Hair Relaxer Lawsuits
Women who developed cancer, endometriosis or reproductive problems after using hair relaxers such as Dark & Lovely and Motions may now have an opportunity to take legal action.
Read more here: Hair Relaxer Cancer Lawsuits
Stay Current
Sign Up For
Our Newsletter
New cases and investigations, settlement deadlines, and news straight to your inbox.
Last Updated on September 1, 2020 — 4:40 PM