Avo Shopping Company Sends Telemarketing Texts After Consumers Opt Out, Class Action Alleges
Gupta v. The Avo Shopping Company (NY) Inc.
Filed: January 11, 2022 ◆§ 1:22-cv-00250
The Avo Shopping Company faces claims that it sent unlawful telemarketing text messages to consumers who've tried to opt out of receiving them.
The Avo Shopping Company (NY) Inc. has been hit with a proposed class action over its alleged practice of sending telemarketing text messages to consumers who've tried to opt out of receiving them.
The 11-page case claims Avo has violated the Telephone Consumer Protection Act (TCPA), a federal law that requires companies to obtain a consumer's consent before placing telemarketing calls and text messages to their cell phone by way of automated technology.
The plaintiff is a New York resident who claims to have received in August 2021 an automated telemarketing text from Avo, an online store that offers groceries and other products for same-day delivery. After receiving the text, the plaintiff emailed Avo's customer service department asking to be removed from their contact list, the suit relays.
Despite the plaintiff's attempt to opt out of the text communications, Avo allegedly sent the woman the following promotional message in September 2021: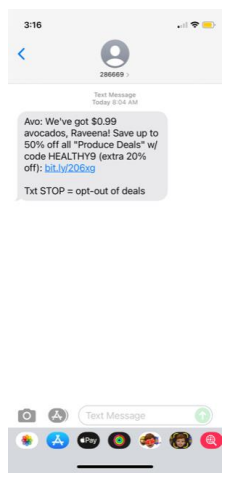 When the plaintiff attempted to contact Avo's customer service email again, she received the following response, according to the complaint:
"Hi Raveena, We are so sorry about that. There is a technical glitch in our system that has been sending out more texts to people who have already opted out. We are so sorry about this. We have since paused the texts, and I will confirm with the marketing team that you are opted out!"
The lawsuit contends that Avo has no written policy for maintaining an internal do-not-call list and does not train its employees on the use of such a list.

Per the suit, the plaintiff never provided Avo with consent to be contacted with automated telemarketing messages, and any such consent was "expressly revoked" when she requested to be removed from the defendant's contact list.
The plaintiff looks to represent anyone in the U.S. who, within the past four years, was sent a text message from Avo, or anyone on its behalf, to their cellular telephone number after requesting not to receive future text messages.
Get class action lawsuit news sent to your inbox – sign up for ClassAction.org's newsletter here.
Last Updated on January 13, 2022 — 4:38 PM