'Unfair and Deceptive': Wendy's, McDonald's Burgers Much Smaller Than Advertised, Class Action Alleges
Wendy's International, LLC and McDonald's Corporation have been hit with a proposed class action this week that claims the fast-food giants have misleadingly advertised the size of the patties and toppings that come with their burgers.
According to the 35-page case out of New York, what customers actually receive when they order a Wendy's Bourbon Bacon Cheeseburger or a McDonald's Big Mac, for example, is a far cry from what is pictured in the advertisements for the sandwiches.

The plaintiff, a New York resident, alleges that the patties used in nearly every item on Wendy's and McDonald's menus are misrepresented in the restaurants' advertisements as bigger—and with more toppings—than what customers actually receive when they order the food.
According to the case, this is because the patties that Wendy's and McDonald's use in their advertisements are not fully cooked. The case states that meat generally shrinks 25 percent when cooked, depending on its fat and liquid content. By searing only the outside of otherwise undercooking the beef patties used in advertisements, Wendy's and McDonald's can make their patties look 15 to 20 percent bigger than the fully cooked burgers actually served to customers, the lawsuit contends.
The complaint cites an interview with food stylist Ellie Stern—whose recent clients allegedly include both Wendy's and McDonald's—in which Stern admitted that she prefers to use undercooked burgers for advertisements because that "ensures a big, plump patty, whereas fully cooked burgers tend to shrink and look less appetizing."
Wendy's and McDonald's burgers are not only less appetizing than consumers were led to expect—but are also worth less, according to the suit.
The plaintiff says the defendants' advertisements for their burgers and other menu items are "unfair and financially damaging" in that the food customers receive is "much lower in value than what is being promised."
Expectation vs. reality
The lawsuit claims Wendy's and McDonald's current advertisements "materially overstate[]" both the amount of toppings and the size and thickness of the patties used in their menu items, such that customers receive food that, as one reviewer put it, "[doesn't] look like the picture."
The complaint includes an image purporting to show a Wendy's advertisement for a Dave's Single burger next to the "actual burger served to customers":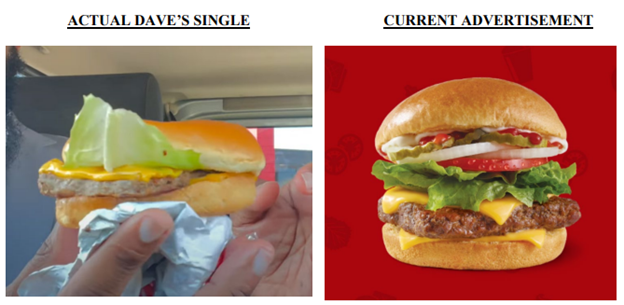 Similarly, though a McDonald's advertisement for its cheeseburger shows a patty that extends all the way to the edge of the bun, the sandwich received by customers "has a materially smaller beef patty that comes nowhere near the edge of the bun and cannot even be seen in the … photograph," the lawsuit states.
The complaint contains a handful of other pictures from food reviewers and customers that purport to show that the burgers Wendy's and McDonald's actually serve "don't look anything like the marketing."
According to the suit, the defendants' misleading advertisements attract customers to their restaurants and cause them to "make purchases that they would not have otherwise made."
This is "especially concerning," the case says, in light of inflation and the fact that many consumers are "struggling financially" amid high food prices.
What menu items are mentioned in the lawsuit?
Though the case claims that Wendy's and McDonald's overstate the amount of toppings and size of their beef patties for "nearly every menu item," the complaint specifically mentions the following burgers:
Wendy's
Big Bacon Cheddar Cheeseburger;
Big Bacon Cheddar Cheeseburger Double;
Big Bacon Cheddar Cheeseburger Triple;
Bourbon Bacon Cheeseburger;
Bourbon Bacon Cheeseburger Double;
Bourbon Bacon Cheeseburger Triple;
Dave's Single;
Dave's Double;
Dave's Triple;
Baconator;
Son of Baconator;
Big Bacon Classic;
Big Bacon Classic Double;
Big Bacon Classic Triple;
Bacon Double Stack;
Jr. Bacon Cheeseburger;
Jr. Cheeseburger Deluxe;
Jr. Cheeseburger; and
Double Stack.
McDonald's
Big Mac;
Quarter Pounder;
McDouble;
Cheeseburger;
Double Cheeseburger; and
Hamburger.
Who does the lawsuit look to cover?
The case looks to represent anyone in the U.S. who purchased one of the Wendy's or McDonald's items listed on this page between May 1, 2016 and the date the lawsuit is resolved.
How do I join the lawsuit?
There's usually nothing you need to do to join or be considered part of a class action lawsuit when it's first filed. If the case moves forward and settles, that's when those affected, known as the class members, should receive notice of the settlement and instructions on how to file a claim for their share of the deal.
Keep in mind that it often takes months or even years for a lawsuit to be resolved. For now, one of the best things you can do is to stay informed.
We'll post any notable updates on this page, but if you'd rather have class action lawsuit news come straight to your inbox, sign up for ClassAction.org's free newsletter here.
Camp Lejeune
Camp Lejeune residents may soon have the opportunity to claim compensation for harm suffered from contaminated water.
Read more here: Camp Lejeune Lawsuit Claims
Stay Current
Sign Up For
Our Newsletter
New cases and investigations, settlement deadlines, and news straight to your inbox.
Last Updated on May 18, 2022 — 12:23 PM