Samsung's Marketing Overstates Water Resistance of Galaxy Active 2 Smartwatch, Class Action Alleges
Last Updated on May 11, 2022
A proposed class action contends that Samsung Electronics America has misled consumers into believing its Galaxy Watch Active 2 smartwatch is waterproof when it's only water resistant.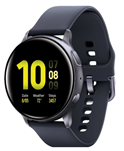 The 34-page complaint alleges Samsung has wrongfully taken advantage of reasonable consumers' inability to distinguish between "waterproof" and "water resistant" and marketed the Galaxy Watch Active 2 in a manner that falsely suggests that the device is fully waterproof and able to withstand being submerged in liquid for at least 30 minutes.
The lawsuit alleges that the smartwatch, in truth, does not perform as advertised and will be damaged after coming into contact with liquid "for a few minutes or even seconds," much less if fully submerged for an extended period of time.
"Defendant's representations with regard to the water resistance capabilities of the Product are materially false because they do not perform as advertised under normal, real-world conditions and use," the suit claims.
According to the case, Samsung has gone so far as to create "internal indicators" to detect whether a Galaxy Watch Active 2 has been exposed to liquid as a way to deny customer warranty and repair claims. The lawsuit likens Samsung's alleged refusal to repair the device under warranty as buyers being "told one thing when they buy the Product, based on the representations, and then something else when they need after-sales service or replacement."
Ultimately, Samsung smartwatch buyers may end up paying more to repair a damaged device than they did when they bought the product new, the lawsuit relays, noting that the internet is "full of complaints" from frustrated Galaxy Watch Active 2 owners.
Lawsuit says Samsung's marketing emphasizes "waterproof" capabilities
A key contention in the lawsuit is that most consumers cannot distinguish between "waterproof" and "water resistant." The case argues that although only the term "water resistant" is used by the International Electrotechnical Commission and the International Organization for Standardization, two international standards-setting groups, in regard to electrical devices and their ability to withstand water, this does not mean consumers believe that a device touted as "water resistant" is not in fact fully "waterproof."
Samsung, the lawsuit alleges, has taken advantage of this misconception by marketing the Galaxy Watch Active 2 as acceptable to wear while swimming and amid images of liquid.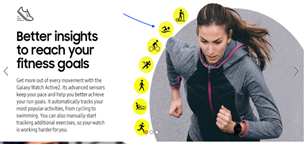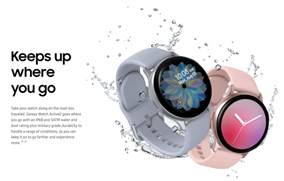 Moreover, Samsung's marketing indicates to consumers that the smartwatch can withstand even mundane day-to-day contact with water, including during handwashing, the case says: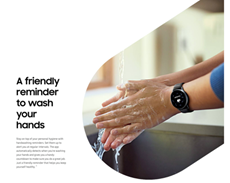 The lawsuit alleges, however, that the Galaxy Watch Active 2 is simply not water resistant as the term is understood by regular consumers and "routinely fails in brief encounters with water."
Water resistance standards don't jibe with real-world watch usage, suit says
The lawsuit argues that although each Samsung smartwatch is advertised alongside an International Electrotechnical Commission (IEC) rating that supposedly corresponds to a device's resistance to dust and water, these IEC standards are neither intended for nor apply to the real-world use of smartwatches.
First, the case says, the IEC standard requires that a sample device be brand new before being tested. Per the suit, this is a condition "that will almost never be met in the real world" as "users will not have their smart watch subjected to potential water damage immediately after they open it." Further, a Galaxy Watch Active 2, in real life, would not be immersed in purified, fresh water like the kind used for testing, the complaint adds.
Second, the smartwatch's water protection barriers, such as coatings, glues, gaskets, meshes and membranes, are porous and only "deter" water from entering the device, the lawsuit contends. These membranes degrade and fail over time, especially when the smartwatch is subjected to "various temperatures, pressures, and mechanical force conditions," the case says.
Third, the lawsuit continues, the general temperature requirements for IP tests are within the range of 59 degrees Fahrenheit and 95 degrees Fahrenheit, yet the temperature in pools, sinks bathtubs and even hot, humid environments – that is, where the watch may be used – "typically exceeds the suggested temperature range under the IEC standard," which can impact the efficacy of the watch's seals.
The suit goes on to say that the IEC standard also fails to specify whether a sample is energized when tested. This is important given a smartwatch will most likely be turned on when it is submerged, and the fact that it is on will affect its ability to resist water, the complaint relays.
The IEC standard also fails to describe how water enters the device, yet this will affect the pressure it is subjected to and thus the depth and time it can withstand immersion in liquid. For instance, a smartwatch could fall quickly to the bottom of a pool or toilet, which will affect "the pressure and water ingression rate."
Lastly, the lawsuit argues that the acceptance criteria for water resistance tests are "vague," requiring only that "water entering a device not affect its normal operation or impact its safety." From the suit:
For example, one lab may rate a smart watch as 'water-resistant' as long as a short circuit does not occur, and yet accept the fact that there was a reduction of acoustic performance."
Who does the lawsuit look to cover?
The case looks to represent consumers in California who bought a Samsung Galaxy Watch Active 2 smartwatch for personal or household use within the applicable statute of limitations period.
I don't live in California. Can I still get involved in the case?
At this time, the proposed class action detailed on this page aims to represent only consumers in California who've purchased a Samsung Galaxy Watch Active 2. If you happen to live in another state and would like to know more about your legal rights, or about how to possibly start your own class action, you may want to reach out to an attorney in your area. (Google is generally a good place to start the search.) Many class action lawyers offer free consultations and would be able to provide you with some guidance on how best to proceed.
I own a Samsung smartwatch. How do I join the lawsuit?
When a proposed class action is first filed, there's generally nothing a person needs to do to "join," "sign up for" or otherwise be considered "included" in the lawsuit. Truth is, it's only if and when a class action settles that consumers who are covered by the suit, the "class members," would need to act. This usually involves filing a claim form online or by mail. If the case on this page were to settle, class members would more than likely be notified about it.
Keep in mind that class action lawsuits generally take some time to work through the legal process, usually toward a settlement, dismissal or arbitration outside of court.
If you bought a Samsung Galaxy Watch Active 2, or are just looking to stay current on class action lawsuit and settlement news, sign up for ClassAction.org's free weekly newsletter.
Camp Lejeune
Camp Lejeune residents now have the opportunity to claim compensation for harm suffered from contaminated water.
Read more here: Camp Lejeune Lawsuit Claims
Stay Current
Sign Up For
Our Newsletter
New cases and investigations, settlement deadlines, and news straight to your inbox.
Last Updated on May 11, 2022 — 2:13 PM