Robinhood Class Action: Amended Suit Says Inexperienced Traders Drawn in with 'Game-Like Interface' [UPDATE]
Last Updated on July 21, 2022
February 1, 2021 – Keep Up with the Latest Robinhood Class Action Lawsuits
For the latest developments on the wave of class action litigation against Robinhood over its ban on certain stock trades amid the recent Reddit-driven price spikes, check out ClassAction.org's blog here.
That page will continually be updated as the situation develops, so be sure to check back often.
Get class action lawsuit news sent to your inbox – sign up for ClassAction.org's free weekly newsletter here.
The class action litigation against Robinhood continues to snowball, as plaintiffs charge in a souped-up amended complaint that inexperienced investors drawn in by the stock-trading app's "game-like interface" were among those who found themselves locked out amid early-March 2020 app outages.
The 48-page case, now front and center in the consolidated litigation underway in California federal court, bolsters allegations brought shortly after traders found themselves unable to buy, sell or trade on the Robinhood app due to ill-timed outages amid roaring stock market activity:
The Outages on March 2 and 3, 2020, were particularly devastating for Plaintiffs and the Class as the Dow Jones Industrial Average rose 5.1% during that time. Meanwhile, Robinhood users were locked out of their accounts and unable to access their funds or make trades—while the markets gained a record $1.1 trillion. The Outage on March 9, 2020, was similarly harmful, as the Dow Jones Industrial Average had its largest point plunge in history up to that date. Again, Plaintiffs and the Class were unable to access their funds or make trades and suffered significant losses as a result."

Since the initial problems in March, Robinhood's website and app have gone dark a total of 47 times, the lawsuit notes, citing a July 8 New York Times report centered on the very real financial pitfalls awaiting new, unsophisticated users drawn into risky, fast-paced trading with little margin for error. According to the Times, what awaits new users is a precarious landscape in which no training wheels exist, wherein even experienced traders receive little help from Robinhood:

This kind of trading, where a few minutes can mean the difference between winning and losing, was particularly hazardous on Robinhood because the firm has experienced an unusual number of technology issues, public records show. Some Robinhood employees, who declined to be identified for fear of retaliation, said the company failed to provide adequate guardrails and technology to support its customers."

The failures of defendants Robinhood Financial, Robinhood Securities and Robinhood Markets to ensure their commission-free investing platform could handle surges in users—as well as the apparent lack of a plan should such an emergency situation arise—amount to negligence, breach of contract and fiduciary duties, and violations of Financial Industry Regulatory Authority (FINRA) regulations, the plaintiffs allege.
According to the complaint, the combined losses for the litigation's 16 named plaintiffs due to Robinhood's app outages exceed $255,000.
"Colossal" debt is no game, lawsuit stresses
Robinhood's meteoric growth since its founding in 2013 has come in part due to the app's popularity with millennials – the average user's age is 31 years – and the allure of no trading fees or account minimums to maintain, the case says. Per the suit, many have also been drawn in by the ease with which Robinhood's stock-, options- and margin-trading products could be used and have remained engaged with the platform thanks to behavioral nudges and push notifications.
On top of that, the suit charges, Robinhood's "game-like interface" has served as an equally attractive lure, including to those who may be unfamiliar with the fact that financial losses sustained via stock trading are no game—and in fact come with real consequences.
"Unfortunately for many Americans, losing investment and retirement funds or accruing colossal debt is not a game, and the consequences have been tragic," the lawsuit reads, noting matters have only been made worse due to this year's nagging app disruptions.
When functional, Robinhood's app is designed specifically to be easy to use, listing on the home screen, for instance, popular stocks users can trade with just a touch of their smartphones, the case says. According to the complaint, the Robinhood app also includes features "that make investing appear more like a game," including one whereby new users are given a free share of a stock that's revealed similarly to a scratch-off lottery ticket: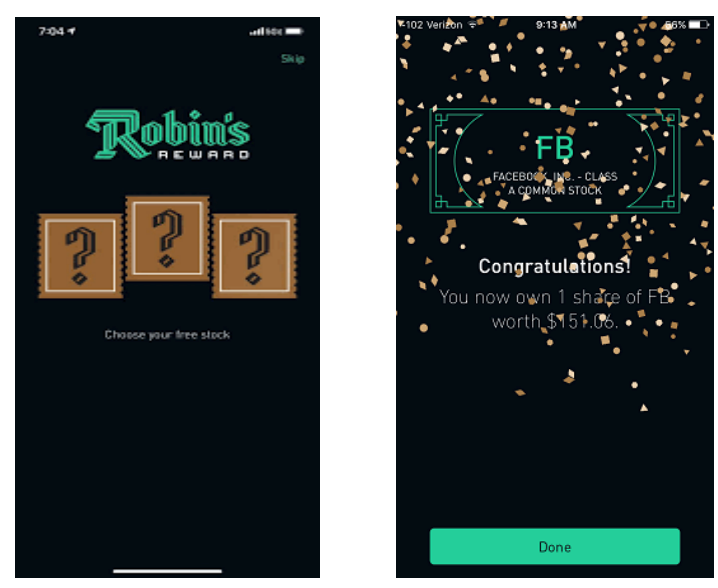 Once the stock is revealed, confetti falls on the user's screen.
The lawsuit cites a research analyst at Chicago-based Sumner Capital group in noting Robinhood has tried to "gamify" stock trading while couching it as an investment. For many Americans, however, mistakes made while trading on the Robinhood app can lead to the loss of retirement funds or accrual of colossal debt, among other more tragic consequences.
Though the lawsuit makes no mention of the global COVID-19 crisis, the case cites a Forbes article, which reported on a 20-year-old University of Nebraska student who took his own life after seeing a negative $730,165 cash balance in his Robinhood account, that notes more than three million new accounts were opened on the platform in the first quarter of 2020.
The lawsuit notes that while beginner stock traders are legally barred from engaging in options trading, Robinhood makes it quite simple to get around this hurdle. Per the complaint, a new user looking to get into options trading need only respond to multiple-choice questions and is essentially coached by the app on how to go from "no investing experience" to "not much" investing experience, an important, if hair-splitting, distinction.
Further, the amended suit stresses Robinhood users "trade more often than average, faster, and with more risk" than those who trade on other platforms. According to an analysis cited in the complaint, Robinhood users traded nine times as many shares as E-Trade Customers and 40 times as many shares as Charles Schwab customers in the first quarter of 2020. The same analysis found Robinhood users also bought and sold 88 times as many risky options contracts as Schwab customers relative to the average account size, the lawsuit says.
The suit summarizes Robinhood's toxic allure to inexperienced, unsophisticated traders with a quote from wealth management consulting firm Nexus Strategy's CEO Tim Welsh, who said, in part, "they should put a cigarette warning label on Robinhood, because it could be hazardous to your financial health the more you trade."
"Every study on planet Earth has shown day traders that are not sophisticated do not make money," Welsh told CNBC two weeks ago. "They game-ify it, they throw confetti after each trade, they make it 'free' but ultimately it's a losers game."
Despite its dangerous allure to young investors and app outages that always seem to be lurking over the horizon, Robinhood has fallen far short in its duty to ensure the lights are kept on for traders, the lawsuit alleges.
"Robinhood's conduct as set forth in this Complaint was want of even scant care and its acts and omissions were and continue to be an extreme departure from the ordinary standard of conduct," the case charges. "Indeed, Robinhood essentially abandoned its customers altogether during the Outages, a standard of care so far below what is required for business engaging in time sensitive financial services that it amounts to a complete abandonment of its duties."
Long road since March
After the initial proposed class action was filed against the company on March 5, Robinhood was hit with a number of lawsuits that sought to represent those who could not access their brokerage accounts, with one case looking to cover option contract holders who allegedly were unable to sell their expiring option contracts due to being locked out. In late March, as the global COVID-19 pandemic took precedence over just about everything else, the plaintiff behind the March 5 lawsuit filed an emergency motion for a temporary restraining order and preliminary injunction, claiming Robinhood was trying to sidestep the litigation by obtaining from users a waiver of claims in exchange for a $75 "goodwill credit."
After more procedural chess pieces were moved and more lawsuits were filed, the March app outage cases against Robinhood were formally tied together on July 14 after U.S. District Judge James Donato ordered 13 suits to be consolidated and collectively handled as part of In re Robinhood Outage Litigation.
The amended complaint detailed on this page was filed August 21.
I've experienced problems with Robinhood. How do I join the lawsuit?
The Robinhood litigation still has a long way to go before the picture becomes clearer for those who were harmed financially after being unable to access their accounts due to the many app outages this year. Generally speaking, however, there's nothing you need to do to "join" or be considered a part of a class action lawsuit.
Class action cases almost always take a while to work their way through the legal system, usually toward either a settlement or dismissal. This means it might be a while before the time comes when Robinhood traders affected by the persistent app outages can submit claims for whatever compensation the court deems appropriate, and that's only if there's a settlement.
If you believe you're covered by the Robinhood class action, stay informed and check back with ClassAction.org for updates. Be sure to sign up below for our newsletter to stay current.
Get class action lawsuit news sent to your inbox – sign up for ClassAction.org's newsletter here.
Hair Relaxer Lawsuits
Women who developed cancer, endometriosis or reproductive problems after using hair relaxers such as Dark & Lovely and Motions may now have an opportunity to take legal action.
Read more here: Hair Relaxer Cancer Lawsuits
Stay Current
Sign Up For
Our Newsletter
New cases and investigations, settlement deadlines, and news straight to your inbox.
A note on class action complaints:
Bear in mind that the information in this blog post summarizes the allegations put forth in the following legal complaint. At the time of this writing, nothing has been proven in court. Anyone can file a lawsuit, with or without the representation of an attorney, for any reason, and ClassAction.org takes no position on the merits of the suit. Class action complaints are a matter of public record, and our objective on this website is merely to share the information in these legal documents in an easily digestible way.
Last Updated on July 21, 2022 — 12:25 PM