Maker of Pinkfong Baby Shark Bath Toys Facing Class Action Over Impalement Risk
A proposed class action lawsuit claims the maker of Pinkfong Baby Shark bath toys has failed to warn consumers that its products' design poses a risk of impalement and laceration to children.
Want to stay in the loop on class actions that matter to you? Sign up for ClassAction.org's free weekly newsletter here.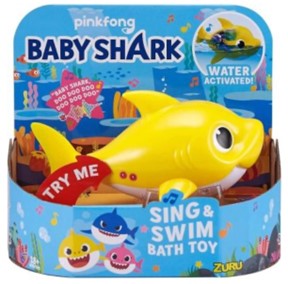 The 25-page lawsuit claims that the toys at issue – namely, the full-size Robo Alive Junior Baby Shark Sing & Swim bath toys and mini-size Robo Alive Junior Mini Baby Shark Swimming bath toys, which Zuru recalled just last month – are defective and "unreasonably dangerous" because the sharp fins of the plastic shark can, with enough force, impale or cut users' skin.
The suit goes so far as to allege "each individual shark" has the potential to cause "serious harm, if not death, to children who use such products" as impalement can "slice[] skin, tissue, veins, and arteries."
In addition to the alleged impalement risk, the bath toys may also cause users to be shocked by or suffer chemical burns from defective battery systems that can leak battery acid, the suit claims.
The lawsuit charges that no reasonable consumer would have purchased the bath toys at issue had they known that the products "were, and are, unsafe."
Pinkfong Baby Shark bath toys are "worthless," carry "known" risks, suit claims
The toys named in the suit, which sing and swim when placed in water, are designed to resemble characters from "Baby Shark," a popular animated music video with a spinoff children's TV series, the filing explains. However, nowhere on product labeling, instructions or packaging did Zuru include a warning about the toys' risks, the case says. In fact, the complaint argues that the company represented the toys as safe and effective for their intended use despite their known dangers.
The filing also contends that the impalement risk inherent in the products' design is "demonstrably avoidable," as alternative methods and materials are available and utilized by other companies to manufacture comparable toys free of defects.
"Other manufacturers formulate, produce, and sell non-defective toys with formulations and production methods that do not cause the product to impale children…," the suit reads.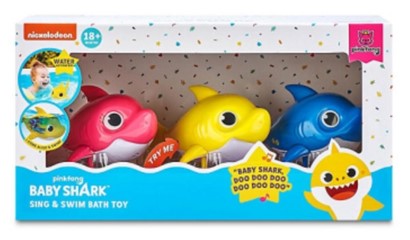 The plaintiff in the case, a South Carolina resident, says he purchased a Baby Shark bath toy in May 2023, just over a month before Zuru issued its product recall.
Though the man had intended to buy a toy that would be safe for his young child, he was instead sold a "dangerous sharp-edged piece of plastic" that ended up leaking and "spew[ing] battery acid," the suit says.
The plaintiff claims that he would not have paid as much for the bath toy or bought it at all had he been aware of the potential risks inherent in its design.
Who's covered by the lawsuit?
The case looks to represent anyone in the United States who purchased a Pinkfong Baby Shark bath toy listed on this page within the applicable statute of limitations period.
I bought a Pinkfong Baby Shark bath toy. How can I join the lawsuit?
Generally, there's nothing you need to do to join a class action lawsuit when it's first filed. The time to act is if the lawsuit settles, at which time people covered by the deal—known as class members—may be notified directly by email or regular mail with instructions on what to do next.
Like most lawsuits, class actions can take months or even years to be resolved.
If you've purchased a Pinkfong Baby Shark bath toy, or just want to keep up with class action lawsuit and settlement news, sign up for ClassAction.org's free weekly newsletter.
Hair Relaxer Lawsuits
Women who developed cancer, endometriosis or reproductive problems after using hair relaxers such as Dark & Lovely and Motions may now have an opportunity to take legal action.
Read more here: Hair Relaxer Cancer Lawsuits
Stay Current
Sign Up For
Our Newsletter
New cases and investigations, settlement deadlines, and news straight to your inbox.
Last Updated on July 20, 2023 — 4:47 PM