Juul Labs Hit with Class Action Lawsuit Over 'False and Deceptive' Marketing of Vape Device to Teenagers
Last Updated on October 23, 2018
Juul Labs, Inc. is staring down a proposed class action lawsuit that looks to cover all Florida consumers, including minors, who purchased the company's Juul e-cigarette and/or Juul pods. According to the eight-count complaint, Juul has run afoul of Florida consumer protection law by marketing that its vape device is a "safer alternative to smoking" designed exclusively for adult use while at the same time creating an "online culture and community targeted to young people and designed to encourage Juul use."
What Is Juul Exactly?
A Juul is an e-cigarette device that resembles a USB flash drive and is powered by a USB-rechargeable battery. The device works by utilizing a heating element to warm up a pre-filled "Juul pod" full of the company's patented nicotine solution that is then inhaled by the user as he or she would a cigarette. Each Juul pod, the suit says, delivers about 200 puffs.

According to the case, which was filed on behalf of a 16-year old by his mother, Juul delivers doses of nicotine far more potent than those of traditional cigarettes, despite the company's repeated claims that the amount of nicotine in one Juul pod is "'about' equal to a pack of cigarettes." Juul Labs' statements on the level of nicotine in its product are materially misleading, the suit alleges, in that the efficiency with which nicotine is delivered into the bloodstream determines the product's narcotic effect, risk of addiction and therapeutic use, and not just the amount of the substance.
"JUUL pods and JUUL devices deliver more nicotine and more potent nicotine into the bloodstream than a cigarette, each JUUL pod contains more nicotine than a pack of cigarettes, and fewer than 10 puffs of a JUUL are equivalent to smoking a cigarette with respect to nicotine ingestion," the suit reads.
The suit further claims that while Juul purports its e-cigarettes and pods to be a safer alternative to smoking, the device is, at its core, still a mechanism for delivering nicotine, which the case links to "cardiovascular, reproductive, and immunosuppressive" issues, among other harmful side effects. From the complaint:
Because vaping still introduces foreign substances into the lungs, prolonged use of vaping products is likely to produce chronic obstructive pulmonary disease, just like traditional cigarette smoke.

Vaping also triggers immune responses associated with inflammatory lung diseases.

There is also evidence that nicotine can affect neurological development in adolescents, and that exposure to nicotine during adolescence can produces [sic] an increased vulnerability to nicotine addiction."

Alleged Efforts to Market to Minors
The meat and potatoes of the 35-page lawsuit are allegations that Juul has, from the start, engaged in social media marketing campaigns designed to cultivate a specific image that connects with young people. Aiding Juul's corporate efforts on platforms like Facebook, Twitter and Instagram are social media posts from users to their own accounts, the suit says, wherein they discuss usage and share images and videos of people "Juuling." For its part, Juul appears to encourage this trend, prompting visitors to its website to "join the conversation" by utilizing Juul-branded hashtags.
While none of this may seem out of the ordinary for a company looking to connect with a young demographic, Juul, according to the lawsuit, is well aware that many of those engaging with the company on social media are under 18 years of age.
Citing a 2018 study, the suit claims that Juul's marketing approach is "heavily dependent" on its social media presence whereas other major retail e-cigarette brands utilized television advertising or other "promotional expenditures" – at least in their early stages. Many of Juul's social media posts, the study found, heavily emphasized the variety of flavors available for Juul pods, which the case points out is in line with now-banned strategies used by Juul's predecessors in the tobacco industry:
JUUL sells its JUULpods in a variety of sweetened flavors. The use of flavors that appeal to youth hooks underage 'vapers.'

In 2009, the FDA banned cigarettes with characterizing flavors other than menthol (e.g., cherry, chocolate), which are known to appeal to youth and young adults.

Defendant is using the same strategy to addict underage users to their products that cigarette companies previously used."

But as the case tells it, it doesn't stop there when it comes to Juul's attempts to entice minors with its product. A pack of four Juul pods—which Juul says is equal to roughly four packs of cigarettes—retails for about $19.99, according to the lawsuit. In Florida, the case explains, a pack of cigarettes usually costs between $6.85 and $8.20.

Suit: Juul Downplayed Risk of Nicotine Addiction
The complaint states that despite making numerous packaging revisions since its product hit the market in 2015, Juul Labs only very recently added nicotine warnings to its devices and pods. The below images included in the complaint depict what Juul's packaging looked like prior to Spring 2018, and what it shows today:
2015 to Spring 2018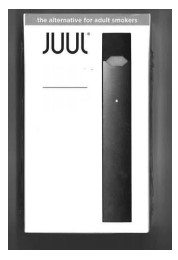 Spring 2018 to present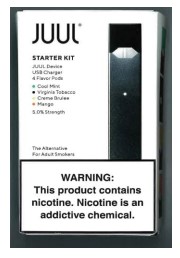 Juul's exterior packaging also claims, in small print, that the device is "the alternative for adult smokers." But the sum of these efforts has been too little, too late when it comes to discouraging teenagers from and warning others about the dangers of "Juuling," the lawsuit argues.
The recently–added warning fails to disclose the highly addictive attributes of the product itself, including, inter alia, that the JUULpods' nicotine salt formulation delivers an exceptionally potent dose of nicotine, that JUUL is delivering doses of nicotine that are several times higher than those allowed in normal cigarettes, that the efficiency with which the product delivers nicotine into the bloodstream increases its addictiveness, that it can be more addictive than traditional cigarettes and that it poses serious health risks."

This Is Getting a Little Long. Can You Sum All of This Up for Me?
Sure. According to the suit, Juul Labs, Inc. violated the Florida Deceptive and Unfair Trade Practices Act by:
"selling JUUL products to Plaintiffs as non-addictive nicotine delivery systems, or less addictive nicotine products than cigarettes;
failing to disclose to Plaintiffs that the JUUL nicotine salts they were purchasing were highly addictive in nature, making it extremely difficult for Plaintiffs to cease purchasing JUUL pod refills;
failing to disclose to Plaintiffs that the nicotine benzoate salts in JUUL pods delivered nicotine to blood plasma at a rate four times higher than a smoked Pall Mall cigarette, which was likely to make the nicotine addiction associated with JUUL products stronger and more severe than that associated with cigarettes or other e-cigarette products;
developing and marketing a product that contained nicotine levels far in excess of what smokers need to comfortably switch from cigarettes, with the intention of creating and fostering long-term addiction to JUUL products;
falsely and deceptively marketing, advertising and selling JUUL e-cigarettes and JUULpods by misrepresenting their nicotine content, nicotine pharmacokinetics, and suitability as an "alternative" to cigarettes, when in fact, JUUL is likely to aggravate nicotine addiction;
falsely and deceptively marketing, advertising and selling JUUL's 'autoship' service as something consumers could cancel "anytime" without disclosing to consumers how addiction associated with use of JUUL e-cigarettes would interfere with their ability to cancel the JUUL pod subscription;
creating advertising that lured underage non-smokers into using JUUL e-cigarettes and disseminating that advertising through unregulated social media platforms commonly used by most youth in the United States; and
setting the price of JUUL pods at a low price that is intended to and does attract underage users to purchase JUUL products."
The suit also brings claims for fraud, unjust enrichment, failure to warn, breach of warranty and negligence. The full complaint can be read below.

Hair Relaxer Lawsuits
Women who developed cancer, endometriosis or reproductive problems after using hair relaxers such as Dark & Lovely and Motions may now have an opportunity to take legal action.
Read more here: Hair Relaxer Cancer Lawsuits
Stay Current
Sign Up For
Our Newsletter
New cases and investigations, settlement deadlines, and news straight to your inbox.
Last Updated on October 23, 2018 — 9:57 AM