I Got a Takata Airbag Settlement Notice: What Does It Mean?
Did you get something like this in the mail?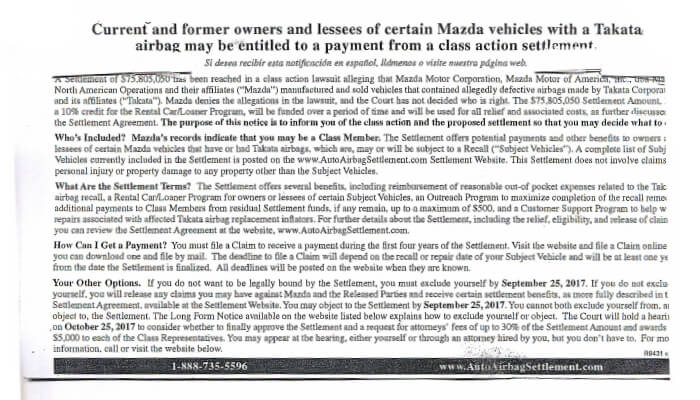 If so, here are two things you should know:
It's not a scam. You got this notice because you may be able to claim money as part of a recent class action settlement.
You're not alone. Thousands are starting to receive these notices – including a couple of us here at ClassAction.org.
OK Cool. What's This All About Then?
For those who haven't heard, Takata Corporation is a Japanese auto parts company that manufactured airbags that were the subject of several lawsuits against automakers including Mazda, BMW and more. The lawsuits claim that the Takata-brand airbags are defective and can potentially explode on impact – and that the car companies should be held liable for selling vehicles in which these airbags were installed.
While some companies are still fighting the claims, four automakers– BMW, Mazda, Subaru and Toyota – have agreed to pay a total of $553 million to settle the class actions against them. Now, anyone with the affected vehicles may be eligible to claim compensation. Hence, your class action settlement notice.
(The latest settlement covers these four carmakers only, but it looks like a settlement for Nissan owners will be on its way soon. We'll have information on that as soon as we hear more.)
So, This Thing I Got in the Mail – Is It a Recall Notice?
In short, no. The notices that some of you may have received are simply to make you aware that class actions have been settled and that it may be time for you to claim some money. Here's what the settlement site says about the state of the recalls:
"Important Note: Some vehicles included in the Settlement will be recalled at a later date and others may not require a recall. Your receipt of a Settlement Notice does not mean your vehicle is subject to a recall. Please refer to the National Highway Traffic Safety Administration's website, www.safercar.gov, for the latest information about Takata recalls and to determine if your vehicle is subject to a recall."
What Do I Do Now?
If you got one of these notices, you'll see that it gives you some information about the settlement terms, who's included in the settlement, and how to claim your piece. All of these sections point you to one place: the settlement website – which you can find here.
Once you get there, it gives you a few options. You could check your Vehicle Identification Number to see if your car was included in the settlement, go to the individual page for your automaker, or jump right in and start filling out a claim form.
If you don't have all the information to fill out the form immediately, don't worry. The deadline looks like it'll be one year after the settlement becomes final. From what we've seen, the final approval hearing is going to take place on October 25, 2017, so you should have until late October 2018 to claim your piece of the settlement if everything goes according to plan.
Which brings us to our next topic…
What Can I Expect from the Settlement?
Great question! But unfortunately, it doesn't have a simple answer that will apply to everyone across the board.
In general, if you own one of the nearly 16 million affected vehicles, you may be able to get your money back for repairs related to the airbag recall. And, if there's any leftover settlement money, it's possible that you may be able to claim an additional payment of up to $500 dollars.(Other less specific benefits of the settlement – including what's being called a "Rental Car/Loan Program," "Customer Support Program" and an "Outreach Program" to facilitate remedies for recalled vehicles – are also listed on the settlement site.)
If you have questions about what you can claim, I would encourage you to get in touch with your friendly neighborhood settlement administrator. You can find their contact information here.
Wait – How Did They Even Get My Mailing Address?
The company whose car you purchased – whether it BMW, Mazda, Subaru or Toyota – has your information on file because, well, you bought their car. As part of the lawsuit process, automakers had to hand over documents, including customer files. This allowed the administrator of the settlement to find out where you live and what car you had. Sounds creepy, but it's really not. You can learn more about class action notices and this whole process here.
Didn't Get a Notice?
There's no need to worry if you didn't receive a notice in the mail. It may still be on its way. But even if you don't get one, you can still head over to the settlement website to find the information you need and see if you're eligible to fill out a claim form.
We'll be sure to keep you updated if anything changes during the upcoming approval hearing, so be sure to check back after October 25th to make sure the settlement is still on track.
Drive safe out there.
Camp Lejeune
Camp Lejeune residents now have the opportunity to claim compensation for harm suffered from contaminated water.
Read more here: Camp Lejeune Lawsuit Claims
Stay Current
Sign Up For
Our Newsletter
New cases and investigations, settlement deadlines, and news straight to your inbox.
Last Updated on August 11, 2017 — 1:24 PM