How Do I Sign Up for the FTC's Credit Karma Settlement?
Last Updated on September 15, 2022
Folks, we have some money for certain Credit Karma users. Well, not us, exactly, but the Federal Trade Commission.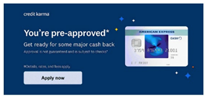 The agency recently announced a proposed $3 million settlement with Credit Karma over allegations that the financial resources company, from at least February 2018 through April 2021, deceptively told some consumers that they had been "pre-approved" for certain financial products, including major credit cards and loans, via its website, mobile app and email marketing campaigns.
In reality, however, nearly a third of consumers who saw Credit Karma's "pre-approved" advertisements were, for many offers, denied the products they applied for, the FTC alleged. The agency said that the "disclaimers" Credit Karma provided didn't cut it either: these were "often smaller and less noticeable" than the big-and-bold "pre-approved" promise, and even if consumers did read the disclaimer, Credit Karma reassured them by stating, for instance, that "… 90% of pre-approved applicants get this card."
Another problem, the FTC alleged, was that when consumers applied for Credit Karma's credit offers, the company behind the financial product did a "hard inquiry" on the applicant's credit, something that has a chance of hurting their credit score. Ultimately, "[a]fter wasting a significant amount of time," consumers found themselves without a "'pre-approved' credit card or loan and with a damaged credit score," possibly affecting their chances of being approved for financial products in the future.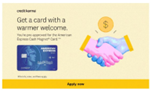 In addition to the monetary component, the settlement prohibits Credit Karma from deceiving consumers as to whether they are approved or pre-approved for credit offers, or about the "odds or likelihood" that they'll be approved. The company is also required to preserve records related to any market research, usability testing or use of online tracking tools.
So, how can eligible consumers get money from the FTC's Credit Karma settlement? Is there a claim form or sign-up page? When can consumers expect payment?
Here's what we know from the FTC.
How do I get money from the Credit Karma settlement?
According to official settlement documents, the FTC will work directly with Credit Karma to identify consumers who are eligible for a payout from the proposed settlement. It is standard practice for the FTC to do this with defendants with whom the agency settles, and most FTC cases do not require consumers to file claims to receive compensation.
This means there is no claim form or sign-up page for the Credit Karma settlement. If you are eligible for the Credit Karma settlement, you will receive your payment directly.
When will I get my money from the FTC settlement?
Since the Federal Trade Commission voted unanimously to accept the complaint and consent agreement with Credit Karma, the settlement will now be published in the Federal Register. Once published, the agreement will be open to public comment for 30 days, after which the FTC will decide whether to finalize the deal.
Once that happens, payments will begin to be distributed to eligible consumers, as identified by Credit Karma and the FTC. The agency says it issues payments via check, PayPal and prepaid debit card.
The FTC assures on its website that it sends out payments to consumers "as soon as it can" and cannot begin sending out money "until all legal action is complete, and we have collected the money from the defendants." The agency states on its website that it is its goal to send out payments "within 6 months of receiving the data and money necessary for distribution."
More information on the FTC's consumer refund programs, including whether refunds are taxable, how a consumer can get their money and how to know if an FTC payment or form is legit, can be found here.
How much can I expect from the Credit Karma settlement?
The FTC has not said how much eligible Credit Karma users can expect to receive as a payout from the settlement.
Credit Karma "knew what it was doing," FTC says
According to the FTC, Credit Karma knew that its "pre-approved" marketing campaign, which was loaded with "large type, repetition, and colorful graphics" along with email subject lines such as "You're pre-approved for this Amex Card," "conveyed false 'certainty' to consumers." Indeed, the agency claimed Credit Karma A/B tested different versions of its marketing materials and found that the "pre-approved" language generated more clicks in comparison to those who were simply told that they had "excellent" odds of approval.
The FTC asserted that Credit Karma's alleged conduct was a prime example of a marketing tactic whereby companies utilize "dark patterns" in order to essentially trick consumers into taking certain actions, such as applying for a credit card. In October 2021, the FTC put companies on notice that they would face legal action should their sign-up processes "fail[] to provide clear, up-front information, obtain consumers' informed consent, and make cancellation easy."
Credit card providers told the FTC that they do not "pre-approve, prequalify, or preselect consumers" to whom Credit Karma offers "pre-approval" for financial products, the FTC complaint said.
Despite agreeing to settle the FTC's case, Credit Karma denies any wrongdoing, asserting in a statement that it "fundamentally disagrees" with the agency's allegations but settled in order to "avoid disruption."
Any other FTC settlements I should know about?
See for yourself: A complete list of recent FTC litigation that has resulted in refunds for consumers can be found here. We recommend bookmarking that page and/or signing up for the FTC's free consumer alert newsletter.
Get class action lawsuit news sent to your inbox – sign up for ClassAction.org's free weekly newsletter here.
Hair Relaxer Lawsuits
Women who developed cancer, endometriosis or reproductive problems after using hair relaxers such as Dark & Lovely and Motions may now have an opportunity to take legal action.
Read more here: Hair Relaxer Cancer Lawsuits
Stay Current
Sign Up For
Our Newsletter
New cases and investigations, settlement deadlines, and news straight to your inbox.
Last Updated on September 15, 2022 — 3:19 PM