Drivers Still Say Their Panoramic Sunroofs Are Exploding - Is Anything Being Done About It?
In the small corner of the Grand Scheme of Things in which consumer-prompted investigations and class action litigation exist, real, definitive resolution tends to take a while. Whether it's a government inquiry into why something isn't working as it should or a class action lawsuit affecting thousands, the arrhythmic dance that develops between Point A (an issue coming to light) and Point B (a resolution) can take years. And even then, any subsequent answers may be unsatisfactory at best and actively dangerous at worst.
This is, of course, an oversimplification of an at-times frustratingly opaque process that tends to spend most of its life in a purgatorial gray area. While the dance between something not working as it's supposed to and something being done about it—or, at the very least, someone explaining what happened—plays out, consumers too often find themselves with nothing to do other than wait for an update, word of a recall, or settlement from some lawsuit; in place of answers is usually a repair bill.
One group of consumers who have been at the mercy of this dance for years are those who have owned or leased a vehicle equipped with a panoramic sunroof that suddenly exploded. It was around 2012 when the National Highway Traffic Safety Administration's Office of Defects Investigation first heard from consumers who reported that their panoramic sunroofs had shattered while they were driving at highway speeds; others claimed their vehicle's sunroof simply shattered while the car was in park. Thankfully, minor injuries—and a whole lot of glass to clean up—were, as far as anyone could tell, the worst of the damage.
As we'll get into below, the exploding panoramic sunroof problem has remained a prevalent concern in the years since the NHTSA and attorneys began to dig into the issue from their respective sides. For their part, automakers (other than Hyundai and Volkswagen) have largely been able to sidestep taking any substantive action, attributing sunroof shattering events to road debris, projectiles, weather, and the old-standard driver error. As it stands today, automakers have done relatively little to fix, much less acknowledge, the problem.
With dozens of class actions on the books and the NHTSA continually overturning this rock and that rock in search of answers, drivers are still reporting that their panoramic sunroofs have exploded or shattered, and more vehicle models have been added to the list of those alleged to be equipped with a defective panoramic sunroof. Still, thankfully, no deaths or serious injuries have been linked to the issue.
So, what's happened in the more than seven years since exploding panoramic sunroofs first came onto the NHTSA's (and plaintiffs' attorneys') radar? In this blog post, we'll do our best to flesh out the landscape, touching on the federal agency's ongoing investigation, class actions filed over the problem, and where we're at today.
The Beginning of the Beginning: More Glass, More Problems
By most accounts, October 2012 was when the problem of exploding panoramic sunroofs fell into the lap of the NHTSA under safety issue ID PE12027. The vehicle model in the spotlight was the 2012 Hyundai Veloster hatchback. According to a Consumer Reports item from that month, nearly a dozen drivers reported that their Veloster's panoramic sunroof spontaneously shattered while they were driving, with tempered glass shards falling into the cabin of their vehicles. Upon opening its inquiry, which lasted from October 2012 through February 2013, the NHTSA's Office of Defects Investigation said it received 26 consumer complaints of exploding sunroofs, with 15 of those reportedly occurring while the vehicle was in motion.
What came next in December 2012 was a recall of thousands of 2012 Veloster models manufactured between November 2011 and April 2012, which was followed by an expansion of the recall in February 2013 to cover Velosters made between July 4, 2011 and October 31, 2011. According to a March 2013 Washington Post report, approximately 19,600 vehicles were affected by the recalls, and the cause of the apparent defect was linked to the weakening of the sunroofs during their installation in Hyundai's factory.
Though some were quick to point out what seemed to be a correlation between the growing popularity of panoramic sunroofs in newer vehicle models and the uptick in shattering/exploding events reported by drivers, buried under the commotion was that the fact that the issue was by no means new—especially by the time the NHTSA was on the case.
CarComplaints.com attests that it's received complaints from drivers for years before the Veloster panoramic sunroof situation landed on the NHTSA's desk. In December 2012, the auto news website reported that they'd heard in years past from Honda, Audi, Mazda, Volvo and Chrysler drivers whose sunroofs reportedly exploded either while driving or while parked. A search through the NHTSA's recalls and safety issues tracker shows complaints submitted to the agency that date as far back as 2010: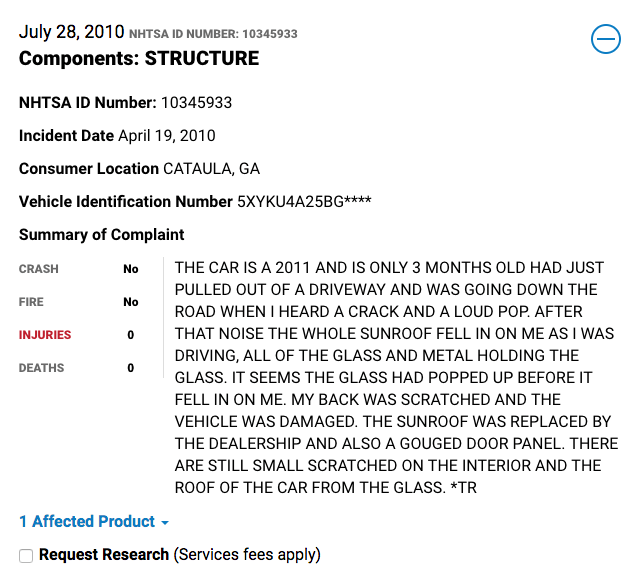 A 2017 Consumer Reports investigation appends this by including data on exploding sunroof complaints that dates back to 1995. According to the consumer watchdog, vehicle owners nationwide filed at least 859 exploding sunroof complaints with the NHTSA between 1995 and October 2017 with 71 percent of those incidents happening since 2011 with the expanding prevalence of vehicles with larger sunroofs in more and more vehicle models. Keep in mind these are just representations of reported incidents.
What's clear is that the consumer complaints in the NHTSA's database are only a fraction of the actual sunroof explosions occurring in the U.S."
— Consumer Reports
Consumer Reports went through the trouble of combing through the NHTSA's trove of complaints and found that Hyundai, Ford, Nissan, Kia and Toyota were among the automakers linked to the highest number of exploding sunroof incidents. Through 2017, 208 vehicle models spanning 35 brands and more than two decades have been linked to reports of exploding panoramic sunroofs.
But 2017 is where the trail runs cold.
Where Are We Now?
There have been few meaningful updates since 2017, other than the odd news report in which a driver describes what it was like when their panoramic sunroof shattered and wonders aloud what's taking so long with the investigation, plus the lawsuits we'll get into further along in this post. What is clear, though, is that the potential for a panoramic sunroof to explode without warning is still a concern for—and has actually happened to—many drivers.
So, with all fronts quiet and class actions proceeding at a normal clip, today's landscape with regard to the situation is more of the same: drivers' sunroofs still appear to be exploding without warning. A quick run-through of just a handful of consumer websites and their comments sections yield drivers' stories that ring markedly similar.
The complaints shown below were all submitted within the last year:
Our website, ClassAction.org: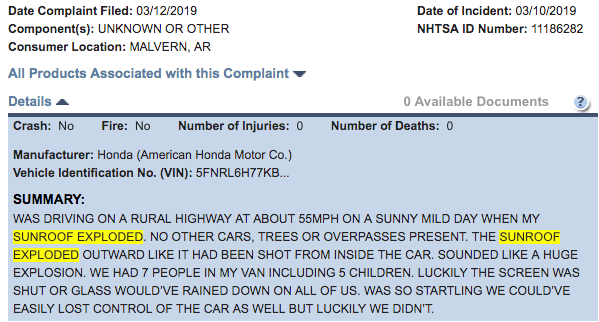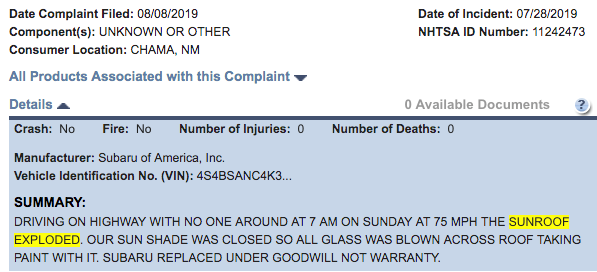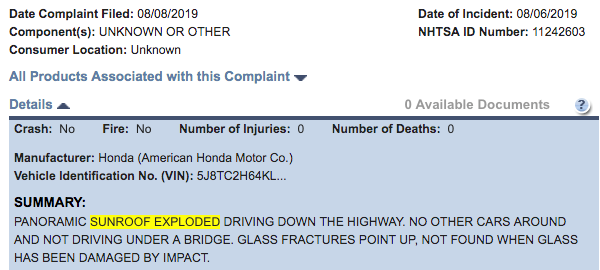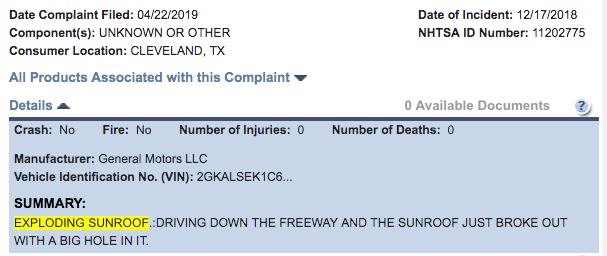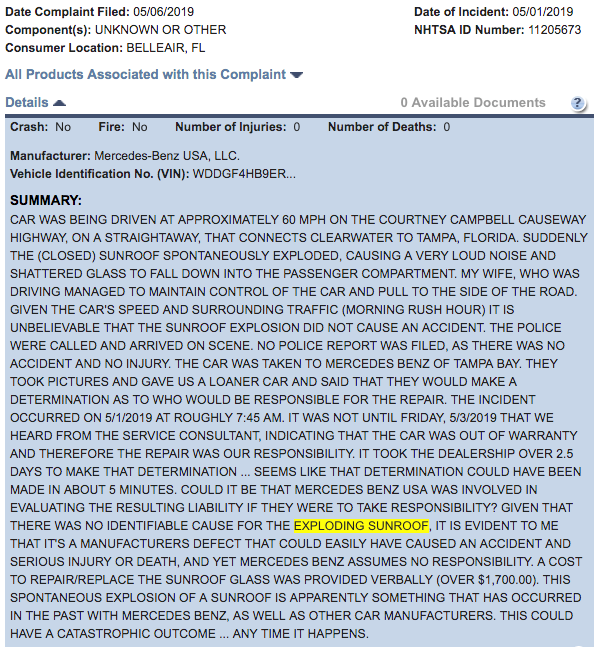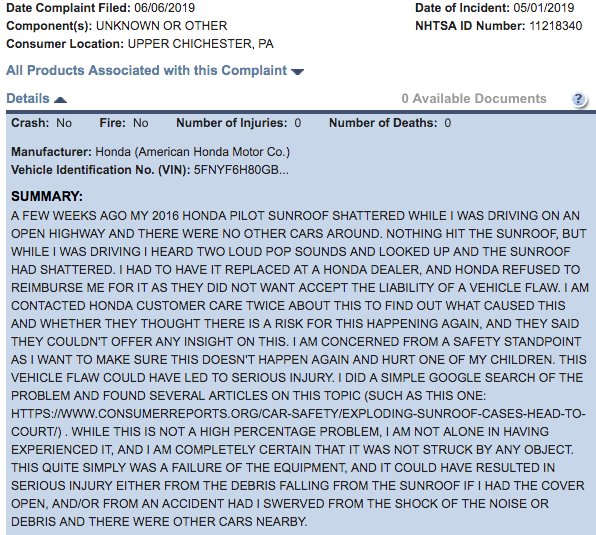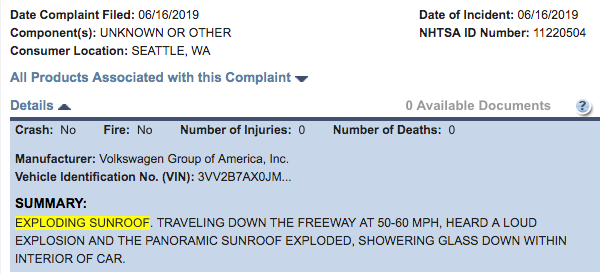 Though it's generally agreed upon that the likelihood of one's panoramic sunroof exploding is low, the stories from consumers about what it was like when theirs burst, popped or shattered—and how they were more or less left on their own to deal with it afterward—make the phenomenon all too real.
"The story is always the same," CarComplaints.com wrote. "Whether the incident occurred when the vehicle was parked or traveling at highway speeds, the remaining glass structure is always pointed toward the sky. Owners must then face the task of convincing the dealership and manufacturer that the sunroof wasn't hit from the outside, a battle that can lead to expensive repairs and denial of insurance or warranty coverage."
Absent any authoritative directives or updates, social media and the Internet have emerged as the best avenues for consumers looking for more information and the reassurance that it's not just their vehicle that's seen its panoramic sunroof explode. Many consumers unsure of where to turn—Do I submit an insurance claim? Is my car defective? Has my car been recalled?—have shared with each other stories of shattering incidents and what they did in the aftermath, which for some entailed engaging a skeptical dealership that effectively instructed them to take it up with someone else. Unfortunately, little else can be—and, more recently, has been—done other than consumers taking to the Internet with their experiences while the NHTSA continues to look into the exploding panoramic sunroof problem.
Is the Situation Hopeless? Surely Something Is Being Done?
While we know that the NHTSA called on more than a dozen automakers to submit information on exploding sunroof incidents, what's still unclear is what is being done about a problem that by all accounts is still very much a problem. It's not our place to speculate on why the inquiry is moving at a snail's pace or on whether the absence of any deaths or serious injuries is a factor in its seeming lack of progress. ClassAction.org combed through the NHTSA's available documents on its investigation and found that there's much to be desired with regard to solid findings.
The agency has not publicly disclosed what it's learned from the data it collected from automakers, and the NHTSA's investigation into exploding sunroofs is still ongoing. ClassAction.org reached out to the NHTSA about whether the agency could provide any specifics on where it's at with its exploding panoramic sunroof investigation and whether any new developments, insights or a potential end date could be shared. In a statement emailed to ClassAction.org in August 2019, the agency relayed only that:
The investigation is still open. The NHTSA will publicly release the agency's conclusions when the safety defect investigation is completed."
Where does this leave us? There was the Hyundai recall (and the following year's expanded recall) we mentioned previously; Volkswagen, all the way back in 2012, recalled 13,000 Audi Q5 Crossovers due to their sunroofs' susceptibility for spontaneous breakage in cold temperatures. But outside of these, what about the panoramic sunroofs found in the Volvo S40, Honda Accord and CR-V, Mazda CX-9, Chrysler 300M, and similar sunroofs in Lincoln, Ford, Mercedes Benz and Cadillac vehicles? What about the panoramic sunroofs found in certain BMWs, Lexuses, and Nissans?

Many of these vehicles are still on the road. Suffice it to say, it may be up to the legal system to move the needle.
Help Me, Obi Wan, You're My Only Hope: Class Actions
Given the landscape laid out in this post, it's no surprise that consumers have turned to class action lawsuits against automakers in a move toward accountability, compensation and ultimately answers. And if the February 2019 Hyundai settlement is any indication, class action cases may be consumers' best hope for, well, something.
Though Hyundai admitted no guilt in the deal to end the lawsuit and stressed that only a negligible percentage of customers reported experiencing sunroof problems, the class action settlement doubles the warranty on certain Hyundai vehicle models to 10 years or 120,000 miles. The settlement also provides for free replacement parts and all labor costs and covers damage to paint or interior upholstery caused by broken glass. What's more, the settlement reportedly extends coverage to sunroofs that were actually broken by rocks or road debris and stipulates that Hyundai will repay consumers for towing and rental car cost related to exploded panoramic sunroofs.
Similar lawsuits against Volkswagen, Kia, Ford, and Mercedes continue to make their way through the pipeline despite partial dismissals and attempts from automakers to toss the cases, and the parties in a class action against Nissan over exploding sunroofs agreed to mediation in January 2019. Hey, it's something.
As long as the exploding panoramic sunroof issue remains, well, an issue, ClassAction.org will continue the hunt for answers and updates.
Has the panoramic sunroof in your vehicle exploded? What did you do about it? Tell us down in the comments below.
Last Updated on October 1, 2019 — 11:10 AM