Class Action Roundup – Apple, Ticketmaster, Marriott, and More
Last Updated on December 20, 2018
Well folks, we've made it—our final class action news roundup of the year. This week we've covered another—yes another—class action against Apple, a big ol' lawsuit talking about some Cheez-Its, final approval of a Tesla settlement, and the latest in the Marriott data breach saga.

[Programming note: ClassAction.org will be quiet next week as our staff breaks for the holidays. We'll be back on January 2nd.]
What's That? Another Class Action Lawsuit Filed Against Apple?

Apple was hit this week with what feels like the 1,000th proposed class action to be filed against the company this year. This latest case, filed in California's Northern District, alleges the company lied about the screen sizes and pixel counts for its iPhone X, XS and XS Max smartphones.
Apple, according to the suit, misleadingly took into account non-screen areas, such as "the notch"—the rectangular black bar near the devices' earpiece—and rounded corners (pictured below), when calculating the smartphones' screen sizes. The case claims that despite Apple's marketing, the new devices are not "all screen" and miss the mark by more than just a few hairs.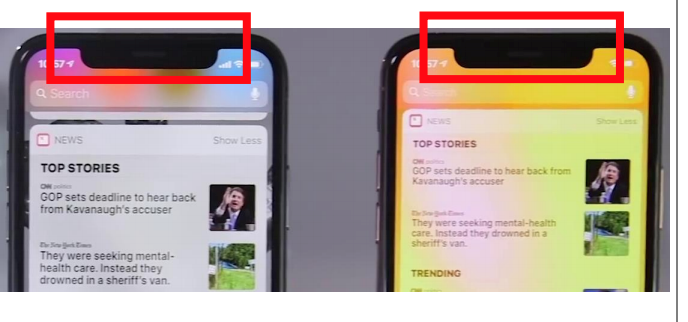 The iPhone X, the case points out, is advertised as having a 5.8-inch screen. As the lawsuit tells it, however, the phone's screen size, when the notch and rounded corners are taken into account, is actually 5.6875 inches, approximately 10 percent less than advertised. What's more, the 55-page lawsuit claims Apple actively disguised this non-negligible screen size discrepancy by selecting just the right lock screen image to use in its advertising of the iPhone X line of devices: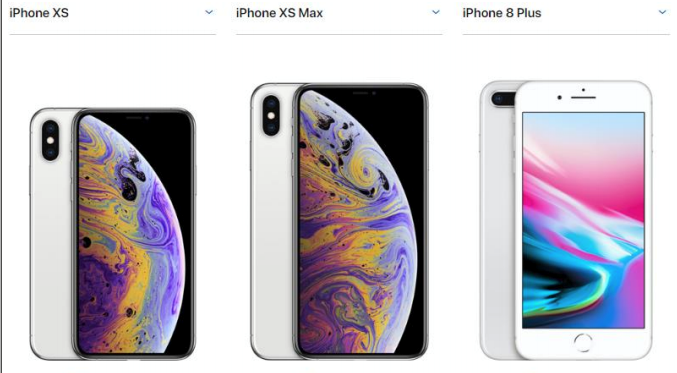 Can you see the notch and rounded corners in the two images at left and center? Neither did most consumers, the lawsuit argues. According to the suit, the iPhone X is missing "about 120 pixels' worth" of display area at the top and bottom of its screen, which ties in neatly to the case's other allegations.
The lawsuit goes on to allege Apple has misrepresented the screen resolution for the iPhone X, XS and XS Max by both failing to use "true screen pixels" and marking pixel counts as though the non-screen areas discussed above actually contain pixels. Here's where it can get a little murky for those unfamiliar with the inner intricacies of a smartphone. (If you're looking to get more into the weeds with this, as well as read the word pixel a whole bunch of times in quick succession, we suggest you take a look at our writeup of a lawsuit filed last week against Samsung over similar allegations.)
Rather than use true screen pixels, i.e., pixels that each contain a red, green and blue subpixel, Apple, the complaint says, instead utilizes pixels that contain just two subpixels. According to the suit, Apple has removed every other red and every other blue subpixel. This means fractions of every red and blue subpixel—stay with me here—are effectively shared and divided into quarters. The result of each pixel missing one of three subpixels, the suit explains, is that the iPhones' screens "cannot freely make any color" because red and blue subpixels are shared with adjacent pixels.
Whew. The full lawsuit can be read here and a writeup from C-Net's Marrian Zhou can be found here.
"If You Bought Live Event Tickets, You Can't Sue Us," Ticketmaster Argues in Court Filing

Hollywood Reporter brings us a report that Ticketmaster submitted a motion on November 30th in which it claimed customers who've bought event tickets through its website must handle any disputes with the company through binding arbitration. Ticketmaster's argument, essentially, is that once you buy a ticket, you waive your right to a have jury trial—along with your right to participate in a class action lawsuit.
The pertinent part of Ticketmaster's filing, which comes as a response to a class action lawsuit filed in the wake of a damning CBC and Toronto Star report into the company's allegedly unscrupulous ticket resale practices, reads:
In particular, in order to purchase a ticket on any of Ticketmaster's websites, [the plaintiffs] were required to affirmatively accept 'Terms of Use' or 'Terms and Conditions.' They did so, at a minimum, at the time they created their Ticketmaster accounts, or when they purchased their tickets—or both. And those Terms contain a mandatory arbitration clause and class action waiver which broadly applies to all disputes and claims, including the tickets sold or distributed by Ticketmaster."

All of this is to say that the potential years-long legal fracas between consumers and Ticketmaster has only just begun.
THR's Eriq Garnder has all you need to know over at the publication's website.
NY AG: Charter Communications Will Pay $174.2M After Misleading Customers About Internet Speeds

Charter Communications and Spectrum Management Holding Company will pay $174.2 million in a settlement with New York Attorney General Barbara Underwood. The deal comes in the wake of a 2017 lawsuit, brought by then-AG Eric Schneiderman, in which the AG's office alleged the companies misled consumers with regard to internet speeds that the suit claimed were as much as 80 percent slower than advertised.
The Verge, citing a report from the New York Daily News, writes that the settlement will be split in two, with $62.5 million to be refunded to 700,000 active Spectrum customers—amounting to roughly $75 and $150 each (we know, we know…)—and $110 million going toward free streaming services and premium cable channels to be made available to 2.2 million New York subscribers. In a tweet thread, Underwood stated this week that the settlement is "the largest-ever consumer payout by an internet service provider."
Consumers who rented a modem or router from Spectrum and those who subscribed to a legacy Time Warner Cable plan of 100 Mbps or higher are expected to receive the lion's share of the settlement. Individuals who fall into these categories will receive $75 each, according to the NY AG's office, with $75 in additional funds to be distributed to the 150,000 who rented an "inadequate" modem for at least 24 months.
Underwood added on Twitter that Charter is required by the settlement to prove its advertised internet speeds through industry-standard testing, as well as to provide customers with hardware capable of reaching these speeds.
For more on the story, check out Chaim Gartenberg's writeup here.
Tesla Settlement Over Delayed Release of Autopilot Program Given Final Approval

Back in May, Tesla agreed to pay $5.4 million to settle a class action filed on behalf of Hardware 2 Model S and Model X owners who paid thousands of dollars for autopilot software that was not delivered by the promised date. And as of last month, the settlement was granted final approval by United States District Judge Beth Labson Freeman, meaning drivers could soon be seeing their portions of the settlement.
According to the lawsuit, Tesla didn't adhere to its deadline that the software would be up and running by December 2016. Instead, the autopilot program was reportedly released in January 2017, with all features not being fully available until the following September.
CarComplaints.com reports that the class consists of 32,410 customers who purchased Tesla's "Enhanced Autopilot" program when buying or leasing their cars. The settlement will provide between $20 and $280 to these individuals, so long as their vehicles were delivered on or before September 30, 2017.
Toyota Facing Class Action Over Allegedly Excessive Rusting of 4Runner Car Frames

A class action filed in South Carolina this month alleges that the frames of 2005-2011 Toyota 4Runners corrode prematurely as they were not properly treated against rust during manufacturing.
The case argues that the rust issue lowers the value of the cars and creates a severe safety hazard. According to CarComplaints.com, the lead plaintiff claims that his 2005 4Runner was so rusted that a steering component underneath the car broke off while he was driving and ran him off the road.
Forbes notes that Toyota has a history of rust defects and that a similar class action was settled last year involving the company's Tacoma, Tundra and Sequoia models. Although Toyota did not admit any fault, class members' rusted car frames were cleaned and treated or completely replaced.
You can find more on the story here.
Kellogg's Set to Rehash "Whole Grain" Cheez-It Debate

After the case was dismissed nearly a year ago, an appellate court has revived a lawsuit that claimed the "Made with Whole Grains" statements on certain boxes of Cheez-Its are misleading to consumers. Initially, the suit was tossed for failing to state a definitive claim, but the Second Circuit Court of Appeals found that there's enough to warrant a further look into the suit's allegations of deceptive marketing and overturned the lower court's ruling.
The lawsuit alleges that even though the crux of advertising the cheese-flavored snack crackers relies on the presence of the healthier whole grains, these "grains" usually don't show up in the top two spots on the ingredients list – being beat out by the first (and less healthy) ingredient, enriched white flour. While the crackers do technically contain whole grains, attorneys for the plaintiffs argue that if advertising like this is allowed to persist, we will have products on the shelves that only contain a minuscule amount of a favorable ingredient (like pure cane sugar, for example) while the other 99% is a cheaper or not as healthy version (like generic white sugar).
For more background on the litigation, MarketWatch has you covered.
Lawsuit: Foster Children Kept in Psych Hospitals After Being Cleared for Discharge

A proposed class action lawsuit has been filed against the Illinois Department of Children and Family Services (DCFS) and alleges the state child welfare agency holds foster children in psychiatric hospitals for weeks, or even months, after doctors clear them for release.
These unnecessary hospitalizations, which the suit calls "inhume and unconstitutional," can have debilitating effects on the children, ProPublica Illinois writes, ranging from missed schooling and family events to emotional distress that can erase all the progress patients made during the medically necessary part of their hospital stays, sometimes leaving them in worse shape than when they were admitted.
The lawsuit cites a ProPublica Illinois investigation published in June that found nearly 30 percent of children in DCFS care who were admitted to psychiatric hospitals between 2015 and 2017 were held there beyond what was medically necessary, for a collective total of 27,000 days – or nearly 75 years. Not only are these hospitalizations detrimental to children, but they end up needlessly costing the state millions in taxpayer dollars, the ProPublica article points out.
The root of the problem, according to the suit, is DCFS's failure to locate less restrictive placements for children after they've been cleared for discharge. In a statement, a DCFS representative admitted that the issue is a "decades-long problem" in Illinois that stems from a lack of community resources and facilities that can handle children with complex mental or behavioral health conditions.
"Rebuilding the capacity of the mental health system will require more than a lawsuit," he said.
ProPublica Illinois has more details.
Marriott Data Breach Victims May Not Be Forced into Arbitration

Good news, travelers! Marriott International reportedly doesn't intend to force its data breach victims into arbitration, according to court documents filed earlier this month.
You may have heard the hotel chain recently suffered one of the largest data breaches in history that compromised the personal information – including names, mailing addresses, phone numbers, email addresses, birthdays, passport numbers, payment card data, and other private information – of over 500 million guests. Not long after the announcement, the class action lawsuits started rolling in.
One of the lawsuits, filed in federal court in Maryland, took issue with Marriott's apparent pattern of negligence in handling security issues and the fact that it waited nearly 80 days– which, one could argue, is just enough time to travel around the world – before informing potentially affected individuals that it had learned of a years-long data breach.
Notably, though, this lawsuit also voiced concerns about an arbitration clause included in the terms of service for WebWatcher, a web-monitoring service Marriott offered to data breach victims for a "free" one-year period. The clause allegedly specified that "[a]ny controversy or claim" arising out of the agreement with WebWatcher must be settled through arbitration, which effectively means if consumers agree to use the service, they give up their right to a trial by jury and can't participate in class action lawsuits.
Security Media Group's Jeremy Kirk compares the situation to the Equifax data breach that came to light in September 2017. After public outcry over the arbitration clause that consumers supposedly had to accept in order to use Equifax's fraud-monitoring service, the credit bureau eventually clarified that the terms and conditions didn't apply to the data breach.
Marriott seems to be following in Equifax's footsteps, writes Kirk, and doesn't intend to enforce WebWatcher's terms of service for data breach victims. The decision is apparently pretty uncommon for a large company like Marriott, considering that forced arbitration, as Kirk notes, has traditionally been a popular method of avoiding lawsuits.
So, if you're thinking of accepting Marriott's offer for WebWatcher services, take comfort in knowing that the courthouse can still be on your list of travel destinations.
Check out Jeremy Kirk's writeup for more information.
Last Updated on December 20, 2018 — 2:12 PM