Class Action Claims Talkspace Misleads Patients on Personalized Therapist Matches, Automatic Subscriptions
A proposed class action claims Talkspace has misled new patients about the availability of its online therapists and secretly enrolls consumers into automatically renewing subscriptions without consent.
Want to stay in the loop on class actions that matter to you? Sign up for ClassAction.org's free weekly newsletter here.
The 26-page lawsuit alleges the online therapy platform lures new patients by falsely promising that they'll be personally "matched" with a qualified therapist within 48 hours. What prospective patients are not told, however, is that Talkspace has far fewer qualified therapists on hand than it needs to meet the outsized demand of its thousands of patients, the filing claims.
The moment a new patient is "matched" with a therapist, Talkspace then enrolls the consumer into an automatically recurring subscription plan "without their permission," even if they have yet to have a session with the provider, the case alleges.
Because Talkspace does not employ enough therapists to meet its massive patient demand, those in search of professional mental health services through the company are often unable to match with providers suitable for their needs, the suit stresses. Making matters worse, Talkspace forces patients to forfeit all paid-for therapy sessions that go unused within 30 days, even if their assigned therapist has no availability within that timeframe, the filing says.
"By prioritizing profits over patients, Talkspace betrayed the very mission that it claimed to uphold," the complaint scathes. "Talkspace's unethical and fraudulent business practices put vulnerable patients at risk, depriving them of the care they deserved and damaging their trust in the mental health industry as a whole."
For Talkspace, mental healthcare takes a backseat to profits, filing claims
After its launch in 2015, Talkspace, which was founded by "two individuals that held no medical licenses and had no experience working in the healthcare sector," quickly became a heavy hitter in the burgeoning industry of virtual mental health services, the lawsuit states. Talkspace's "relentless quest for growth and profit," coupled with heavy spending on marketing and advertising, resulted in a rapidly expanding user base, which surged even more during the COVID-19 pandemic, the case relays.
As the suit tells it, Talkspace, which purports to offer "therapy on demand" via a virtual platform that provides audio-, video- and text-based therapy sessions, was valued at $1.4 billion after going public in a 2021 SPAC merger, a valuation that was based on the platform's dramatic growth and the enormous demand for its services amid the global health crisis. Per the case, however, Talkspace failed to invest in building a network of qualified therapists with the same enthusiasm it displayed in satisfying investors, evidencing the company's focus on profits and returns instead of patients' well-being.
The filing charges that Talkspace even cited in a presentation to investors the 30 percent increase in the nationwide suicide rate as "evidence of a massive untapped market."
"For Talkspace, people in need of mental health services represented the promise of outsized returns for Talkspace shareholders," the complaint says.
As the case tells it, Talkspace's feverish growth "created fundamental tension within the company," as the delivery of healthcare "took a back seat" to profit-driven business decisions. One way this tension manifested, the suit says, was through "major breaches of patient confidentiality, false advertising, and the decision to force patients into automatically recurring subscription plans without notice or permission."
In fact, the company has shown "routine carelessness" with patient confidentiality for the sake of commercial profit, the complaint alleges. In particular, two former Talkspace employees claimed in a 2020 New York Times article that the company "mined confidential therapy sessions for phrases to share with the marketing team" in order to "better target potential customers," the filing shares.
Lawsuit says Talkspace's "personalized" matching system is deceiving
Within four years of its launch, Talkspace had "tens of thousands of paying patients" and "not nearly enough therapists to treat them," the suit says. But rather than turn people away, the company continued to accept new patients, even when no therapists were available, the case claims.
According to the complaint, Talkspace's "proprietary matching algorithm" promises patients a "personalized match" based on their initial needs assessment, usually within 48 hours. After being notified by email of a match, the patient is directed to select one of three therapist options generated via the algorithm, the filing states.
The lawsuit argues, however, that "the algorithm relies on, at best, the therapists' availability and little else," such as the patient's specific therapeutic needs, which may include treatment for substance abuse, depression or anxiety.
"Unfortunately, Talkspace's so-called algorithm and intake process consistently fail to offer patients useful matches," the suit reads. "In many cases, Talkspace just ignores basic requests like gender or specialty."
As the case tells it, the company's inadequate matching system is yet another symptom of its imbalanced focus on profit and growth.
In fact, employee reviews found on websites such as Glassdoor and Indeed describe "massive caseloads" for therapists that "undermine clinical work" and "make personalized care, or any care at all, nearly impossible," the complaint relays. Per the filing, Talkspace therapists often treat more than 60 clients a week, roughly twice as many as traditional full-time therapists.
The lawsuit relays that new patients are sometimes made to wait several weeks or longer to receive mental healthcare, only to be matched with an "unsuitable or incompatible" provider.
Rather than disclose its overcapacity problem to new patients, Talkspace instead continues to welcome new users willing to prepay for counseling sessions and perpetuates the illusion that it has a sufficient network of in-house therapists ready to be matched with and suitable to meet the specific needs of consumers, the suit states.
"While this 'matching' policy might help Talkspace achieve its short-term growth and revenue targets," the case stresses, "it endangers the patients that put their trust in Talkspace to treat their mental health."
Talkspace's checkout page makes no mention of auto-renewing subscriptions, suit says
To sign up, new patients choose a service from a menu of counseling options on the Talkspace website or app and then complete an assessment of their needs, the filing says. At this time, Talkspace informs patients that they will be charged only after they're matched with a therapist and presents them with weekly pricing options, the lawsuit explains.
After selecting a plan, new registrants are sent to a checkout page that makes no mention of an automatically renewing subscription, much less seeks a patient's consent to enroll, the suit claims. Though the checkout page vaguely references "future payments" above the "[a]uthorize my credit card" button, this disclosure is lightly colored and smaller than the rest of the text, the case shares.
"The wording and visual design of Talkspace's sign-up process deceives customers into unknowingly purchasing an automatically renewing monthly plan," the lawsuit summarizes.
Additionally, Talkspace fails to provide new users with its cancellation policy and instead "forces its patients to jump through numerous hoops just to cancel an extremely expensive subscription that they never signed up for," the complaint alleges.
Thousands have taken to the internet to complain, lawsuit says
Reams of patient complaints about Talkspace can be found on the Better Business Bureau (BBB) website, the Google and Apple app stores, Twitter, and elsewhere online, the filing shares.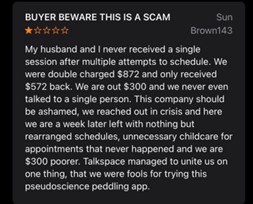 One user complaint on the BBB's site explains that, after being matched with a provider who had no availability and attempting to switch therapists, the patient was not matched again before their next automatic renewal charge went through, the suit relays.
Another review claims the patient's prepaid therapy sessions expired "before [he] even knew [he] was charged for them" and that Talkspace's customer service "[g]ives you the runaround" when patients seek a refund, the case states.
The plaintiff, a California resident, claims to have paid for therapy sessions through Talkspace in September 2022, believing that the company would match her with a suitable therapist from the many she understood it to employ. According to the filing, after the plaintiff was unhappy with her first therapist, it took Talkspace numerous weeks to match her with another one.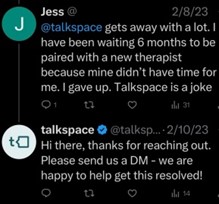 During this time, the company charged her credit card without her consent as part of its automatic renewal program, even though it had failed to pair her with a new provider, the lawsuit says.
As the suit tells it, when the plaintiff learned of the charges, she contacted Talkspace for a refund, which the company has allegedly refused to issue.
Who's covered by the lawsuit?
The case looks to represent anyone in the United States who purchased therapy sessions from Talkspace and agreed to its terms of use. The suit also seeks to cover any California residents who were automatically enrolled into and charged for a Talkspace subscription plan.
How do I join the lawsuit?
Typically, there's nothing you need to do to join or add your name to a class action lawsuit when it's first filed. The time to act is if and when the lawsuit settles, at which time people covered by the settlement—known as class members—may receive direct notice of the deal via email and/or regular mail with instructions on what to do next and their legal rights.
Remember, it often takes months or even years for a class action lawsuit to be resolved.
If you paid for therapy sessions from Talkspace, or simply want to stay in the loop on class action lawsuit and settlement news, sign up for ClassAction.org's free weekly newsletter.
Hair Relaxer Lawsuits
Women who developed cancer, endometriosis or reproductive problems after using hair relaxers such as Dark & Lovely and Motions may now have an opportunity to take legal action.
Read more here: Hair Relaxer Cancer Lawsuits
Stay Current
Sign Up For
Our Newsletter
New cases and investigations, settlement deadlines, and news straight to your inbox.
Last Updated on March 3, 2023 — 12:22 PM