Class Action Claims Facebook Advertising Platform Allows Scammers to Thrive [UPDATE]
May 5, 2022 – Facebook Ad Scam Lawsuit Dismissed with Leave to Amend
The judge overseeing the case detailed on this page granted Facebook's motion to dismiss the lawsuit after finding that the social media giant had not made a "material contribution" to the ads posted on its platform.
U.S. District Judge Jeffrey S. White explained in an April 27 order that Section 230 of the Communications Decency Act (CDA) immunizes interactive computer service providers such as Facebook from liability for the content posted on their websites by someone else. Although the plaintiffs argued that Facebook, now Meta, should be treated as the "publisher or speaker" of the third-party ad content given it actively solicits and encourages advertisers it knows or should know are scammers to post on its platform, Judge White found that the social media company had not made a significant enough contribution to the advertisements in question.
"At most, Plaintiffs' allegations establish that Meta encouraged and solicited third parties to advertise on its platform. But the fact that Meta cultivates relationships with advertisers and encourages them to post on its platform does not transform Meta into the creator of the allegedly illegal ad content," the judge wrote.
Judge White gave the plaintiffs 21 days to file an amended complaint, noting that although it appears "unlikely," the individuals could allege that Meta had a more active part in developing the ads beyond merely publishing them.
"For example, if Plaintiffs could establish that Meta was involved in creating or developing the allegedly illegal ad content, Section 230 immunity might not apply," the judge stated. "Thus, because the Court cannot say amendment would be futile, it will grant Plaintiffs leave to amend."
Want to stay in the loop on class actions that matter to you? Sign up for ClassAction.org's free weekly newsletter here.
A proposed class action filed August 11 looks to take Facebook, Inc. to task for allegedly allowing, and even encouraging, scammers to use its platform to target users with deceptive advertisements.
According to the 48-page case out of California federal court, Facebook has actively "prioritize[d] its own revenue growth over the safety of its users" by essentially looking the other way while bad actors have exploited the multi-billion-user social media platform to effectuate their fraudulent schemes—through which consumers have allegedly been duped out of billions of dollars.
Despite promising to protect users by removing false and misleading advertisements—including bait-and-switch schemes, ads for "shady products" and scams through which users pay for items they never receive—Facebook, according to the lawsuit, "actively solicits, encourages, and assists scammers," who are some of the social media giant's biggest customers. At the same time, the defendant ignores ads placed by hacked accounts or those that violate its own policies, including those placed by an ever-growing number of China-based advertisers, "as long as Facebook gets paid for these ads."
In essence, the lawsuit claims Facebook has "revolutionized scamming" by allowing advertisers, regardless of malicious intent, to exploit its massive trove of user data to "show the right ads to the right people" and specifically target users who are most likely to fall for their deceptive schemes. Despite possessing the resources required to combat fraud on its platform, Facebook, the case alleges, has only done so when its own profits are at stake—such as in cases of credit card chargebacks requiring Facebook to refund users' money.
For the most part, the lawsuit attests, Facebook has let misleading and deceptive ads run rampant on its platform while profiting at the expense of consumers:
In sum, because Facebook prioritizes revenue growth over the safety of its users as a matter of corporate policy, Facebook users continue to be bilked out of billions of dollars by scammers while Facebook continues to collect billions of dollars in revenues from those same scammers."

"Courting Scammers": Lawsuit Claims Facebook Solicits Bad Actors
With a business model based on earning "virtually all of its revenue" through advertising, it is "no coincidence" that Facebook has a strong presence at industry conferences "heavily attended by known scammers" with billions of dollars to spend on deceptive ads, the lawsuit scathes.
The complaint cites a March 2018 Bloomberg article in which reporter Zeke Faux described his experience at a Berlin internet marketing conference sponsored by online forum Stack That Money (STM). Per the article, the conference was attended by "[a]ll the most popular hustles," including sellers of diet pills, muscle builders and male enhancers, and companies promoting the "You Won an iPhone" and "Your Computer May Be Infected" campaigns. Another familiar face at the conference was Facebook, according to Faux, who noted that "a newcomer could be forgiven for wondering if [the event] was somehow sponsored by Facebook" given the social media platform's strong presence and involvement there.
Per the Bloomberg article, affiliate marketers who make their money selling "shady" products through deceptive pitches told Faux that Facebook has made it easy for people like them to target the "suckers" most likely to fall for their deceptive ads. As one marketer reportedly put it, Facebook's ad targeting algorithms "find the morons for me" by using over 52,000 interest categories to show ads to people who are likely to click on them, the suit says.
The lawsuit alleges that Facebook's involvement in internet marketing scams is more than just passive, citing the defendant's presence at the Berlin conference as just one example of how the social media giant "court[s] scammers." Indeed, "some of Facebook's best customers" are marketers who spend millions of dollars a year placing deceptive ads on Facebook's platform, the case attests.
The suit goes on to claim that Facebook's sales teams actively solicit advertisers based in China and help them skirt China's firewall barring access to the social media platform. According to a February 2019 New York Times article, Facebook has helped open showrooms in China designed to teach prospective clients how to advertise on its platform. The lawsuit states, however, that although Facebook's marketing efforts in China have generated billions of dollars in profit, an internal study found that nearly 30 percent of ads placed by Chinese advertising clients violated at least one of Facebook's ad policies, "including promoting financial scams, and pitching products that were never delivered."
A December 2020 Buzzfeed article, citing internal documents and interviews with current and former Facebook employees and contractors, reported that it is Facebook's corporate policy to prioritize revenue over the enforcement of its policies, the complaint says. Thus, while Facebook users are bilked out of millions of dollars by being tricked into "putting recurring subscription charges on their credit cards that are difficult to cancel, overpaying for products that never arrive, or falling victim to bait-and-switch schemes in which the product that arrives is not what was advertised and ordered," Facebook turns a blind eye to the deceptive ads as long as the advertiser continues paying for them through a valid method, according to the suit.
While Facebook possesses the resources to crack down on scams and deceptive advertising, it has no incentive to do so, the lawsuit stresses, given those same scams and fraudulent ads generate billions of dollars a year that, for the most part, Facebook gets to keep.
On the losing end of Facebook's relationship with shady marketers are consumers, the suit says, who effectively have no recourse when they're tricked out of the money they spend through deceptive ads on Facebook's platform.
The Plaintiffs' Experiences
The first plaintiff, a Nebraska resident, says that sometime in November 2020, she saw a Facebook ad for an activity board that "she thought would be appropriate for her toddler." According to the case, the plaintiff had no reason to suspect the ad was promoting a "bait-and-switch" scheme since it was designed to appear legitimate. The case relays that when the plaintiff clicked on the ad, she was taken to kidspunza.com, where she allegedly saw the below activity board being advertised for $24.98.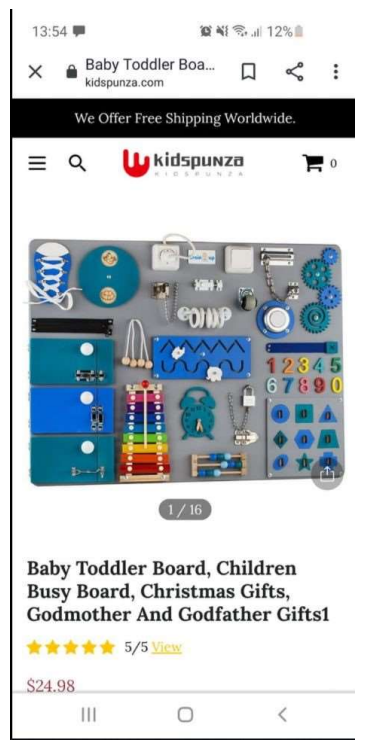 Per the suit, the plaintiff purchased the product and received an email notification a few days later informing her that it had been shipped. When the package arrived about a month later, the plaintiff opened it to find that she had not received the activity board she ordered but "a cheap wooden 'ABC' puzzle" (pictured below), the case says.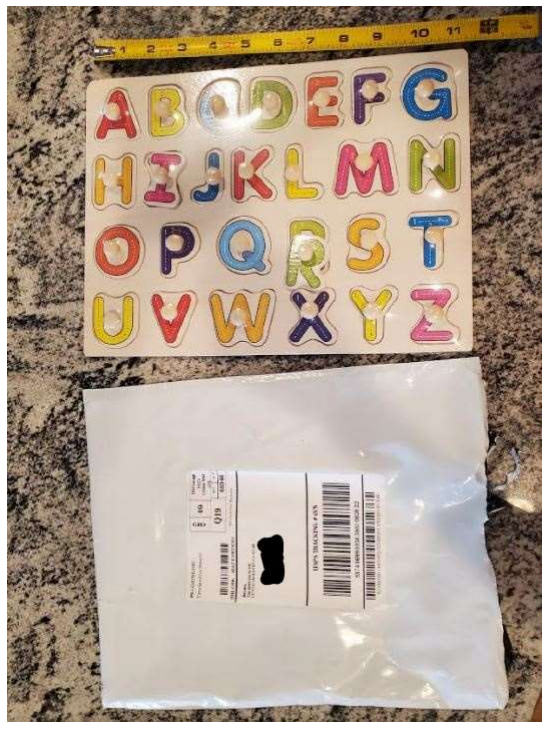 Though the plaintiff wrote to the vendor through her PayPal account stating that she had not received the product she ordered, PayPal ultimately resolved her case in the seller's favor because the seller would not provide a pre-paid shipping label and the plaintiff refused to ship the item back to China at her own expense, according to the complaint.
The second plaintiff, an Oregon resident, says he viewed a Facebook ad for a car engine assembly kit sometime in September 2020 and, after clicking the ad, purchased the kit for $48.97 on miuxo.com. Despite attempting to contact the company several times, the plaintiff never heard back from the seller and never received the product, the suit says. While the plaintiff reported the ad to Facebook and Facebook claimed to have removed it, the social media company's online ad library shows that Miuxo has launched a new Facebook ad promoting another engine assembly kit under the name Miuxo-shop, according to the case.
Per the suit, the ad shown to the plaintiff was placed by a Hong Kong-based scammer who has similarly scammed other Facebook users with its deceptive ads.
The lawsuit argues that Facebook had a duty to protect the plaintiffs and its other users from deceptive ads and scams on its platform but has wholly failed to do so, instead choosing to prioritize its own profits at the expense of consumers' safety.
Who Does the Lawsuit Look to Cover?
The case looks to represent anyone with an active Facebook account who, anytime since August 11, 2017, clicked on a deceptive Facebook ad and suffered harm.
The lawsuit also looks to provide injunctive relief—by forcing Facebook to change its policies and practices to cut down on the display of deceptive ads—on behalf of anyone with an active Facebook account.
How Do I Join the Lawsuit?
There's typically nothing you need to do to join a class action lawsuit when it's first filed. If the case moves forward and settles, that's when those affected—i.e., those who fall into the category discussed above, known as the "class members"—should have an opportunity to file a claim for whatever compensation the court deems appropriate.
For now, one of the most important things you can do is to stay informed. Check back to this page for updates, or sign up for ClassAction.org's free weekly newsletter here to have class action updates and settlement information sent straight to your inbox.
Camp Lejeune
Camp Lejeune residents may soon have the opportunity to claim compensation for harm suffered from contaminated water.
Read more here: Camp Lejeune Lawsuit Claims
Stay Current
Sign Up For
Our Newsletter
New cases and investigations, settlement deadlines, and news straight to your inbox.
A note on class action complaints:
Bear in mind that the information in this blog post summarizes the allegations put forth in the following legal complaint. At the time of this writing, nothing has been proven in court. Anyone can file a lawsuit, with or without the representation of an attorney, for any reason, and ClassAction.org takes no position on the merits of the suit. Class action complaints are a matter of public record, and our objective on this website is merely to share the information in these legal documents in an easily digestible way.
Last Updated on July 21, 2022 — 2:01 PM