Class Action Alleges Huggies Diapers Can Cause Skin Rash, Chemical Burns
Last Updated on December 12, 2022
A proposed class action alleges Huggies diapers can cause "extreme chemical burns" and rashes due to Kimberly-Clark Corporation's failure to control how much of a particular skin-irritating chemical is used during the manufacturing process.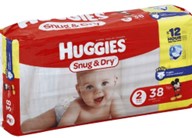 The 35-page lawsuit out of Texas claims Kimberly-Clark deceptively markets its Huggies diapers as safe for infants, "made without harsh ingredients" and "for gentle skin protection." In reality, each variety is liable to cause skin injuries severe enough to require medical care and weeks of recovery time, the complaint alleges.
Want to stay in the loop on class actions that matter to you? Sign up for ClassAction.org's free weekly newsletter here.
Huggies made with "dangerous amounts" of skin irritant, case claims
According to the case, Huggies can contain dangerous amounts of Ahcovel, a chemical additive applied to the surface of the diapers to make urine more absorbable. Unfortunately, certain levels of Ahcovel can severely irritate the skin – something Kimberly-Clark acknowledges in internal documents provided by former quality control specialist Frank Fritz Kromenaker, the filing states.
The lawsuit charges that Kimberly-Clark does not employ manufacturing safeguards to ensure that Huggies contain a safe level of Ahcovel. More specifically, the suit argues that the manufacturer fails to adequately inspect, test and maintain the instruments used to spray the chemical onto its products, as evidenced by Kromenaker's first-hand experience and supporting documentation.
Kromenaker points out that a section titled "verification and calibration" was removed from Kimberly-Clark's calibration testing procedure for manufacturing equipment, and the company also dropped the "testing column" in its quality management assessing rating tool, the filing relays.
"Without testing, Defendant cannot assure that the Products conform to design specifications, because it cannot assure that the proper amount of Ahcovel is being dispensed," the case summarizes.
Additionally, an internal audit admits that Kimberly-Clark's "[e]quipment calibration and maintenance is not being managed in a manner to ensure accurate performance," the suit adds.
Moreover, several warnings from the Food and Drug Administration (FDA) show that the manufacturer's negligent quality assurance protocols have persisted for over ten years, the case shares.
Consumers report serious infant injuries, suit says
The plaintiffs behind the lawsuit, four parents and their minor children, report injuries caused by Huggies that go far beyond mild diaper rash. One plaintiff claims that chemical burns on her newborn began to materialize on the child's genital and rear-end areas shortly after she started wearing Huggies in March 2021. Mistaking the burns for an ordinary diaper rash, the woman wiped the affected area, causing the wounds to bleed, deepen and develop into a life-threatening skin ulcer with extreme scarring, the filing says.
The plaintiff took her infant to the doctor, who found the child's injuries to be serious enough to ask the woman if she had cleaned her baby with household cleaners, the case states. The baby began to heal when the plaintiff switched her to a different brand of diapers, the complaint says.
Two other plaintiffs describe instances in which Huggies caused burns on their children severe enough to warrant doctors' visits, and all four plaintiffs say that their children's injuries disappeared after changing diaper brands.
Per the filing, the plaintiffs' experiences with Huggies are far from isolated incidents. Customer complaints on sites like Community.BabyCenter.com, Amazon.com, Walmart.com and Huggies' own website reveal countless other parents who say they were misled into purchasing an unsafe product.
For example, a commenter on CircleofMoms.com wrote:
We switched from Pampers to Huggies when my son was seven days old. He got a rash so bad it was bleeding; diaper rash cream only helped a little bit. I read this post and subsequent comments and we immediately switched back to Pampers. Within a day it has already started getting better and he isn't screaming with every diaper change."

According to the lawsuit, Kimberly-Clark has attempted to conceal the underlying cause of the burns and misdirect concerned parents. The case charges that the company has "flat-out lie[d]" that Huggies "can't cause chemical burns because they're made of materials that which [sic] do not create any chemical reactions."

"Defendant has always feigned shock and bewilderment in responding to complaints about the Products, professing complete ignorance as to the underlying cause of the injuries complained of by consumers," the complaint alleges.
Kimberly-Clark also assures consumers that Huggies' "superabsorbent materials," or polyacrylate absorbents, have undergone 450 consumer safety tests, the suit relays; however, "[t]he skin of Huggies wearers does not normally come into contact with polyacrylate absorbents," though it does come into contact with Ahcovel, which is sprayed on the absorbents' outer lining, the case states.
The filing says polyacrylate absorbents are found in most diaper brands, but Ahcovel is unique to Huggies products. This distinction explains why infants have healed soon after switching to diaper brands that use safer alternatives, the suit asserts.
Who does the case look to cover?
The lawsuit seeks to represent anyone in the United States who purchased any variety of Huggies diapers during the applicable statute of limitations period.
I've purchased Huggies diapers. How do I join the lawsuit?
There's nothing you need to do to join or be included in a proposed class action lawsuit when it's first filed. If the case moves through the legal process and settles, consumers who may have been affected, i.e., the "class members," may be notified directly and will likely need to fill out and file a claim form online or by mail.
If you've bought Huggies diapers, or simply want to stay in the loop on class action lawsuit and settlement news, sign up for ClassAction.org's free weekly newsletter.
Camp Lejeune
Camp Lejeune residents now have the opportunity to claim compensation for harm suffered from contaminated water.
Read more here: Camp Lejeune Lawsuit Claims
Stay Current
Sign Up For
Our Newsletter
New cases and investigations, settlement deadlines, and news straight to your inbox.
Last Updated on December 12, 2022 — 12:02 PM