Class Action Alleges Frontier Airlines Charges Hefty Hidden Baggage Fees at the Gate
A proposed class action filed early last week claims Frontier Airlines traps customers into paying hidden, last-minute baggage fees before boarding their flights.
Want to stay in the loop on class actions that matter to you? Sign up for ClassAction.org's free weekly newsletter here.
The 21-page lawsuit was filed by a Florida resident who says she booked a round-trip flight with Frontier after viewing an "attractive" ticket price on a third-party platform and reading on the airline's website that customers are allowed one free personal item no larger than 14" height by 18" width by 8" depth.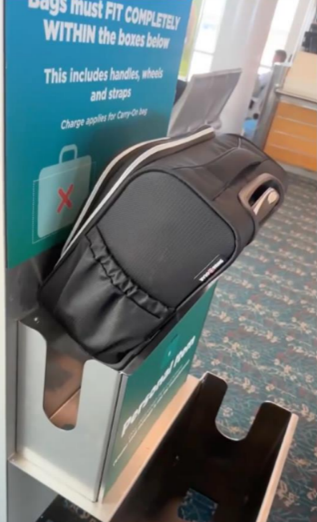 However, 30 minutes before boarding her flight in May 2023, the plaintiff says Frontier presented her with a bag sizer smaller than the dimensions advertised on the airline's website. When the woman's bag wouldn't fit in the compartment, Frontier charged her a $100 fee for the supposedly "oversized" personal item, the complaint contends.
According to the filing, Frontier uses this "bait-and-switch" scheme to induce consumers into buying what appear to be cheap plane tickets and then charging them fees they did not expect to incur at the time of booking. In fact, the filing alleges that the airline incentivizes employees stationed at the boarding gates to give out such charges by providing bonuses for each "oversized" personal item fee they levy.
As such, the lawsuit alleges that the airline misleadingly claims to "save you money on your flights" by offering "the lowest fares" in that it makes up for whatever discount it purports to give consumers in unanticipated baggage charges.
Lawsuit: Frontier's baggage fee structure design to "trick" consumers
Like thousands of other customers, the plaintiff was misled by the inaccurate information Frontier offers on its website about its baggage fee structure, the case says. Per the suit, the airline states that "items larger than the allowed dimensions [for Personal Items] are subject to an additional charge," but fails to disclose that the "additional charge" amounts to $100, which is as much as four times the cost of a checked bag. Frontier also fails to mention that the device used to measure personal items at the gate is significantly smaller than the advertised 14" H x 18" W x 8" D measurement, the complaint contends.
"Notably, [Frontier] does not identify the dimension of its bag sizer on the actual bag sizer, which, in effect, prevent [sic] the consumer from objecting to the bag sizer in-person [sic] and allows [Frontier] to induce the consumer into paying the additional fees under the duress of timely boarding their flight," the complaint states.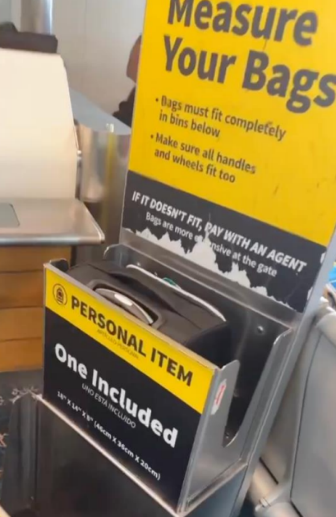 The plaintiff claims that before taking her return flight, she measured her personal item using the bag sizer at Spirit Airlines' gate, which had a label indicating that it was 14" height by 18" width by 8" depth, and it fit perfectly.
Ultimately, the plaintiff says she would not have bought the flight ticket had she known she would be tricked into paying an additional fee that made her purchase far more expensive than Frontier originally represented.
How do I join the lawsuit?
When a proposed class action is first filed, there's typically nothing affected individuals need to do to be included in the lawsuit. If the case moves through the legal process and settles, those who have been affected, i.e., the "class members," should receive a direct notice of the settlement and details about what to do next.
Get class action lawsuit news sent to your inbox – sign up for ClassAction.org's free weekly newsletter here.
Hair Relaxer Lawsuits
Women who developed cancer, endometriosis or reproductive problems after using hair relaxers such as Dark & Lovely and Motions may now have an opportunity to take legal action.
Read more here: Hair Relaxer Cancer Lawsuits
Stay Current
Sign Up For
Our Newsletter
New cases and investigations, settlement deadlines, and news straight to your inbox.
Last Updated on July 5, 2023 — 3:21 PM