Class Action Alleges Ben & Jerry's Supply Chain Uses 'Migrant Child Labor'
Ben & Jerry's faces a proposed class action that alleges the ice cream icon's claims that its products are ethically sourced are false given that its supply chains make use of migrant child labor.
Want to stay in the loop on class actions that matter to you? Sign up for ClassAction.org's free weekly newsletter here.
The 18-page lawsuit accuses Ben & Jerry's of wishing to "have its ice cream and eat it too" by selling such products with the aid of "ceaseless" human rights-centric and "virtue-signaling" representations that profess concern for farmworker welfare.
The reality "could not be further from the truth," the case claims, alleging that consumers have overpaid for Ben & Jerry's ice cream that is not as ethically sourced as advertised.
According to the lawsuit, the "premiums" that buyers pay for Ben & Jerry's ice cream "are not justified and constitute a breach of consumer trust" by way of false advertising.
"Put simply, this is a case about greed run amok," the lawsuit, filed on March 3 in New York, says.
The case was filed in the wake of a February 25 New York Times exposé that shed light on the "widespread exploitation of migrant children in the United States," including at the milk processing facilities of "at least one" Ben & Jerry's supplier. The suit says that although Ben & Jerry's appears to cut corners by utilizing suppliers who use migrant child labor, the company nevertheless raised prices by 13 percent in the fourth quarter of 2022.
"This is not only disgraceful, but it enriches Ben & Jerry's beyond what is fair and equitable at the cost of consumers," the complaint reads.
Ben & Jerry's "ethical" claims help pull in consumers, case says
Vermont-headquartered Ben & Jerry's has historically "leaned into social justice issues" as part of its advertising and marketing to attract "like-minded consumers that seek to use their purchasing power to promote a common ethos," the lawsuit relays. Overall, many buyers are willing to pay more for Ben & Jerry's products, in part because the company purports to maintain "some of the highest ethical standards in the dairy industry," the filing says, specifically highlighting the company's "Caring Dairy" and "Milk with Dignity" programs as part of a larger "calculated business decision" aimed at pulling in ethics-driven consumers.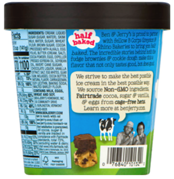 By way of product packaging statements, and even some product names, Ben & Jerry's implores consumers to buy its ice cream because the company is "better" in comparison to other brands, the suit states. Per the case, Ben & Jerry's "goes above and beyond to tell consumers they should feel good about buying its products" over others, especially because the company is using "ice cream to change the world."
Lawsuit: NYT report reveals the "sad truth"
Despite its pervasive ethical messaging, Ben & Jerry's was "recently exposed for using at least one supplier that employs migrant child labor," the lawsuit says. In a February 25 piece titled "Alone and Exploited, Migrant Children Work Brutal Jobs Across the U.S.," the Times unpacked the systemic use and exploitation of child labor nationwide, identifying Ben & Jerry's as among the companies who "grind[] [migrant children] into exhaustion."
Speaking at the White House, Karine Jean-Pierre, the White House press secretary, called these revelations by the New York Times 'heartbreaking' and 'completely unacceptable.'"

In response to the Times report, the lawsuit shares, the non-profit Refugee and Immigrant Center for Education and Legal Services issued a statement in which it demanded that Ben & Jerry's end all contracts with manufacturers who rely on migrant child labor. Tellingly, in response to the Times exposé, Ben & Jerry's did not deny the allegations or even claim to lack knowledge of them, but instead "trotted out a hollow corporate-speak statement" attesting that the company is "opposed to child labor of any kind whatsoever," the case says.

In its statement, Ben & Jerry's vowed to "take decisive action in connection with [its] suppliers and the Milk with Dignity Standards Council," an independent farmworker-led human rights program, should its monitoring programs or farmworker hotlines identify instances of child labor on the farms its suppliers purchase dairy from.
Neither the plaintiff, a New York resident, nor other consumers would have bought Ben & Jerry's ice cream or paid as much as they did, had they known the company's supply lines contained migrant child labor, the complaint says.
In the wake of the Times report, the Biden administration announced new initiatives to investigate child labor and improve aid for migrant children in the United States. Since 2018, the U.S. Department of Labor (DOL) has seen a 69 percent increase in children being employed illegally by companies. Late last month, the DOL resolved one of the largest ever child labor cases in history against Packers Sanitation Services, a food safety sanitation services provider who paid $1.5 million in civil penalties after being found to employ more than 100 children in hazardous occupations and on overnight shifts at meat processing facilities across eight states.
Who's covered by the Ben & Jerry's class action?
The case looks to cover all consumers in the United States who, during the applicable time period, bought Ben & Jerry's products.
I have Ben & Jerry's in my freezer. How do I join the lawsuit?
There's usually nothing you need to do to join or sign up for a proposed class action lawsuit when it's first filed. It's only if and when a case settles that consumers who are covered by the suit, called "class members," would need to act. In this instance, a class member may need to fill out and submit a claim form online or by mail and may receive notice of the settlement with instructions on what to do next and their legal rights.
However, class action cases tend to take some time – months or even years – to resolve.
If you've bought Ben & Jerry's ice cream, or simply want to stay in the loop on the latest class action lawsuit and settlement news, sign up for ClassAction.org's free weekly newsletter.
Camp Lejeune
Camp Lejeune residents now have the opportunity to claim compensation for harm suffered from contaminated water.
Read more here: Camp Lejeune Lawsuit Claims
Stay Current
Sign Up For
Our Newsletter
New cases and investigations, settlement deadlines, and news straight to your inbox.
Last Updated on March 6, 2023 — 4:54 PM