Class Action: 2021 Jeep Wrangler 4xe FORM Defect Prevents Electric-Only Driving for Extended Periods
A proposed class action lawsuit filed this week claims the 2021 Jeep Wrangler 4xe is afflicted by a defect that prevents the plug-in hybrid vehicle from running on electric power for extended periods of time, particularly during cold weather.
According to the 52-page case filed on January 5, automaker FCA U.S. LLC marketed the hybrid Wrangler as able to operate using electric-only power for up to 21 miles at a time without disclosing that the vehicle frequently goes into what's called "Fuel and Oil Refresh Mode" (FORM), a condition that "makes electric-only operation impossible."
Want to stay in the loop on class actions that matter to you? Sign up for ClassAction.org's free weekly newsletter here.
Some drivers, the lawsuit says, have reported that FORM has been triggered in their Jeep Wranglers for months at a time, particularly during the winter, and that they are unable to take advantage of the car's advertised electric-only driving capabilities when this happens.
The lawsuit claims drivers paid a premium for the 2021 Wrangler 4xe, which currently has a base MSRP of $54,735, based on FCA's representations and would have paid "considerably less," or would not have purchased the vehicles at all, had they known about the purported defect.
Advertisements highlighted Jeep Wrangler 4xe's electric-only capabilities, lawsuit says
The complaint relays that the Jeep Wrangler 4xe first went on sale in April 2021 and is equipped with both a gasoline engine and a 17-kilowatt hour lithium-ion battery that FCA represented as "capable of up to 21 miles of nearly silent, zero-emission, electric-only propulsion."
Per the case, FCA advertised that Wrangler 4xe drivers would be able to "get around town solely on electric power" and that the vehicle can run on electric mode as long as the battery has more than a one-percent charge.
The suit goes on to allege that FCA's advertisements of the new Jeep Wrangler 4xe specifically featured the car operating in cold weather and claimed that the plug-in hybrid had been tested "in all corners of the world to make sure it's ready."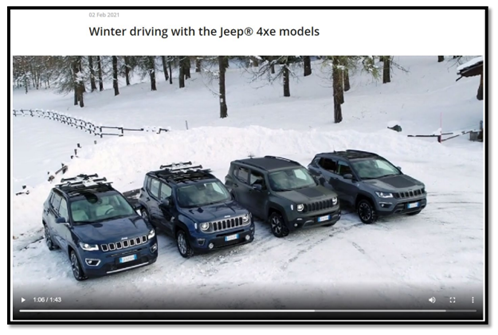 "Fuel and Oil Refresh Mode"
What wasn't highlighted in the Jeep Wrangler 4xe advertisements, the lawsuit alleges, is that the vehicle is hampered by "an additional necessary condition tied to engine lubrication"—i.e., "Fuel and Oil Refresh Mode."
A Wrangler will enter FORM to preserve proper engine lubrication when the car detects "a stale fuel or aged oil condition after a long period without combustion engine operation," the lawsuit says, citing FCA's 2021 manual for the Wrangler 4xe.
The manual apparently goes on to state that "[f]requent short trips at low ambient temperature conditions are more likely to trigger the lubrication based mode."
Importantly, the lawsuit says, when FORM is triggered, the Wrangler 4xe cannot be operated using electric-only power.
What many drivers came to learn, the suit alleges, is that "the defective nature" of the Wrangler 4xe causes FORM to be triggered more frequently and for longer than reasonable, sometimes for months at a time.
According to the suit, the conditions necessary to get the car out of FORM are "nebulous, inconsistent, and, in some cases, contradictory" and provide drivers with "no clear idea" of how long they will be without electric-only power.
"The manual simply states: 'The vehicle will automatically exit the Fuel and Oil Refresh Mode when conditions have been satisfied,' without specifying what those conditions are," the complaint reads.
According to the suit, the 2021 Wrangler 4xe manual states that the gasoline engine may run "for a period of up to 20 minutes when fully warm" before FORM will automatically be exited. However, the case says FCA "[u]nsurprisingly" updated this estimate to 2.5 hours for the 2022 model, which is "mechanically identical" to the 2021 model, and stated that the refresh would take "significantly longer" in freezing temperatures.
Per the case, the updated 2022 manual "presents more questions than answers" with regard to the FORM issue and provides "little guidance" for how drivers can address it.
What is clear, the lawsuit says, is that the apparent FORM defect is "particularly problematic" during cold weather.
According to the case, FCA has acknowledged on Jeep forums in response to customer complaints that "FORM will return as long as the weather remains cold" and that the company has "high confidence that these frustrations will be resolved when the weather becomes warmer."
The lawsuit bashes FCA's response as "wholly inadequate" and calls it a "short-term solution to a major problem" of which the automaker is well aware and has failed to disclose to buyers and lessees.
Who does the lawsuit look to represent?
The lawsuit looks to cover anyone who purchased or leased, other than for resale, a 2021 Jeep Wrangler 4xe.
I have a 2021 Jeep Wrangler 4xe. How do I join the lawsuit?
There's usually nothing you need to do to join a proposed class action when it's first filed. The time for Wrangler drivers to take action is if and when the lawsuit settles, which may not happen for months or even years. If a settlement is reached, anyone affected by the case, called class members, should receive direct notice of the settlement with instructions on how to file a claim for their share.
In the meantime, you can stay in the loop on class action news and settlement information by signing up for ClassAction.org's free weekly newsletter here.
Camp Lejeune
Camp Lejeune residents now have the opportunity to claim compensation for harm suffered from contaminated water.
Read more here: Camp Lejeune Lawsuit Claims
Stay Current
Sign Up For
Our Newsletter
New cases and investigations, settlement deadlines, and news straight to your inbox.
Last Updated on January 6, 2023 — 4:58 PM