Anolon Non-Stick Cookware Falsely Advertised as Free of 'Forever Chemicals,' Class Action Says
Last Updated on December 6, 2023
A proposed class action alleges Anolon non-stick cookware is falsely advertised as "PFOA-free" given that the products, in fact, contain perfluorooctanoic acid (PFOA) and other potentially harmful chemicals.
Have you bought Anolon cookware advertised as "PFOA-free?" Let us know here.
The 37-page lawsuit against manufacturer Meyer Corporation says that independent, third-party testing done by the plaintiff, a California resident, has revealed the existence of several per- and polyfluoroalkyl substances (PFAS)—known as "forever chemicals"—in the purportedly "PFOA-free" Anolon non-stick pots, pans and other cookware items.
The complaint contends that Meyer "knowingly and willfully" concealed the "true nature" of its Anolon products—or otherwise failed to order lab testing to verify its "PFOA-free" claim—to appeal to the "ever-increasing" number of health-conscious consumers willing to pay more for cookware made without harmful chemicals.
"In short, Defendant knew that the uniform PFOA-free Representations, which appear on every single label, matter to consumers," the filing summarizes, claiming that the plaintiff and other consumers would not have bought the cookware, or would have paid less for it, had they known the products were misrepresented.
Want to stay in the loop on class actions that matter to you? Sign up for ClassAction.org's free weekly newsletter here.
'Forever chemicals' persist over time, lawsuit stresses
According to the complaint, the use of polytetrafluoroethylene (PTFE) is necessary to produce the "waxy, slippery" plastic that coats products such as Anolon non-stick cookware. The fluorinated plastic, known more commonly by the brand name Teflon, is one of the nearly 4,000 man-made compounds known as PFAS, a group that includes "fluorosurfactants." While fluorosurfactants are typically removed from Teflon via a drying process, residual fluorosurfactants may remain after it is applied to cookware for non-stick purposes, the lawsuit says.
It is well known in the cookware industry (but not among the general public) that any nonstick coating that uses an 8-carbon perfluoroalkyl chemical at any point in the manufacturing process contains some amount of PFOA in the finished product."
Often referred to as "forever chemicals," PFAS are "highly persistent" in the human body and environment due to their carbon-fluorine bonds, which are among the strongest in nature, the filing explains. Per the suit, these man-made chemicals are associated with a number of adverse health effects, and PFOA, in particular, is linked to kidney and testicular cancer, as well as liver and eye damage. The case adds that the California Office of Environmental Health Hazard Assessment lists PFOA as a developmental/reproductive toxicant and carcinogen.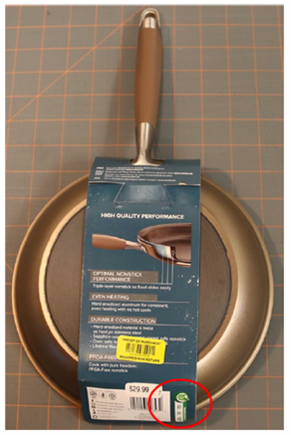 Contrary to Meyer's bold, all-capitalized packaging statements that promise consumers they can use Anolon "PFOA-Free nonstick" cookware to "[c]ook with pure freedom," laboratory analysis has detected not only PFOA but 11 additional PFAS chemicals in each product with this label claim, the case alleges.
The lawsuit says the Anolon non-stick hard-anodized 8.5-inch skillet, in particular, was found to contain 0.72 parts per billion of PFOA. By comparison, an advisory issued by the EPA warns against drinking water that contains more than 0.00007 parts per billion of PFOA, the case shares.
The lawsuit stresses that cookware containing residual PFAS and PFOA releases these chemicals into cooked food and the environment, potentially exposing consumers to any negative health effects associated with the substances. Concerns over these risks are so significant that the U.S. Environmental Protection Agency (EPA) and PFOA manufacturers have sought to eliminate the compound from the Teflon manufacturing process, the filing relays.
"As the designer, manufacturer, and seller of the Class Products, Defendant knew, or at minimum should have known, that its nonstick cookware is treated with PFOA-containing compounds and other PFAS in order to enhance nonstick performance, and that residual PFAS, including PFOA, would remain in the Class Products," the suit argues.
Who does the lawsuit aim to cover?
The lawsuit looks to represent anyone in the United States who purchased Anolon non-stick cookware advertised as "PFOA-free" during the maximum period allowed by law.
How do I join the lawsuit?
When a proposed class action is first filed, there's typically nothing affected individuals need to do to be included in the lawsuit. It's usually only if and when a lawsuit settles that action might be required, which may involve filing a claim form online or by mail.
If you end up being "covered" by a lawsuit that settles, you should receive a direct notice of the settlement and details about what to do next. If you've bought Anolon non-stick cookware, or simply want to stay in the loop on class action lawsuit and settlement news, sign up for ClassAction.org's free weekly newsletter.
Have you bought Anolon cookware advertised as "PFOA-free?" Let us know here.
Hair Relaxer Lawsuits
Women who developed cancer, endometriosis or reproductive problems after using hair relaxers such as Dark & Lovely and Motions may now have an opportunity to take legal action.
Read more here: Hair Relaxer Cancer Lawsuits
Stay Current
Sign Up For
Our Newsletter
New cases and investigations, settlement deadlines, and news straight to your inbox.
Last Updated on December 6, 2023 — 11:39 AM