Turkey Hill Hit with 'Vanilla' Class Action in New York Over Source, Quality of Ice Cream Flavoring
Last Updated on August 21, 2019
Kane et al v. Turkey Hill, L.P.
Filed: August 20, 2019 ◆§ 2:19cv4794
A class action focuses on the alleged amounts, source and quality of vanilla in Turkey Hill vanilla ice cream.
Turkey Hill is the defendant in a proposed class action lawsuit that claims it misrepresents the "exclusive flavor source," amount of vanilla, and percentage of vanilla compared to the overall flavor component found in its vanilla ice cream products.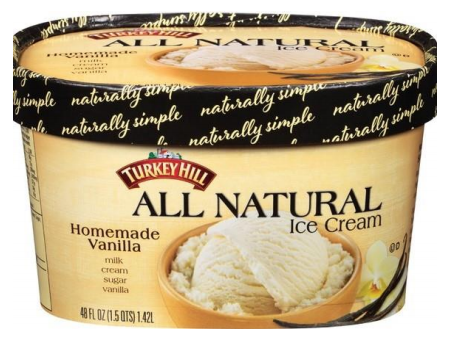 Filed in New York's Eastern District, the suit alleges that vanilla, due to its versatility, demand and value, is often subject to "food fraud," which can take the form of a particular ingredient being diluted, imitated, extended or otherwise adulterated. Though it concedes that the term has no textbook definition, the case stresses that "food fraud" typically ends with consumers getting less than they bargained for, in particular with the quality, amount, coloring or source of vanilla.
Arguing that consumers who buy vanilla ice cream characterized as having "natural flavoring" expect the product to contain real vanilla with flavor derived exclusively from vanilla beans, the complaint claims Turkey Hill's vanilla ice cream is misrepresented in that its ingredients list and container give "a false assurance to the consumer" that vanilla is the exclusive flavor source. Cartons of Turkey Hill vanilla ice cream list in descending order of predominance by weight milk, cream, sugar and vanilla, which the case claims gives the impression that they're the only ingredients used in the product.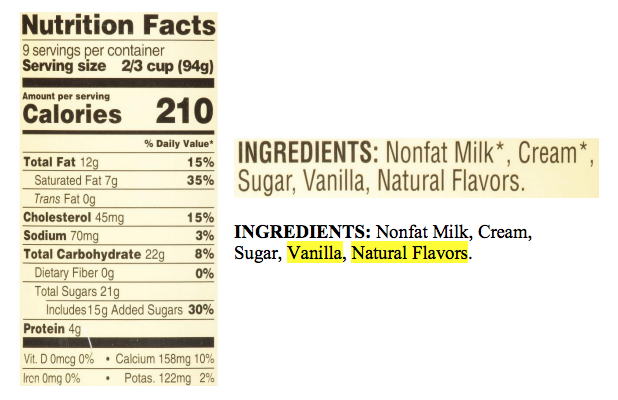 But the lawsuit attempts to distinguish fact from depiction.
"Listing these ingredients on the front label gives a false assurance to the consumer that the representations are transparent and forthright, and that vanilla is the exclusive flavor source," the case says.
Moreover, the complaint alleges that Turkey Hill's labeling of the product in fact "appears to intentionally confuse and mislead consumers" given it makes no mention that the ice cream is "not actually flavored exclusively from vanilla" and may either "contain no vanilla" or a minimal amount of such.
From there the suit turns its attention to the back of the carton for Turkey Hill vanilla ice cream, which, unlike the front of the carton, apparently notes that the product also contains "natural flavors."
"The flavoring is not exclusively from vanilla because if it were, it would not be necessary to list 'Natural Flavors,'" the case argues.
Referencing its prior "food fraud" assertion, the complaint alleges that it's misleading to label an ingredient that simulates, reinforces or extends vanilla as a "natural flavor" in that it wrongly implies the flavor is derived from vanilla beans.
Last Updated on August 21, 2019 — 4:08 PM