Tristar Products' Copper Chef Cooking Pans Do Not Work As Advertised, Class Action Claims
Last Updated on September 11, 2019
Slutsky et al. v. Tristar Products, Inc.
Filed: September 9, 2019 ◆§ 1:19-cv-06043
A class action case claims Tristar Products' Copper Chef line of cooking pans do not work as advertised.
Tristar Products' Copper Chef Signature and Copper Chef Diamond cooking pans are at the center of a proposed class action wherein two plaintiffs claim the products, which are touted as non-stick and scratch-, peel- and chip-resistant, simply do not work as advertised.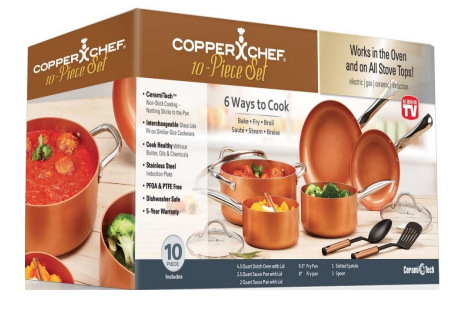 Filed in the Northern District of Illinois, the 41-page lawsuit says the purportedly "breakthrough" products are ubiquitously advertised in television infomercials and online as premium alternatives to traditional cooking pans. Tristar allegedly represents that the pans' "Cerami-Tech Non-Stick Technology" will last a lifetime, and that the products are heat resistant up to 800 degrees, effortless to clean up and designed for "maximum durability and longevity."
Citing "an endless stream of consumer complaints," the lawsuit alleges the pans are defective, unfit for their ordinary and intended purpose and wholly incapable of performing as advertised. According to the plaintiffs, Tristar knew or should have known its Copper Chef pans were below-par yet "actively concealed" the products' failings from consumers and rebuffed requests for refunds despite espousing a money-back guarantee. From the suit:
"Contrary to Defendant's representations, however, Copper Chef Pans fail to conform to its various express warranties, including by failing to last a 'lifetime,' because they eventually lose their non-stick functionality. Simply put, Copper Chef Pans are unsuited for their intended purpose and do not live up to Defendant's baseless marketing claims."
The case goes on to state that "experts report" that Copper Chef pans are not even true copper cookware. In truth, according to the suit, the products "appear to be little more than 'aluminum with copper colored" Cerami-Tech Non-Stick Coating.
Per one plaintiff, the case says the man's two Walmart-purchased Copper Chef pans "began to deteriorate within days of purchase." According to the plaintiff, food began to stick to the pans' surfaces within two days of use; the surfaces themselves, the case says, began to discolor. When the plaintiff called the defendant in September 2018 and demanded a refund, Tristar allegedly blamed the plaintiff, stating he "failed to properly 'season' his pans" despite the products' instructions including no such directive.
The lawsuit asks the court to certify a proposed class of all consumers and entities in the U.S. who bought Copper Chef Pans.
Last Updated on September 11, 2019 — 3:09 PM