Stop-Sale Order Has Crippled Porsche Owners' Ability to Resell 2012-2018 'Sport Plus Mode'-Equipped Vehicles, Lawsuit Alleges
Turner v. Dr. Ing. H.c.F. Porsche AG et al.
Filed: February 26, 2021 ◆§ 3:21-cv-02586
A Penns. resident alleges a stop-sale order issued by Porsche over emissions concerns for a number of 2012-2018 models has significantly hampered his and other drivers' efforts to resell their vehicles.
A Pennsylvania resident alleges a stop-sale order issued by Porsche over emissions concerns for a number of popular 2012-2018 models equipped with the "Sport Chrono Package" add on has significantly hampered his and other drivers' efforts to resell their vehicles.
According to the 24-page proposed class action, the automaker's November 2020 stop-sale order forbids all Porsche dealerships in the United States from selling certain vehicle models and likewise prevents the plaintiff and proposed class members from making use of the Porsche dealership network and other authorized tools to sell their Porsches for their retained value, something the automaker "promotes as an important benefit" to drivers, the complaint says. Specifically, the lawsuit charges the order has "shut [the] Plaintiff and Class members out" of the "critically-important," tightly controlled marketplace for the purchase and sale of Porsche vehicles, which includes the "widely used" "Porsche Finder" web tool and "Porsche Approved" certification program.
Affected by the "quietly issued" stop-sale order are a "broad range" of Porsche vehicles with the "add-on, expensive, and sought-after" Sport Chrono Package, including certain 911, Boxster, Cayman, Cayenne and Panamera vehicles (the "class vehicles"), the lawsuit states. (The full list of "class vehicles" can be found at the bottom of this page.)
Overall, Porsche's decision to suspend the entire "Porsche Approved" market for the vehicles has left the automaker with little to no inventory to offer for sale, which should make used Porsches "extremely valuable" to dealerships, the suit stresses. Compounding matters, according to the lawsuit, is the COVID-19 pandemic, which has significantly constrained Porsche's ability to manufacture 2020-2021 model year vehicles.
The plaintiff, a Pennsylvania man who owns two Porsches a dealer "refused" to buy from him, says that although the automaker has represented that its 191 U.S. dealers are looking to buy all used Porsche cars "as they usually would," this is far from the case in that the stop-sale order—and the reason why it was issued—has created a headache for would-be sellers:
"Porsche's claim, however, is belied by Plaintiff's own experience in trying to sell his car after the Stop Sale Order and that of others who attempted to sell their cars to, or at, a Porsche dealership. It is clearly not in Porsche's independent dealerships' business interest to expend capital on cars they cannot offer for sale or that will likely be devalued as the result of a remedy to repair them."
According to the proposed class action, Porsche has recently admitted that a number of its vehicles "may" pollute the environment beyond acceptable levels when driven in "Sport Plus" mode, a feature available on models equipped with the automaker's pricey Sport Chrono Package. The suit, citing media accounts, describes last year's Porsche stop-sale order as "rather odd" given the fact that such an order is usually issued for safety- or emissions-related problems affecting brand-new, never-before-sold vehicles.
Per the case, Porsche's Sport Chrono Package, which is among the company's "most popular upgrades," comes standard on certain vehicle models and is available as an option for others. The upgrade includes, according to the suit, "a digital and analog stopwatch, a graphic in the instrument cluster showing longitudinal and lateral acceleration and a performance display for viewing lap times." With regard to a vehicle's performance, the package can "elevate the baseline power and speed of a model with a sportier turning of the chassis, engine, and transmission," the lawsuit says.
Last November, however, Porsche revealed that some vehicles "may" emit more nitrogen oxide than allowable under U.S. regulations when placed in Sport Plus Mode, the complaint reads. Although the automaker continued to claim its cars and SUVs were safe to drive in Sport Plus Mode, Porsche, through a spokesperson, admitted "they're just a little bit dirtier [for the environment]," the lawsuit says. What came next, the case says, was the rather abrupt stop-sale order, which came with few details for Porsche owners.
"While withholding more detailed information about the potential scope and severity of the problem from the Class members and the public, Porsche nevertheless took the unusual step of issuing the Stop Sale Order," the complaint reads. "In addition, 'Porsche proactively informed authorities' about this issue."
The suit says Porsche announced in August 2020 that it had begun an internal investigation into the 911 and Panamera models for possible manipulation of engines "developed between 2008 and 2013" to improve emissions test data. The lawsuit notes that while Porsche paid $600 million for its role in cheating diesel emissions tests in connection with parent company Volkswagen Group's emissions-cheating scandal, the internal investigation marked the first time gasoline engines were subject to scrutiny.
The plaintiff claims Porsche's stop-sale order and handling of vehicle emissions has "caused harm" to proposed class members, a group defined in the complaint as all Pennsylvania residents who are current owners of any of the vehicle models listed below or sold any of the vehicle models listed below after November 12, 2020.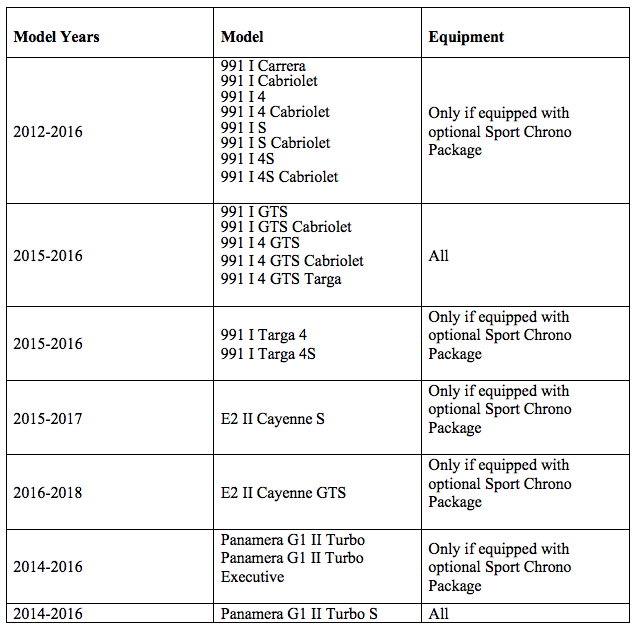 The lawsuit, filed in Pennsylvania federal court on February 26, was added to multidistrict litigation concerning Volkswagen Group of America's "clean diesel" marketing, sales practices and product liability obligations on April 9.
Get class action lawsuit news sent to your inbox – sign up for ClassAction.org's free weekly newsletter here.
Last Updated on April 12, 2021 — 5:04 PM