Recall for Contigo Kids Cleanable Water Bottles Is Insufficient, Class Action Lawsuit Claims
Last Updated on September 3, 2019
A class action claims that the recall announced for Contigo Kids Cleanable Water Bottles is inadequate given "hundreds of thousands" of consumers had not heard about the product being pulled from the market.
The maker of Contigo Kids Cleanable Water Bottles faces a proposed class action in which a Pennsylvania mother alleges the August 27 recall for the product was insufficient in that defendant Ignite USA has attempted to profit from "its failure to timely disclose" the choking hazard—and the recall itself—to consumers.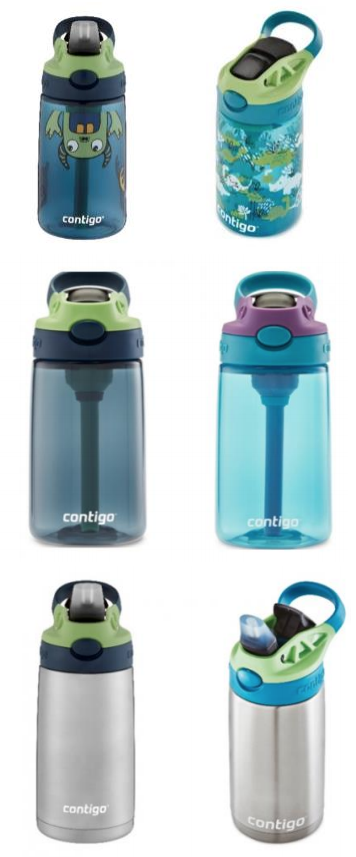 Filed in Illinois district court, the 12-page lawsuit says the Contigo kids water bottles all suffer from an identical design defect that allows the clear silicone spout to detach, posing a choking risk. Although the product was recalled last month by the defendant, the case argues that Ignite USA had "exclusive knowledge" of the defect prior to pulling the water bottles from the market. Ignite USA has said it received 149 reports of the spout detaching, with 18 of those noting that the spout ended up in a child's mouth, the suit states.
As the lawsuit tells it, the Contigo recall falls short given "hundreds of thousands—if not millions" of consumers who bought the water bottles had no idea about the choking risk, nor that the product had been pulled from the market. According to the case, the defendant's recall provides proposed class members with minimal notice of the problem considering Ignite USA appears to have chosen not to contact buyers directly. Further still, the websites of the major retailers who sell the children's water bottles, such as Walmart, Target and Costco, contain no information at all related to the defect or recall, the lawsuit says, with only Costco's site including a "recall" link at the bottom of the webpage "in fine print."
In truth, according to the suit, Ignite USA rolled out its recall in such a way as to keep intact its bottom line.
"[The recall] was designed so that Defendant could retain as much of its unlawful profits as possible while also providing as little benefits to purchasers as possible," the complaint reads, adding that the defendant has offered only to replace the lid on the defective water bottles in lieu of monetary relief.
The lawsuit proposes to cover classes of consumers both nationwide and in Pennsylvania who bought a Contigo Kids Cleanable Water Bottle subject to the defendant's August 27, 2019 Consumer Product Safety Commission voluntary recall.
Last Updated on September 3, 2019 — 2:09 PM