in
Newswire
Published on February 8, 2021
Real Mozzarella? Cheese Claims on Bagel Bites Label Are Misleading, Class Action Says [UPDATE]
Last Updated on May 12, 2022
Marcinelli v. Kraft Heinz Foods Company
Filed: February 6, 2021 ◆§ 7:21-cv-01075
A class action claims the labeling of Bagel Bites pizza snacks is misleading.
May 12, 2022 – Bagel Bites Lawsuit Voluntarily Dismissed
The lawsuit detailed on this page was voluntarily dismissed by the plaintiff on April 26, 2021, just one day after her attorney filed another lawsuit against Kraft Heinz over the allegedly misleading labeling of its Bagel Bites product.
That lawsuit was thrown out on May 6, 2022 after the judge found that the Bagel Bites' label would not mislead a reasonable consumer. Check out this page for more details about the dismissal.
Want to stay in the loop on class actions that matter to you? Sign up for ClassAction.org's free weekly newsletter here.
Bagel Bites buyers have been misled as to the pizza snack product's cheese content, a proposed class action claims.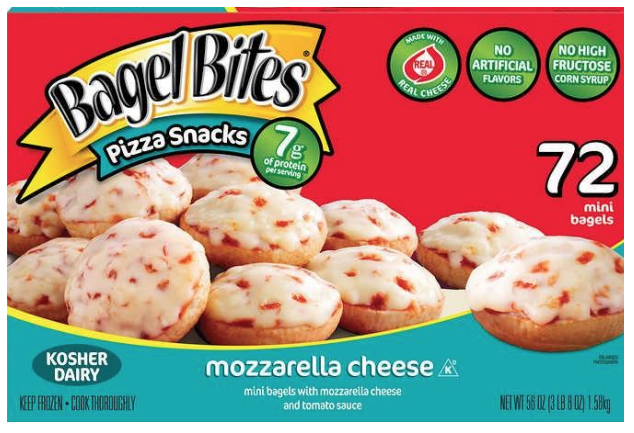 The 13-page complaint out of New York says that although the product is labeled as containing mozzarella cheese, buyers are unaware that the mini pizzas on bagels are made with a "cheese blend" consisting of part-skim mozzarella and modified food starch, a combination the plaintiff says amounts to "imitation mozzarella."
"Reasonable consumers do not expect a cheese blend with modified food starch where they are expecting to receive only mozzarella cheese," the case argues.
As the lawsuit tells it, reasonable consumers understand pizza to be a combination of tomato sauce, mozzarella cheese and wheat crust, or, in the case of Bagel Bites, a miniature bagel. The case says the defendant, Kraft Heinz Foods Company, is aware consumers want real mozzarella cheese, which is why the product is prominently labeled as made with mozzarella and has a "Real Dairy" seal, which is owned by the National Milk Producers Federation.
The lawsuit states, however, that the "Real Dairy" seal is not permitted for use by the National Milk Producers Federation in instances where a cheese ingredient makes use of extenders and fillers, such as modified food starch, vegetable oils or other common additives. By law, authentic mozzarella cheese is to be made from dairy ingredients and only a small number of other optional additives, which can include milk or cream, clotting enzymes, vinegar, coloring, salt or antimycotics, the complaint explains, noting that food starch is not among the additive exemptions.
"The reason optional ingredients are limited is to prevent added lower quality ingredients like modified food starch," the case reads. "The result from substituting dairy ingredients with modified food starch is a nutritionally inferior cheese product, technically described as an 'imitation.'"
Companies such as Kraft Heinz use extender and filler ingredients, such as food starch, so that they may use less real, and more valuable, mozzarella, according to the suit. Per the case, modified food starch causes Bagel Bites to "have less nutritional value than if only mozzarella cheese were used, a flat 'cardboard-like' taste and a rubbery mouthfeel."
Because the cheese blend used in Bagel Bites lacks the protein found in real mozzarella, it "can and should be described as 'imitation mozzarella cheese,'" the lawsuit avers, charging that consumers are misled because the product's front label does not, as required by law, disclose the inclusion of imitation mozzarella.
A step further, the case contends that even consumers who read the snack's small-print ingredients list will not know that the cheese used for the Bagel Bites is nutritionally inferior to the real thing.
"Nowhere on the Product does Defendant disclose that the Product contains imitation mozzarella cheese," the lawsuit reads. "Defendant misrepresented the Product through affirmative statements, half-truths, and omissions."
Get class action lawsuit news sent to your inbox – sign up for ClassAction.org's free weekly newsletter here.
Last Updated on May 12, 2022 — 4:06 PM