Lawsuit Claims Strawberry Pop-Tarts Packaging Deceptively Veils Presence of Apples, Pears in Filling
A lawsuit contends that the packaging of Kellogg's Unfrosted Strawberry Pop-Tarts misleads consumers into believing the filling contains only strawberries.
A proposed class action contends that the packaging of Kellogg's Unfrosted Strawberry Pop-Tarts misleads consumers into believing that the snack's filling contains only strawberries.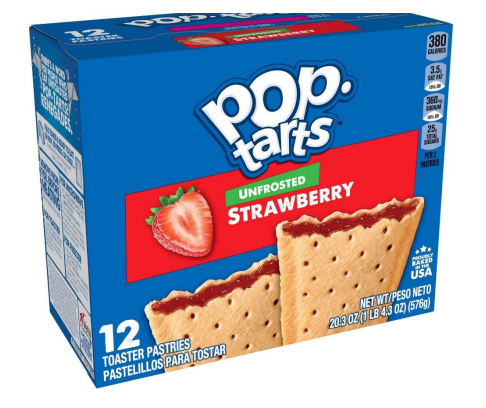 Per the 14-page lawsuit, although the "strawberry" representation, picture of half a strawberry and depiction of dark red fruit filling on the Pop-Tarts' packaging gives consumers the impression that the filling contains only or mostly strawberries, the snack filling also contains pears and apples. The case asserts that reasonable consumers would expect upon viewing the Strawberry Pop-Tarts packaging that the food contains more strawberries than it actually does.
"Defendant's branding and packaging of the Product is designed to – and does – deceive, mislead, and defraud Plaintiff and consumers," the complaint scathes.
The lawsuit out of Illinois federal court relays that consumers prefer strawberries over other fruits for reasons including taste, texture, adaptability and health benefits. According to the suit, strawberries are one of the most nutrient-dense fruits and provide significant levels of Vitamin C, antioxidants and polyphenols. Moreover, strawberries tend to be more expensive than apples and pears, the case adds.
The suit posits that Kellogg's Strawberry Pop-Tarts are unable to confer the various health benefits associated with strawberries because they contain fewer strawberries than consumers expect, with the product's filling instead supplemented with apples and pears. Per the case, the name "Strawberry Pop Tarts" is misleading to consumers given it fails to disclose the presence of apples and pears, which are only revealed "in the small print on the ingredient list."
The lawsuit argues that the Pop-Tarts likely contain an even greater amount of non-strawberry ingredients than strawberry ingredients considering "dried strawberries" are listed at less than two percent of the snack's ingredients.
"Even though there is more strawberry ingredient than pears and apples, back-of-the-envelope calculations can conclude that the combined total of pears and apples exceed the strawberry content," the complaint attests.
The case goes on to allege that the presence of red 40, a synthetic food coloring, adds to consumers' misconceptions about the Pop-Tarts' strawberry content because it causes the multi-fruit filling to appear more like strawberries.
"This furthers consumers' impression that the Product contains more strawberries than it does," the suit says.
According to the lawsuit, Kellogg has sold more Strawberry Pop-Tarts, and at higher prices, than it would have absent its allegedly deceptive representations.
Get class action lawsuit news sent to your inbox – sign up for ClassAction.org's newsletter here.
Last Updated on July 9, 2021 — 4:07 PM