Lawsuit Claims Aetna Violated Confidentiality Laws by Sending Envelope with Glassine Window
Last Updated on September 29, 2017
An unnamed plaintiff alleges Aetna unlawfully disclosed his private medical information by mailing him documents in an envelope with a glassine window.
A proposed class action case filed in California by a "John Doe" plaintiff alleges Aetna, Inc. violated confidentiality laws after it sent the man a letter pertaining to his HIV medications in an "envelope with a large glassine window." The 17-page complaint alleges this glassine window exposed the contents of the letter - an unlawful and unauthorized disclosure of the plaintiff's personal and confidential medical information. Included in the letter, the case says, was the plaintiff's name and reference to his medical diagnosis, as well as prescription and insurance and billing information.
The below photograph was included in the complaint: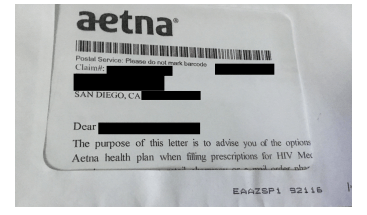 From the lawsuit:
"Through the above conduct, [the defendant] carelessly, recklessly, negligently, and impermissibly revealed [the plaintiff's] sensitive and confidential medical information to numerous unauthorized third parties, including [the plaintiff's] family, friends, neighbors, mail carriers, and others who had the opportunity to view the abovementioned letter distributed by [Aetna]."
The case then says that on or around August 23, 2017, Aetna sent the plaintiff and proposed class members written notice of the privacy breach that occurred as a result of the company's letter pictured above.
Last Updated on September 29, 2017 — 10:09 AM