Lawsuit Challenges '100% Natural' Claims for Benefiber Prebiotic Supplements
A class action claims Benefiber prebiotic powders are not made with "100% Natural" ingredients as maker GSK Consumer Health represents on the products' labels.
A proposed class action claims Benefiber prebiotic powders are not made with "100% Natural" ingredients as maker GSK Consumer Health represents on the products' labels.
In recent years, increasingly health-conscious consumers have more frequently turned to supplements such as Benefiber to treat and prevent illness, the case says. Capitalizing on what the suit describes as a "perfect storm for unscrupulous supplement makers," GSK has attempted to mislead consumers with regard to the quality and benefits of its prebiotic powders, the lawsuit alleges.
More specifically, the 28-page complaint out of New York claims Benefiber Original Prebiotic Powder and Benefiber Healthy Shape Prebiotic Powder contain wheat dextrin, a type of wheat starch recently classified as a non-natural, synthetic ingredient by the National Advertising Division (NAD), a Better Business Bureau non-profit tasked with determining accuracy in national advertising.
"Accordingly, NAD concluded that Defendant's '100% Natural' label was misleading to a reasonable consumer and should be discontinued," the complaint reads.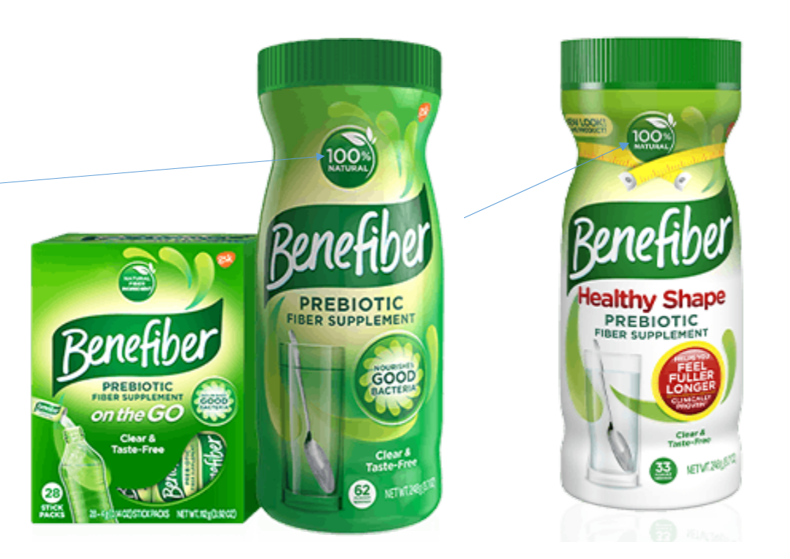 Per the lawsuit, the natural wheat starch used to manufacture Benefiber is transformed into a new ingredient, wheat dextrin, through "a multi-step process that utilizes hydrochloric acid, added enzymes and a tailored, highly controlled method, which selects for biological properties that resist digestion, increases fiber content, enhances solubility, lowers viscosity and adds sweetness to the product marketed to consumers."
On May 14, 2020, NAD ruled in a case brought by GSK competitor Proctor & Gamble that the chemical process used to produce wheat dextrin as found in Benefiber is inconsistent with a reasonable consumer's understanding of a product purported to be made with 100-percent natural ingredients, the lawsuit says. In labeling Benefiber as "100% Natural," GSK relied on "informal guidance" issued by the U.S. Food and Drug Administration that NAD argued "does not establish the contours of an advertiser's non-misleading use of the term," the suit contends.
Reasonable consumers would expect a product marketed as "100% Natural" to have undergone only "minimal processing," and not the "significant chemical alterations" performed on the defendant's Benefiber products, the case argues. From the complaint:
"Upon consideration of the chemical process used to create wheat dextrin, NAD concluded that reasonable consumers would not consider the Products to be '100% Natural' because 'ingredients that are derived from nature and undergo significant chemical alterations are often not 'natural' in the way that consumers expect them to be.' This is especially true of products that are labeled as '100% Natural' because '100% Natural' is a powerful claim that promises to deliver a substance that is entirely natural."
The lawsuit goes on to say the patent for Benefiber specifically notes that the heat used in the defendant's patented manufacturing process is employed "to obtain a significant transformation of the structure of the product."

Further still, the case argues NAD's determination that wheat dextrin is synthetic is supported by the U.S. Department of Agriculture's guidance decision tree for the classification of synthetic and non-synthetic materials.
The lawsuit alleges that reasonable consumers lack the resources necessary to independently test the veracity of the defendant's claims, noting that although wheat dextrose is disclosed on the products' ingredients labels, consumers cannot be expected to understand whether an ingredient is synthetic "merely by reading the ingredients label."
According to the case, consumers would not have been willing to purchase the defendant's Benefiber products, or would have paid less, had they known the truth about the supplements' contents.
The full complaint can be read below.
Get class action lawsuit news sent to your inbox – sign up for ClassAction.org's newsletter here.
Last Updated on June 23, 2020 — 4:06 PM