Former Fox News Contributor Facing Class Action Over Philadelphia 'Justice Reform' Texts
Mercer et al. v. Jackson et al.
Filed: December 4, 2019 ◆§ 191200702
A proposed class action claims Kevin Jackson and The Black Sphere sent to Philadelphia residents thousands of unlawful text messages purportedly focused on criminal justice reform.
A proposed class action lawsuit claims Kevin Jackson and The Black Sphere, LLC sent to Philadelphia residents thousands of text messages as part of an apparent political disinformation campaign targeting African-American voters in the city. The texts, which the plaintiff claims were sent without prior express consent, were part of a greater effort by the defendants to conduct a poll purportedly focused on criminal justice reform, according to the 10-page suit.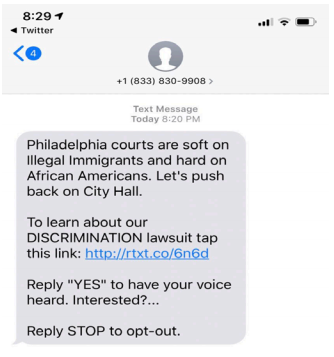 Described in the lawsuit as a "right-wing provocateur" and former Fox News contributor, Jackson and his company Black Sphere allegedly sent to proposed class members on September 11 automated texts that stated the Philadelphia court system is "soft on illegal immigrants and hard on African Americans." According to the lawsuit, the texts contained a link to the "Philly" page on USACriminalJusticeReform.org, a website operated by Black Sphere. The web page allegedly referenced Philadelphia's purported policy of discriminating against "black citizens" in favor of "illegals," and asked visitors to respond "[i]f this violation bothers you or if you are someone you know has been wronged by the city."
In a September interview with the Philadelphia Inquirer, Jackson allegedly admitted to sending texts to approximately 100,000 Philadelphia residents whose numbers the case says were pulled from a voter database. The suit claims Jackson's website expanded on this statement by referencing that he and Black Sphere had conducted a "poll" of "over 120,000" individuals in order to assess their opinions on criminal justice reform.
The lawsuit argues that the defendants' "poll" was a misrepresentation in that recipients of the text messages were not aware that they were participating in a poll and never provided consent to receive the automated texts.
"Plaintiffs believe and therefore aver that they are being misrepresented by Defendant as having willingly and knowingly been participants in a poll about the Philadelphia criminal justice system, when, in fact, they were just unconsenting recipients of Defendant's unlawful and deceptive texting," the complaint reads.
The lawsuit seeks to award $1,500 to each person who, within the last four years, received a text message from the defendants that was similar to those received by the three named plaintiffs and never provided prior express consent to receive the message.
Last Updated on December 6, 2019 — 4:12 PM