Despite Contrary Assurances, Muscletech BCAA Supplement Harms Muscle Protein Synthesis, Class Action Alleges
Last Updated on September 27, 2019
Sabatano v. Iovate Health Sciences U.S.A. Inc.
Filed: September 25, 2019 ◆§ 7:19-cv-08924
Muscletech's Platinum 100% BCAA supplement is wholly incapable of aiding muscle growth, a class action lawsuit claims.
A proposed class action lawsuit alleges that despite defendant Iovate Health Sciences U.S.A.'s assurances otherwise, the company's Muscletech-brand Platinum 100% branched-chain amino acids (BCAA) 8:1:1 supplements actually decrease protein synthesis and are "wholly incapable of building muscle on their own."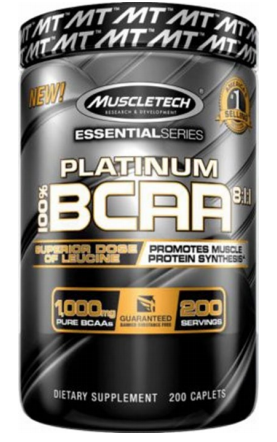 Filed in New York's Southern District, the 24-page lawsuit expounds that to build muscle, the body must have an abundance of the nine essential amino acids (EAAs), i.e. those that cannot be physiologically produced by the body in significant quantities, consumed through the diet. A less-than-abundant well of EAAs, the case says, will halt any increase in muscle protein synthesis due to the effective lack of raw materials with which the body can build muscle mass.
According to the lawsuit, Muscletech's BCAA supplements contain only three of the nine essential amino acids. This fact alone, the plaintiff argues, shows that the defendant's product does not promote muscle protein synthesis and, therefore, cannot build muscle.
"When less than a full panel of EAAs are ingested (such as when ingesting a BCAA supplement), the only source of EAA precursors for muscle protein synthesis are those derived from muscle breakdown, which means that muscle is being broken down to provide EAAs for protein synthesis, rendering it impossible for the body to reach an anabolic state," the lawsuit reads.
A step further, the lawsuit, citing amino acid authority Dr. Robert Wolfe, charges that Muscletech's BCAA supplement in truth "negatively impacts" muscle protein synthesis. A lack of EAAs, the case states, causes those stored in the muscle protein to be perpetually catabolized, or broken down.
"As such, Iovate's claims that the Product 'Promotes Muscle Protein Synthesis,' 'ensures that your muscles are primed for musclebuilding,' and provides 'key building blocks of muscle' are false and misleading based on peer-reviewed scientific data," according to the lawsuit.
The case goes so far as to argue that consumers who use the defendant's Muscletech BCAA supplement are "in a worse position" than if they had not taken the product at all.
Notwithstanding the alleged ineffectiveness of the defendant's BCAA supplement, the case asserts that consumers have been deceived by claims on Muscletech's labeling espousing that the product "promotes muscle protein synthesis" to encourage muscle growth. The plaintiff claims that he purchased the product based in part on Muscletech's label representations and would not have done so had he been aware that the BCAA supplement actually reduces the rate of muscle protein synthesis.
Last Updated on September 27, 2019 — 3:09 PM