Class Action: Tesla Misleads Drivers as to Condition of Preowned Vehicles, Balks at Warranty Responsibilities
Last Updated on July 25, 2019
A class action lawsuit alleges Tesla misleads customers as to the quality of certified preowned Model S and X vehicles and denies warranty coverage for covered repairs.
A California man who says he bought an all-electric certified preowned Tesla Model S with vastly diminished battery range has filed a proposed class action against the Palo Alto automaker over alleged violations of state and federal consumer protection and warranty laws.

Noting that the foremost concerns of those in the market for an electric vehicle are range and battery life, the case alleges that Tesla, despite assuring customers that it will take care of them no matter what happens to their vehicle's battery, does not follow through on its so-called "best warranty in the world" with regard to "arguably the most important component of an all-electric vehicle." The lawsuit alleges that Tesla, since April 2015, has sold to consumers nationwide preowned all-electric, battery-powered vehicle models that are represented to have undergone full inspections yet are delivered to customers without information on battery capacities, much less the findings of those purported inspections. Many preowned Tesla purchasers, the case states, quickly come to learn that their warranties don't cover items included on the company's list of standard parts and defective items.
"Despite representing that their warranties are the best in the world, Tesla engages in unfair business practices, deceptive marketing, and fraudulent acts and concealment in order to avoid performance on said warranties," the lawsuit asserts, alleging that proposed class members have been damaged financially as the result of paying out-of-pocket for repairs "that should have been and were supposed to have been taken care of by Tesla as promised."
According to the suit, nearly 13,000 Tesla vehicle owners were subject to Tesla's apparent attempts to "mislead potential consumers as to the condition of its certified preowned/used vehicles." The plaintiff behind the 72-page complaint claims the Model S he received from Tesla in November 2017 was advertised and represented as capable of providing roughly 210 miles of range on a fully charged battery. At time of delivery, however, the plaintiff's vehicle—which the man says came with a two-year, 100,000-mile limited warranty and an eight-year unlimited warranty on its battery—had a maximum range of only approximately 165-166 miles on a full charge, the lawsuit says, more than 20-percent less than what Tesla advertised.
All told, the man claims that though he paid for a warrantied vehicle advertised by Tesla as fully inspected, the automaker has not only denied warrantied coverage for his battery replacement but has never provided a checklist or any other written details regarding his Model S's inspection prior to delivery.
The case summarizes that consumers who buy a vehicle through Tesla's certified preowned program put themselves at risk given the company's alleged nondisclosure of the true state of cars it supposedly inspects. From the lawsuit:
"Tesla's exclusivity and proprietary knowledge regarding the batteries of its vehicles allows Tesla to commit various deceptive acts and/or fraudulently withhold and conceal material information to both potential and actual customers. In fact, Tesla's approach to the used, certified preowned car buying process puts potential and actual customers at risk and leaves them with the shortest end of the bargaining stick. Simply put, there is only one way to buy a used Tesla vehicle from Tesla, and that means there's no choice but to play by Tesla's rules."
The nationwide class proposed for certification includes all individuals who purchased or will purchase a used, certified preowned Tesla Model S or X directly from Tesla, with the following 2012-present vehicle models—the "class vehicles"—covered by the lawsuit: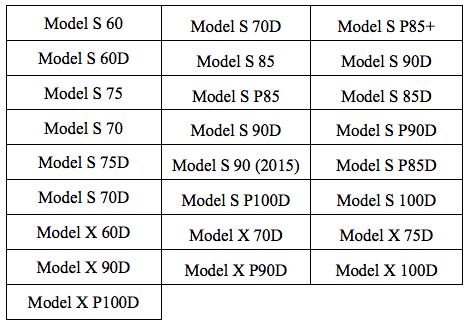 The plaintiff seeks for Tesla to buy back his vehicle and those of proposed class members, as well as full reimbursement for out-of-pocket repair expenses and equitable and monetary relief. The complaint can be read below.
Last Updated on July 25, 2019 — 4:07 PM