Class Action Claims Poland Spring Raspberry Lime Sparkling Water Labels Mislead Buyers [UPDATE]
Last Updated on May 5, 2021
Oldrey v. Nestlé Waters North America, Inc.
Filed: May 2, 2021 ◆§ 7:21-cv-03885
The labels of Poland Spring raspberry lime sparkling water are misleading to buyers, a proposed class action alleges.
May 5, 2021 – Statement from BlueTriton Brands (formerly Nestlé Waters North America)
In an email, a spokesperson for BlueTriton Brands (formerly Nestlé Waters North America) sent the following statement in response to the lawsuit detailed on this page:
"Poland Spring® Brand Sparkling Water is made with real fruit flavors, 100% natural spring water and bubbles. The claims made in this lawsuit are without merit. Our product labeling complies with all United States Food and Drug Administration regulations for natural ingredients and we stand behind the safety and quality of our products. BlueTriton Brands is highly confident in our legal position and will defend ourselves vigorously."
The labels of Poland Spring raspberry lime sparkling water are misleading to buyers in that they do not adequately disclose the relative amount and quantity of raspberry and lime in the product, a proposed class action says.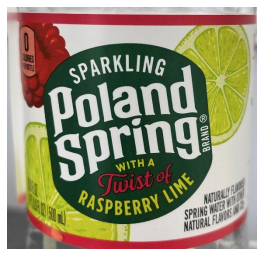 The 15-page lawsuit argues that although consumers expect the raspberry and lime taste of defendant Nestlé Waters North America's product to come from a "twist" of real raspberries and limes, the sparkling water contains these flavors in amounts more minimal than the label, which displays images of the fruits, lets on.
"Consumers expect the presence of a non-de minimis amount of raspberry and lime ingredients, based on the pictures of these fruits and promises the Product is made 'With a Twist of Raspberry [and] Lime,'" the complaint, filed in New York, reads. "In the context of food and beverages, a 'twist' means the addition of fruit ingredients in small amounts that otherwise might be unexpected."
Based on Nestlé Waters' representations, including the side-panel statements "Taste the Real" and "Real Raspberry Lime flavor," consumers expect the Poland Spring sparkling water to contain "non-negligible amounts" of real raspberry and lime, the lawsuit says. Per the suit, the product's front label, upon closer viewing, tries to disclaim how the sparkling water is actually flavored, noting it is "Naturally Flavored Spring Water with Other Natural Flavors and CO2."
As the suit tells it, even if consumers examined this small print on the product's label, they still would not know that the sparkling water did not contain a real twist of raspberry and lime.
"The phrase, 'Naturally Flavored With Other Natural Flavors' is used so extensively by food and beverage companies it has become the equivalent of a labeling tic, affixed to a majority of products with added 'natural' flavors," according to the case.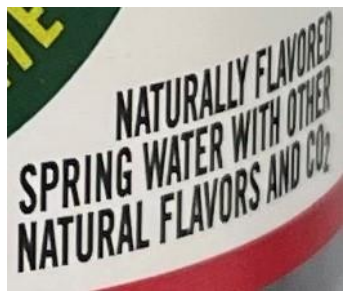 In truth, "most" of the Poland Spring sparkling water's flavoring comes from "non-raspberry and non-lime flavors," the suit says, contending that the "natural flavors" disclosure in the product's ingredients list fails to inform buyers where the taste actually comes from.
"'Natural Flavors' fails to tell consumers that the Product's taste is mainly from fruits other than raspberries and limes and has a negligible amount of these fruit ingredients," the lawsuit asserts, claiming later that the Poland Spring sparkling water's "natural flavors" consist of flavor compounds that imitate the taste of raspberries and limes.
Per the suit, these flavor compounds are cheaper than using real fruits, and more concentrated, meaning less of these ingredients need to be used.
Nestlé Waters North America has been able to sell more of the Poland Spring raspberry and lime "twist" sparkling water, and at higher prices, than it would have "in the absence of this misconduct," the lawsuit alleges, claiming consumers would not have bought the product had they "known the truth."
Get class action lawsuit news sent to your inbox – sign up for ClassAction.org's free weekly newsletter here.
Last Updated on May 5, 2021 — 3:05 PM