Class Action Claims Miyoko's Kitchen Vegan Butter is Misleadingly Packaged, Advertised
Last Updated on November 1, 2018
Brown v. Miyoko's Kitchen, Inc.
Filed: October 30, 2018 ◆§ 2:18cv6079
Miyoko's Kitchen faces a lawsuit over its vegan butter, with the case alleging the product should not be advertised and labeled as "butter."
Miyoko's Kitchen, Inc. is the defendant in a proposed class action filed by a consumer who claims the company's representations of its various butter products are misleading. According to the 11-page case, while Miyoko's represents that the products are a "form" of butter, they supposedly lack "any milk or dairy ingredients," not to mention the "functional, nutritional, sensory, and organoleptic attributes" necessary to be accurately be described as such.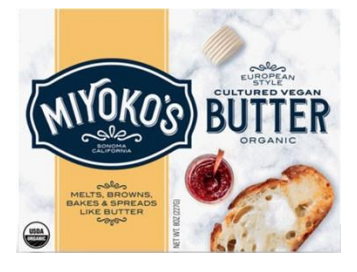 The lawsuit argues the defendant's butter-adjacent "alternative dairy" products should instead be labeled and advertised as an imitation "in a manner as prominent as [Miyoko's] promotes its equivalence to butter."
Last Updated on November 1, 2018 — 3:11 PM