Class Action Claims Consumers Misled by Entenmann's All Butter Loaf Cake Packaging
Last Updated on October 26, 2020
Boswell v. Bimbo Bakeries USA, Inc.
Filed: October 25, 2020 ◆§ 1:20-cv-08923
A class action claims packages of Entenmann's All Butter Loaf Cake are misleadingly labeled in that they fail to disclose butter is not the sole shortening ingredient.
Packages of Entenmann's All Butter Loaf Cake are misleadingly labeled in that buyers are led to believe butter is the sole shortening ingredient in the product, a proposed class action claims.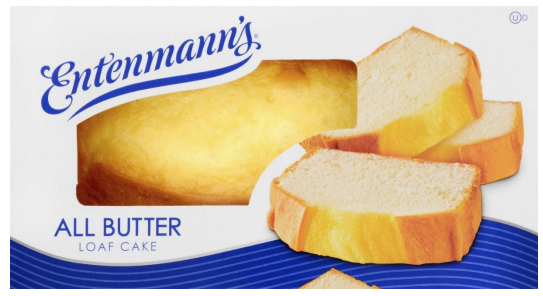 Left undisclosed on defendant Bimbo Bakeries USA's packaging is that the loaf cake contains the shortening agent soybean oil and artificial flavor, omissions that give consumers the impression the product "contains more butter than it does by increasing the butter taste," the 11-page lawsuit says.
"Defendant's branding and packaging of the Product is designed to—and does—deceive, mislead, and defraud plaintiff and consumers," according to the complaint.
When baking, consumers prefer real butter to chemically produced vegetable oils for taste and health reasons and to avoid processed, artificial butter substitutes, the case says. Per the suit, butter costs more than vegetable oil alternatives, such as soybean, palm or canola oil.
As the lawsuit tells it, a food labeled with the word "butter" will lead a reasonable consumer to expect the product's shortening ingredient will be butter. In that light, the defendant's Entenmann's All Butter Loaf Cake is misleadingly labeled in that the product's packaging does not properly disclose the presence soybean oil, a shortening ingredient, or artificial flavor, the lawsuit argues.
In disclosing the presence of soybean oil and artificial flavor in only the cake's ingredients list, the defendant "took advantage of consumers' cognitive shortcuts made at the point-of-sale" as well as their trust in Bimbo Bakeries, "a well-known and respected brand or entity in this sector," the complaint says.
"Plaintiff and class members reasonably and justifiably relied on these negligent misrepresentations and omissions, which served to induce and did induce, the purchase of the Product," the lawsuit claims. "Plaintiff and class members would not have purchased the Product or paid as much if the true facts had been known, suffering damages."
According to the lawsuit, the Entenmann's All Butter Loaf Cake is worth less than what consumers paid given the defendant's "false and misleading statements and omissions."
Get class action lawsuit news sent to your inbox – sign up for ClassAction.org's newsletter here.
Last Updated on October 26, 2020 — 4:10 PM