BMWs Equipped with 'Defective' N63 Turbocharged Engines Suffer Excessive Oil Consumption, Class Action Says
Last Updated on May 21, 2019
Isley v. BMW of North America, LLC et al.
Filed: May 17, 2019 ◆§ 2:19-cv-12680
A proposed class action has been filed against BMW over an alleged defect that causes N63TU turbocharged engines to consumer excessive levels of oil.
A proposed class action has been filed in New Jersey over allegations that certain BMW vehicles equipped with any variant of the N63TU engine suffer from a defect that causes the cars to consume excessive amounts of oil. According to the case, defendants BMW of North America and Bavarian Motor Works AG have possessed knowledge of the apparent defect "for many years" yet never fixed the issue, which reportedly continues to plague affected vehicles outlined in the chart below: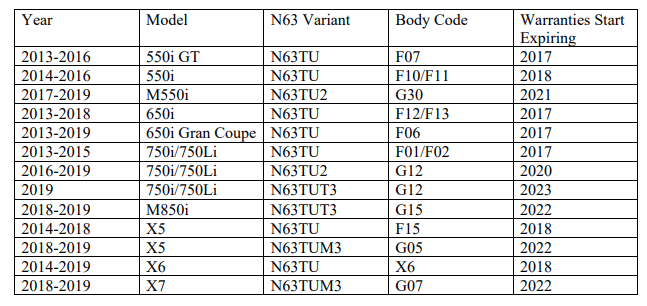 The apparent engine defect outlined in the suit is the same one detailed in another case out of New Jersey that BMW agreed to settle earlier this month. According to the latest suit, owners of BMW 5 Series, 6 Series, 7 Series, X5 and X6 vehicles manufactured since 2012 and equipped with a turbocharged V8 engine have incurred out-of-pocket expenses, including for oil purchases, service visits, and engine repairs and replacements.
BMW's "hot-vee" design for the N63TU engine, released in 2012 as an updated version of the original N63 engine, was implemented to save space under the hood, the lawsuit explains. The design, however, causes "excessive heat-soak" to the N63 engine and surrounding components, which then guzzle up excessive amounts of oil during the course of normal use, according to the case. The complaint says that if the issue progresses enough, a total engine replacement may be necessary.
Symptoms of the apparent defect can include damaged valve stems, hoses and other parts, which then prompt oil leakage that can exacerbate the overall problem. From a safety perspective, the defect, the suit asserts, is particularly troublesome in that it can cause engine failure during normal operation.
For its part, BMW had a responsibility to disclose the existence of the defect to proposed class members, according to the lawsuit. Making matters worse, BMW allegedly maintained a policy of informing customers that it was in fact normal for cars to consume high amounts of oil.
Last Updated on May 21, 2019 — 2:05 PM