Should I Reject JP Morgan Chase's Binding Arbitration Agreement for Credit Card Disputes?
Last Updated on July 19, 2019
Check your inbox, Chase credit card holders. Have you received an email from Chase recently, subject line "Important information regarding changes to your Chase account," that read in intermittently bold font: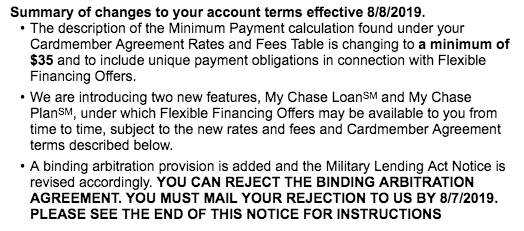 Such an email would ordinarily raise few eyebrows. Companies seemingly change their terms and conditions yearly, and it would be understandable if you had the message open for no longer than a few seconds before it ended up in the trash bin.
Of particular interest to consumers, though, is the third bullet point, the one that informs cardholders that JPMorgan Chase, the country's largest credit card issuer, has added a binding arbitration agreement to its terms of use. The second half of the bullet point informs the cardholder that they have the option of rejecting the new but also old (more on this in a minute) clause so long as they mail in their rejection in writing by August 7. Consumers who do nothing will automatically give up their right to take the company to court – including as part of a class action lawsuit.
Many companies who utilize forced arbitration as a condition of use do not afford consumers the option to opt out; you either agree to sign away your right to handle problems throughlitigation or, alternatively, walk away from using a particular product or service all together.
But in this rare situation that we find ourselves, Chase cardholders are presented with another choice. So, given the option, should you opt out of binding arbitration?
What is binding/mandatory/forced arbitration?
Before we dive in, it would be helpful to understand what exactly we're talking about when we say "binding arbitration," or "forced arbitration" or "mandatory arbitration," and how it differs from taking a company to court.
When a company has engaged in some form of perceived wrongdoing, our legal system affords consumers a mechanism—class action lawsuits—with which they can band together and take the company to task in court. Say a consumer believes they've been wrongfully charged a $30 overdraft fee on their checking account. In the grand scheme of things, $30 is not a large sum of money—but $30 is $30. To recover that $30 the consumer believes they're rightfully owed, they'd have to go head-to-head with a major financial institution and its resources, likely through a class action lawsuit. Some companies, however, prefer that disputes and matters of this nature are handled a bit more privately.
This is where arbitration becomes a useful (if not much debated) tool.
Arbitration is a process in which the parties involved in a dispute—such as that which may arise between, say, a bank and an accountholder—bring their claims before one neutral arbitrator (or a panel of arbitrators), who's tasked with resolving the matter after weighing all evidence and arguments. In binding arbitration, it's the arbitrator who ultimately holds the power to decide in favor of one party or another.
The arbitration process includes opening statements from the parties involved and evidence that's to be presented to the arbitrator. For the most part, the process of binding arbitration is quicker and less formal than that of a lawsuit. Absent from the arbitration process are the cumbersome hurdles of, say, certain state and federal procedures, trials, judges, and the often prolonged back-and-forth of submitting and answering motions, not to mention the trails of publicly available documents that are left behind.
A key distinction is that when arbitration is "binding," the arbitrator's decision is the last word on the matter and can be enforced by a court if necessary. Appeals may be submitted for decisions reached through binding arbitration, but only in limited circumstances. An arbitrator's ruling for non-binding arbitration, on the other hand, is more of an advisory suggestion, and is subject to approval by both parties in a dispute.
Many corporations, despite the common refrain that arbitration leads to better outcomes for consumers, favor binding arbitration because, among other advantages, it allows them to side-step costly litigation in favor of cheaper, more individualized dispute resolution.
The way things were
Back in the day—roughly 10 years ago—most credit card holders had no right to bring class action claims against card issuers, for it was standard in the days of yore for financial institutions to automatically include binding arbitration clauses in their contracts.
That changed in 2009 when the Big Four card issuers—JPMorgan, Bank of America, Capital One and HSBC—agreed to temporarily remove their arbitration clauses the following year as part of an antitrust class action settlement. The class action accused the country's largest banks of colluding against customers by pushing them into binding arbitration.
In 2017, the now de-fanged Consumer Financial Protection Bureau finalized rules that prohibited the inclusion of binding arbitration in service contracts for credit cards, checking accounts and other financial products. Not unsurprisingly, the CFPB's Obama-era rule was rolled back in November 2017 after President Trump signed a joint resolution passed by Congress. This happened shortly after then-CFPB director Richard Cordray revealed in a New York Times op-ed that the agency found that "lawsuits get more money back to more people," with an average of $220 million paid out to 6.8 million consumers each year.
What's happened lately
Roughly a decade after the Big Four antitrust case, Chase, free from any time limitations set by the settlement, decided to reintroduce binding arbitration to more than 47 million Slate, Sapphire, United MileagePlus and Amazon Rewards Visa Signature card holders. The relevant section of its updated agreement reads, in part:
8. ARBITRATION AGREEMENT
A new section titled Arbitration Agreement is hereby added to the end of the agreement as follows (following the section titled Your Billing Rights):
ARBITRATION AGREEMENT PLEASE REVIEW-IMPORTANT-AFFECTS YOUR LEGAL RIGHTS
This arbitration agreement provides that all disputes between you and Chase must be resolved by BINDING ARBITRATION whenever you or we choose to submit or refer a dispute to arbitration. By accepting this arbitration agreement you GIVE UP YOUR RIGHT TO GO TO COURT (except for matters that may be taken to a small claims court). Arbitration will proceed on an INDIVIDUAL BASIS, so class actions and similar proceedings will NOT be available to you.
YOU HAVE THE RIGHT TO REJECT THIS AGREEMENT TO ARBITRATION, BUT IF YOU WISH TO REJECT IT, YOU MUST DO SO PROMPTLY. If you do not reject this agreement to arbitration by 8/7/2019 in the manner set forth below, then:
In arbitration, your rights will be determined by a NEUTRAL ARBITRATOR and NOT A JUDGE OR JURY.
The procedures in arbitration are simpler and more limited than rules applicable in court.
Arbitrator decisions are subject to VERY LIMITED REVIEW BY A COURT. If you do not reject this agreement by 8/7/2019, you or we may elect to resolve any Claim by arbitration.
And research shows it's not only Chase that's levying binding arbitration agreements as of late. As
pointed out
by
Fast Company's
Cale Guthrie Weissman, the Pew Charitable Trusts found in a 2016 study that the use of mandatory arbitration clauses is
on the rise
among financial institutions. In 2016,
72 percent of banks
wielded binding arbitration clauses, up from 59 percent just three years prior.
Two sides to every coin
We wish it was more clear-cut than this, but the answer to the question of whether you should opt out of binding arbitration if given the option depends largely on the situation.
At the surface level, it may appear as though the obvious choice would be to retain your right to participate in class action litigation no matter the circumstance. But attorney Martin P. Schrama, of New Jersey's Stark & Stark law firm, points out that it's not always that cut and dried, and that sometimes a particular situation, perhaps a dispute between a cardholder and a bank over a relatively minor amount of money, may be best suited for arbitration.
"The knee-jerk reaction of any trial attorney is to opt out of an arbitration agreement, especially one that will undoubtedly incorporate procedures that are slanted toward the drafter of the agreement," Schrama said. "That being said, these are just the types of disputes that were built for arbitration: small amounts at issue, streamlined procedure, no attorneys needed, no detailed filings, quick, inexpensive, no appeal, et cetera."
That being said, the Los Angeles Times brings our attention to a study conducted by Stanford University's Graduate School of Business that confirmed the binding arbitration system is one that leans heavily in favor of businesses. From the L.A. Times:
Researchers analyzed almost 9,000 arbitration cases involving financial firms.

They found that companies routinely pick arbitrators with track records of making industry-friendly decisions. They also found that arbitrators know that the more they rule in favor of businesses, the greater the likelihood they'll be tapped for future cases (and future paychecks)."

Keep in mind, too, that arbitrators are unlike judges in that they get paid only when they're selected to, well, arbitrate. With all this in mind, there does appear to be a clear incentive for arbitrators to lean more toward the side of businesses because they're the ones responsible for hiring arbitrators.

In truth, there's no resounding answer to the question of whether it's better to always opt out of a company's binding arbitration agreement if given the chance. Like anything, there are pros and cons.
Pros
According to online legal encyclopedia Nolo, arbitration can be wholly more efficient than individual or class action litigation. It can cut down on potential hostilities that may arise in a lawsuit because the parties involved in arbitration, Nolo says, "are often more likely to work together peaceably rather than escalate" any ill-feelings toward one another.
Moreover, arbitration tends to be cheaper than traditional protracted litigation for a number of reasons. For instance, even if the parties involved in arbitration show up to the table with their own legal representation, the cost of that representation over the relatively short course of the proceedings tends to be lower than it would be for an average lawsuit.
It should be noted that although the cost of arbitration has risen alongside the frequency with which arbitrators' services are called upon nowadays, a well-known arbitrator, Nolo says, will cost roughly a few thousand dollars per day. While this may seem expensive on the surface, it's still far cheaper than the costs associated with, say, a class action suit that's dragged on for years.
To that last point, arbitration also tends to be quicker and a little more flexible with scheduling and deadlines than traditional litigation. Concerns about court calendars don't necessarily exist for arbitration cases, Nolo points out, and hearings can generally be scheduled around the availability of those involved in the negotiations.
A final notch that many consider a pro for binding arbitration is the fact that the whole affair is private. The details of arbitration proceedings are almost always kept behind closed doors, and the terms of how it all wraps up are kept confidential if that's the wish of the negotiating parties. Depending on what type of allegations are being disputed, privacy and confidentiality can be quite attractive considering every document filed in individual and class action litigation is generally a matter of public record.
Cons
If you read through that previous section, you may have come to the conclusion that arbitration beats traditional litigation every day of the week and twice on Sunday, and that it's no big deal for you to waive your right to sue a company because, well, who has the time for that stuff anyway? If that's your stance, then consider the downsides of binding arbitration.
Nolo stresses that a significant drawback to binding arbitration is that once a decision is reached, that's it, the decision is final. No appeals process, no judge to weigh arguments as to the fairness or logicalness of the deal. And if you don't like the decision reached through the arbitration process, as in you think it's unfair or provides too little relief, well, too bad.
Another concern often brought up regarding binding arbitration is that it's become an increasing concern, particularly of late, that the process is sometimes weighted in favor of the corporations responsible for hiring an arbitrator. We discussed this particular drawback a little earlier in the post, but objectivity is always a concern in arbitration proceedings.
Regarding privacy, whereas some may be fine with or even prefer the sanctity of the closed-door process, the lack of transparency in such proceedings is a significant concern for some consumers. Perhaps this latent distrustfulness is rooted in another drawback of binding arbitration: that many consumers are often unaware that they're locked into an arbitration-or-bust scenario until well after they've been using a product or service.
This is by no means an exhaustive run down of the pros and cons of binding arbitration. The best thing a consumer can do is to stay informed.
How do I opt out of Chase's binding arbitration agreement?
Through trusty ol' snail mail. Rejection notices must be sent in writing to:
Chase Customer Service
P.O. Box 15298, Wilmington, DE 19850-5298
In your letter, be sure to include your name, billing address(es) and account number(s). As for what the letter should say, it's best to keep it short and to the point, something like:

Chase Customer Service,
RE: Rejection of Chase's Binding Arbitration Agreement
I am writing to inform you that I REJECT Chase's binding arbitration agreement set to go into effect August 11,2019. Please confirm receipt of this communication and update my account appropriately.
And don't forget to sign your name.

Please note that Chase will not accept rejection notices mailed to any other address, nor those communicated by email or orally.
What will happen if I opt out? What are the consequences?
At this point, it's unclear what, if any, consequences there may be should you reject Chase's binding arbitration provision. In a perfect world, nothing would change after you mail in your rejection notice. But it's entirely possible we have yet to realize the extent of the effect Chase's re-introduction of binding arbitration may have on the consumer landscape.
To be clear, though, if you opt out of Chase's binding arbitration clause, it means that you will not be able to enter into arbitration with the company at any point in the future without their consent. Know that should something else arise down the line for which you feel you should lawyer up and look into legal recourse, your choice to opt out this summer may hamper your options. Sure, you may be able to get yourself a lawyer and sue Chase individually, but, as we've said a million times across this website, taking on a large corporation by your lonesome – or with a handful of others who opted out – can be outlandishly time consuming and expensive. Simply put, you may have difficulty finding someone who's willing to take a case that's a lot of work and offers little reward.
That being said, if you don't opt out, and someone who does ends up filing a class action against Chase over some alleged wrongdoing, you won't be able to participate.
Hey, at least they won't close your account if you opt out of the arbitration agreement. You've got that going for you, which is nice.
Should I reject Chase's binding arbitration?
At the end of the day, we here at ClassAction.org are not attorneys and cannot point you in one direction or the other. Yes, that is admittedly a cop out. But the best we can do is present the lay of the land to our readers and let them decide what's best.
Hair Relaxer Lawsuits
Women who developed cancer, endometriosis or reproductive problems after using hair relaxers such as Dark & Lovely and Motions may now have an opportunity to take legal action.
Read more here: Hair Relaxer Cancer Lawsuits
Stay Current
Sign Up For
Our Newsletter
New cases and investigations, settlement deadlines, and news straight to your inbox.
Last Updated on July 19, 2019 — 11:31 AM