Rob Gronkowski, Floyd Mayweather Named in Lawsuit Claiming Snow Teeth Whitening Products Don't Work
A proposed class action lawsuit alleges teeth whitening products hawked by world champion boxer Floyd Mayweather and former New England Patriots and current Tampa Bay Buccaneers tight end Rob Gronkowski have "unjustifiably" been sold for far more than they're worth.
According to the 20-page false advertising case, defendants Snow Teeth Whitening LLC, Foresold LLC, Mayweather, Gronkowski and Snow founder Joshua Elizetxe have charged consumers nearly $200 for what amount to ineffective, LED light-based at-home teeth whitening products that use nothing more than "very cheap lights" and are no different than similar items sold for much less.
Moreover, the defendants' unequivocal claims concerning the product's overall popularity, FDA approval, awards and accolades, and germ-fighting capabilities are equally false, the suit says.
The lawsuit alleges the defendants, in peddling Snow's Accelerating LED Mouthpiece, At-Home Teeth Whitening All-in-One Kit, "Original" kit and other wired teeth whitening light devices, have engaged in a "wide-spread fraudulent scheme to deceive consumers" and "demonstrate[d] greed and a complete disregard for human decency" by suggesting the products could protect against COVID-19.
"While defendants unequivocally claim that their teeth whitening light delivers amazing results, independent lab testing proves that, in fact, their light does nothing to enhance their product's purported ability to whiten teeth," the lawsuit, filed in New York's Eastern District Court, claims.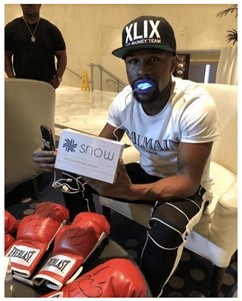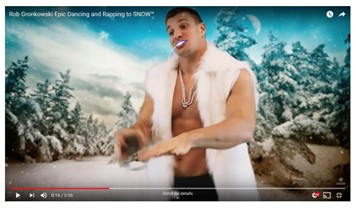 Lawsuit claims Snow teeth whitening products are ineffective
The lawsuit chides the defendants for claiming that Snow's teeth whitening serum is proprietary when, in truth, "there is nothing proprietary about it" given it's "simply a mix of two types of peroxide, hydrogen and carbomide [sic]."
Further, the complaint condemns the defendants for "absurdly claim[ing]" that Snow products cause no teeth sensitivity despite selling an add-on made specifically for sensitive teeth, called the "desensitizing gum," to reduce sensitivity that may result from using the teeth whitening lights. As far as how fast Snow teeth whitening lights supposedly work, the lawsuit, citing independent lab testing, says the defendants' claims that users will see results within three days are false:
In October 2019 on trysnow.com, Defendants claimed that the All-in-One Kit has a patent-pending LED mouthpiece that accelerates the teeth whitening process.

However, independent laboratory testing performed on Defendants' teeth whitening products reveals that Defendants' LED mouthpiece produced no material added benefit in terms of speed or effectiveness of whitening when compared with using Snow's whitening serum alone.

Put differently, independent lab testing revealed that Defendants are lying to consumers by suggesting that their expensive light will accelerate whitening results, when in fact it does no such thing."

The case goes on to say Elizetxe "lied to the viewing public" when he appeared on the Home Shopping Network in November 2019 and claimed the Snow serum contained a photo-catalyst, an ingredient that accelerates teeth whitening when exposed to light by breaking down peroxide faster. This claim is also false, the lawsuit says, given the stated ingredients for the Snow teeth whitening serum sold on HSN do not include any photo-catalyst.

According to the suit, the defendants have not spent nearly as much time or money—"3 years and over $2.3 million in Research & Development"—on the Snow teeth whitening products as they claim. Further, no clinical trials exist to back up the defendants' statements, and Snow's founder, Elizetxe, doesn't even use the products himself, the case alleges.
"Elizetxe falsely claims that his white teeth are the result of using Defendants' products, but he has veneers, a fact he hides from consumers," the suit says.
Red light, blue light?
The lawsuit relays that Snow teeth whitening products have also been peddled to consumers alongside questionable suggestions that different colored LED lights can aid in fighting germs.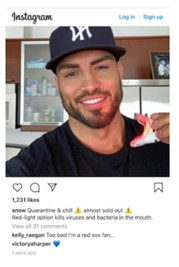 Per the complaint, one of the defendants' advertisements falsely suggests that a blue LED light and hydrogen peroxide will protect Snow users from germs and bacteria, while another ad, referencing quarantine, suggests that a red LED light "option" will prevent infection. There are no studies, however, that suggest "an overpriced blue or red led light materially improve the antiseptic qualities of hydrogen peroxide," the suit says, adding that the defendants' ads and public statements certainly "do not cite to any."
Further, the defendants have also fraudulently claimed that their wired teeth whitening light, the kind seen in promotional ads featuring Gronkowski and Mayweather, is patented or patent-pending and approved by the FDA, the suit asserts.

The FDA, however, has never approved any of the defendants' products, the lawsuit says. At any rate, cosmetic products, such as those that whiten teeth, are not even subject to FDA approval, according to the case.
After ad industry watchdog TruthInAdvertising.org published an article in June 2019 criticizing Snow for using the FDA logo, the company allegedly "began to conceal" the icon in its advertisements and social media posts.
In addition to making false statements regarding FDA approval, the defendants are also accused of having "fabricated" awards and accolades from well-known publications. As the lawsuit tells it, the falsehoods spread by the defendants could benefit from more than a little fact checking:
Their lies are so brazen they falsely claimed to have customers in over 200 countries around the world, yet there are not even 200 countries in the world."
With regard to the apparent popularity of Snow teeth whitening products, the lawsuit says that while the defendants claim to have "500,000 happy customers and 16,000 five star reviews," their rating on the Home Shopping Network is "only 2.7 out of five." In general, the defendants have chosen to downplay the fact that their teeth whitening products have performed poorly in the court of public opinion, the complaint alleges.
"Defendants have not disclosed the number of unhappy customers such as the Plaintiff," the suit reads, contending that similar products offered by competitors, which tend to retail for less than $50 per kit, are far more popular.
"Consumers could purchase whitening strips or whitening pens from numerous competitors for under $50, even under $40 or $30," the suit says. "Thus, Defendants are charging consumers $100 more than arguably comparable products for a light that does nothing with respect to teeth whitening."
Who's covered by the lawsuit?
The lawsuit, which alleges violations of New York's General Business Law, looks to represent New York residents who bought the defendants' Accelerating LED Mouthpiece, Original, At-Home Teeth Whitening All-in-One kit or wired teeth-whitening light device during the applicable statute of limitations period.
What if I bought the products and don't live in New York?
If you're not a New York resident, you may not be entirely out of luck. It's possible that lawsuits centered on similar claims may be filed in other states and look to represent Snow teeth whitening product buyers outside of New York.
If that happens, we'll update this post. Be sure to check back for developments.
In the meantime, sign up for ClassAction.org's free weekly newsletter here.
How do I sign up for the lawsuit?
In general, there's nothing you need to do to join or be considered a part of a class action lawsuit. It's only if and when a case settles that consumers would need to take action. You can learn more about it here.
The complaint can be found below.
Camp Lejeune
Camp Lejeune residents may soon have the opportunity to claim compensation for harm suffered from contaminated water.
Read more here: Camp Lejeune Lawsuit Claims
Stay Current
Sign Up For
Our Newsletter
New cases and investigations, settlement deadlines, and news straight to your inbox.
Last Updated on December 15, 2020 — 3:19 PM