Plantronics' BackBeat FIT Headphones Fail Early Due to Defect, Class Action Suit Alleges
Last Updated on July 7, 2022
February 7, 2020 – Settlement Granted Final Approval; Claims Period Closed
The lawsuit detailed on this page has settled. The deal received final approval from United States Magistrate Judge Nathanael M. Cousins on January 31, 2020.
The settlement covers consumers who bought Plantronics' BackBeat FIT Headphones – version Genesis or 16M – between April 1, 2014 and October 31, 2019. The period in which claims could be filed ended December 31, 2019.
More information can be found on the official settlement website here.
Plantronics, Inc.'s BackBeat FIT wireless headphones are the subject of a proposed class action lawsuit filed in California that alleges the supposedly sweatproof and waterproof Bluetooth headphones are not as durable or long-lasting as advertised. The 47-page lawsuit claims that despite Plantronics' representations that the sport headphones can last up to eight hours on a single charge, inherent defects cause the headphones' battery life to diminish until they eventually stop recharging entirely, especially after exposure to sweat or water – to which they are supposed to be resistant.
Tell me more.
Plantronics' BackBeat FIT wireless headphones, which retail for around $100, are designed specifically for athletes and exercisers. The company claims its headphones allow wearers to "train harder and longer," and even advertises the product alongside the following tagline: "You never quit. Neither should your headphones." In fact, the defendant claims its headphones allow consumers to "[p]ower through a week of workouts from a single charge," according to the case.
The Bluetooth headphones' packaging represents that they can be used for up to eight hours on a single two-hour charge. An added benefit is that the headphones are supposedly sweat- and waterproof, engineered by Plantronics to be flexible and durable enough to withstand "the rain or a rinse under the tap," the complaint says.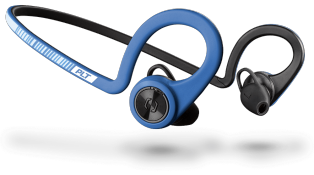 The seemingly unending parade of consumer complaints highlighted in the lawsuit, however, paints a different picture. Some of these complaints, which were supposedly posted on retailers' and the defendant's own website, can be read below [sic throughout]:
"Not even a year's worth of use out of them. I bought them in midDecember 2017, and probably used them less than 25 times or so. It appears to be a battery issue as they will charge up to the blue light, then I unplug and they won't turn on. Then they show a red light when I replug them in, so they need to be charged again with no usage."
— Complaint posted on Plantronics' website (August 2018)
"I bought this Plantronics Back Beat Fit Bluetooth headset from Best Buy so that I could enjoy music while I workout. I've only used it three times but now the headphones will no longer charge or turn on. It was a complete waste of my money."
— Complaint posted on Plantronics' website (May 2018)
"Battery will not charge. I have had them for a year and just stopped working. For the price you would think they would last longer than this."
— Complaint posted on Plantronics' website (August 2018)
"These are my second pair - do not function out of the box. Charging light comes on but headphones don't power on. I loved the first pair for the first 9 months until they stopped working for same issue. Seems they have a problem."
— Amazon.com review (June 25, 2018)
"I bought these headphone solely based on the fact they are marketed as waterproof, not water resistant but water proof. It last about 1 min in the water and now it does not work."
— Complaint posted on Plantronics' website (2016)
Regarding the plaintiff's alleged situation, the lawsuit says the man is an avid runner whose headphones, after a little more than a year of use, became difficult to charge. About a week after the man noticed the problem, the headphones failed to turn on, according to the suit. The plaintiff allegedly spent a significant amount of time going back and forth with Plantronics to obtain a fully functional pair of headphones. Additional pairs the man received from the defendant, however, also failed to work as advertised, the suit states.
Has Plantronic done anything about the alleged defect?
The lawsuit says that even after receiving "countless" complaints, Plantronic refuses to acknowledge the existence of any defect. Further, consumers who return headphones under the one-year warranty end up receiving a replacement set of headphones that contain the exact same flaws, "leaving consumers caught in a cycle of use, malfunction, and replacement," the complaint says. After the warranty period expires, the suit continues, consumers are "left with only a broken pair of headphones."
Who is covered by this lawsuit?
The suit looks to cover consumers residing in the United States who bought Plantronics' BackBeat FIT headphones during the "maximum period of time permitted by law." The case alternatively asks to cover a class of consumers in California who bought the defendant's product.
How can I join this lawsuit?
There's nothing you need to do to join this lawsuit – and here's why. There are still a number of hoops to jump through before we get to the good stuff, so sit tight.
The complaint can be read below.
Camp Lejeune
Camp Lejeune residents now have the opportunity to claim compensation for harm suffered from contaminated water.
Read more here: Camp Lejeune Lawsuit Claims
Stay Current
Sign Up For
Our Newsletter
New cases and investigations, settlement deadlines, and news straight to your inbox.
A note on class action complaints:
Bear in mind that the information in this blog post summarizes the allegations put forth in the following legal complaint. At the time of this writing, nothing has been proven in court. Anyone can file a lawsuit, with or without the representation of an attorney, for any reason, and ClassAction.org takes no position on the merits of the suit. Class action complaints are a matter of public record, and our objective on this website is merely to share the information in these legal documents in an easily digestible way.
Last Updated on July 7, 2022 — 4:15 PM